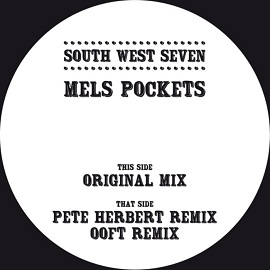 Artist …… : South West
Title ……. : Seven Mels Pockets (Incl. Pete Herbert & Ooft Mixes)
Genre ……. : Deep House
Label ……. : Carry On
Catnr ……. : ON002
Source …… : WEB
Quality ….. : 320kbps avg / 44.1KHz / Joint Stereo
Rls.date ….. : 26-04-2011
01 .. Original Mix (7:54)
02 .. Pete Herbert Remix (6:06)
03 .. Ooft! Remix (6:46)
04 .. Ooft! Respect To Kc Dub (6:56)
05 .. Reprise (4:43)
South West – Seven Mels Pockets (Incl. Pete Herbert & Ooft Mixes) [ON002] Releases Info :
South West Seven is Disco, Jazz Funk, Soul & Boogie with a Deep House twist and all rehashed, re-edited and fused by Northern Irish production duo Ric McClelland (better known as Scope) & Sean Grieve.
The duo kicked things off with their debut release on Detroit's Kolour Limited in autumn 2010. The beautiful three track vinyl ep was favoured by the likes of The Revenge, Cottam or Iron Curtis and propelled South West Seven straight into the underground limelight. Since then they have also delivered some excellent re-edits, available free on their Soundcloud.
Here we have their second release Mels Pockets which comes once again on limited coloured vinyl and complete with a dream team on remix duties. The original cut is a slow grooving musical ride with true soul, emotion and sincerity. A must in any real DJ's box!
Top drawer mixes are contributed by Pete Herbert who turns the track into a proper funky Nu disco dancefloor workout and OOFT! diggin deep in Mels Pockets to delivers an early morning sunrise special with shades of Chez & Trent.