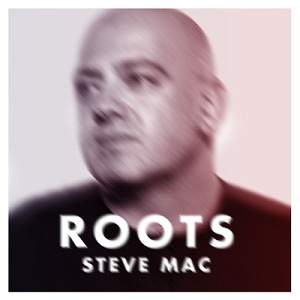 With a wealth of production experience and an impressive archive of original and remix work, Steve's extensive back catalogue reads likes a who's who of house music. His career has seen him work alongside such legendary names as Todd Terry, Danny Rampling and Jocelyn Brown, through to modern day producers such as Paul Woolford and Nic Fanciulli.
His recent work has featured on such highly regarded labels as Rejected, Ovum, Intimacy, SCI+TEC, Renaissance and his own sMACK Recordings. 

"Roots", is set to be Steve Mac's third release on the Saved, and the first artist album to be released on the label in 2011. It provides an eclectic array of tracks that pay no attention to limiting genre trends, but rather explores Mac's musical influences in depth, resulting in a truly postmodern album that defines the man himself. 

This is not to say, however that Mac has compromised his and Saved's already stirling reputation for creating dancefloor bombs; the album is bursting at the seams with tracks that will quickly find their way into DJ sets worldwide. Collaborations with label boss Nic Fanciulli and Saved regular Mark Broom on 'Give It To Me' and 'Gettin' Down' respectively as well as Mac's 'Diskoteca' and 'Hear That' provide the fuel DJ's need to fire up the dancefloor.
Artist: Steve Mac
Title: Roots
Genre: Tech House, Deep House
Label: Saved Records
Catnr: SVALB06
Source: WEB
Quality: 320kbps avg / 44.1KHz / Full Stereo
Rls.date: May – 2011
01 .. Waiting (Reprise)
02 .. Leave Me Behind
03 .. Biscuits feat. Thomas Gandey
04 .. Mousique
05 .. Give it to me feat. Nic Fancuilli
06 .. Hear That
07 .. Going Down feat. Mark Broom
08 .. Dancing Together
09 .. Diskoteca
10 .. Reaching
11 .. Respect
12 .. The Noise Bastard
13 .. The Rave
14 .. World Change feat. Joe Watson
15 .. Waitin
Support from:
Loco Dice – "Respect and Hear That are Great!!! Nice one by Steve!"
Luciano – "Give It To Me is great!!"
Joris Voorn – "Hear That still Rocks!!!"
Josh Wink – "Heard Nic play a bunch of these tracks and they rocked. Look forward to playin them out."
Laurent Garnier – "As funky as ever Steve."
Ali – (Tiefschwarz) – "Wow! What a nice package."
Gregor Tresher – "Respect is sounding great!!!"
Santos – "Moosique!!! Grande Steve!!! Cool Cool Cool!"
Funk D'Void – "Great work Steve, full support from me on this collection."
Marcin Czubala – "Quality package, especially into the Give It To me track."
Tom Wax – (Phuture Sounds Germany) – "I really like Steve´s roots!"
Thomas Tuft – (Juice FM) – "Love all the work here!"
Jose Maria Ramon – (Ibiza Global Radio) – "Sounds amazing! Specially Biscuits, full support from Ibiza Global Radio."