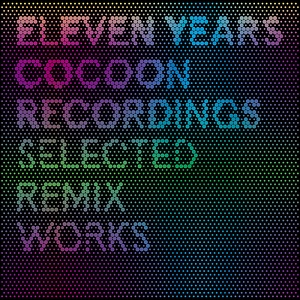 Artist …… : VA
Title ……. : 11 Years Cocoon Recordings (Mixed By Patrick Kunkel)
Genre ……. : Techno
Label ……. : Cocoon Recordings
Catnr ……. : CORCD025DIGITAL
Source …… : WEB
Quality ….. : 320kbps avg / 44.1KHz / Joint Stereo
Duration …. : 03:04:25
Rls.date ….. : 06-05-2011
1. Dinky – Acid In My Fridge (Visionquest Remix) 7:33
2. Martin Buttrich – Hunter (Roman Flugel Remix) 9:20
3. Argy – Unreliable Virgin (Tim Green Remix) 8:53
4. Joel Mull – Harmonautic String (Steve Rachmad Remix) 7:54
5. Dubfire vs Oliver Huntemann – Diablo (Carlo Lio Remix) 7:45
6. Pig & Dan – Deliverance (Gary Beck Remix) 7:12
7. 2000 & One – Tropical Melons (Paul Ritch Remix) 8:15
8. Guy Gerber – Timing (Kollektiv Turmstrasse Remix) 9:43
9. Extrawelt – Titelheld (Petar Dundov Remix) 7:50
10.Extrawelt – Titelheld (Patrick Kunkel Remix) 9:59
11.Extrawelt – Titelheld (Dexter Remix) 7:16
12.Guy Gerber – Timing (Kassey Voorn & Pete Mccarthy Remix) 8:40
13.2000 & One – Tropical Melons (Nick Curly Remix) 7:31
14.VA – 11 Years Cocoon Recordings (Retrospective Mix Mixed By Patrick Kunkel) 76:37
VA – 11 Years Cocoon Recordings (Mixed By Patrick Kunkel) [CORCD025DIGITAL] Release Info :
The Eleven is – numerologically speaking- definitely not a lucky number in the
Western culture. It exceeds perfection just by one and thus represents the
number of excess and sin in Christian mythology; that why apocalyptic events
always start in the eleventh hour. However, those who followed the output of the
most successful German label for electronic dance music since 2000 to date are
aware of the fact that Cocoon aim is rather the further development of sound
instead of sticking to nostalgia, or portentous Omen".
Against this background,
it may be a temporal coincidence but also totally logical that, on the occasion
of the eleventh anniversary, this compilation breaks with traditions which
people have come to like. So, the focus of CD 1 does not lie in celebrating only
the best of tracks, but rather in nine tracks from the past six years which
have, without doubt, made some impact on clubs and dance floors worldwide, but
whose stories have not been musically told so far. It all begins with
Chile-born Alejandra Iglesias aka Dinky, whose Acid In My Fridge from the
Cocoon Compilation D in 2004 has ultimately taken her into the top league of
producers. Lee Curtiss, Ryan Crosson, Seth Troxler and Shaun Reeves – the
Michigan collective Visionquest – turns the musical masterpiece into a marvel of
fragmented Dub Techno in a Breakbeat disguise, where the 303 takes over the
controls again in the end anyway. Subsequently, Toronto SCI + TEC ambassador
Carlo Lio is pumping a maximum of distortion in Dubfire Huntemann Diablo",
while Amsterdam Detroit resident Steve Rachmad brilliantly purges Joel Mull
club hit Harmonautic String of 2007, and the Scottish Consumed producer Gary
Beck unfolds presumably the mightiest bass on this CD. Actually, there are still
many things to say about each title on this CD, showing such great coalitions of
Guy Gerber and Kollektiv Turmstrae, Roman Flugel and Martin Buttrich, Tim Green
and Argy resp. Paul Ritch and 2000.