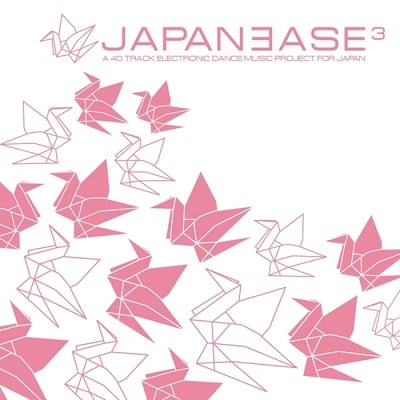 Artist …… : VA
Title ……. : Japanease: A 120 Track Electronic Dance Music Project For Japan
Genre ……. : House
Label ……. : Whatpeopleplay Japan Appeal
Catnr ……. : JPNEASE3
Source …… : WEB
Quality ….. : 320kbps avg / 44.1KHz / Joint Stereo
Duration …. : 05:40:28
Ripdate ….. : 01-05-2011
1. GHL – Slow Good 6:47
2. David August – Soul Kitchen 8:14
3. SeHou – To Who Love (Gel Abril Funk Mix) 6:35
4. Jeremy P Caulfield – Ce Soir Jamais 8:04
5. Steve Bug – Life In Circles 7:34
6. Misc. – Cycles 7:05
7. Channel X – Marvel 6:43
8. And.id – Psychedelic Love 6:09
9. Pherox – Rude Vox 6:44
10.Orange Muse – Psychedelic Behaviour 9:12
11.Sweetn' Candy – Enter The Green 7:04
12.Terence Terry – Lucky Clouds (Remix) 6:42
13.Leib Und Seele – Beizeiten 7:54
14.Oculus – Ancient 7:22
15.Louie Austen – I Can See The Sun (Remute Remix) 5:59
16.Stefan Goldmann – Say What 7:21
17.Stimming – The Kiss 7:02
18.Sierra Sam & Marcus Vector – The Perfect Dream 7:32
19.Larsson – Find Your Soul 6:15
20.Mr Raoul K – Eiyu-Tachi 7:15

21.February & Mars – Got To (Remix) 5:36
22.NO MILK – Bubble People 6:11
23.STL – Birdart 12:28
24.Steffen Baldo – Things Related 7:22
25.Repair – Air Suspended 7:10
26.Basic Soul Unit – Candle Lit 9:00
27.Layo & Bushwacka – Slow Burn 8:19
28.Akiko Kiyama – Married 6:12
29.Amberflame – Distant Call 6:45
30.Markus Fix – Dark Side Of Bo 8:34
31.RVDS – A Walk On The Moon 8:53
32.Smallpeople – Rites Of Passage 7:04
33.Sasse – What Can You Love 7:43
34.Sascha Dive – Deep In Rhytm 5:02
35.Dirty Doering – I Would (Acid Pauli Remix) 9:57
36.Patric Catani & Yuko Matsuyama – Tears In A Bottle 4:26
37.Tomoki Tamura – My Story 6:45
38.St. Plomb – Isomura 6:32
39.A.B.Perspectives – Ursa Major 5:53
40.Ditch – deeTE nnsdryth 7:41
41.Todd Terje – Euro Dans 5:43
42.Prins Thomas – Goettsching 7:49
43.Jacksonville – Valparaiso 10:07
44.Daniel Mehlhart – Deep Crazy Synth 15:59(Minilogues dismantling The Storm Remix)
45.Tom Trago – Being With You 3:36
46.Gonno – Long Time No See 6:06
VA – Japanease A 120 Track Electronic Dance Music Project For Japan (Part 3) [JPNEASE3] Release Notes :
JAPANEASE is a charity electronic dance music compilation available worldwide on
various music download services. This is Wordandsounds (music distributor)
contribution and effort to ease the terrible suffering resulting from the
devastating disaster happened on March 11th, 2011 in Japan. The entire income of
sales will be donated to the area of Sendai/Miyagi through the German Japanese
Association in Hamburg, Germany. Initiated by Wordandsound and various
independent music labels the compilation contains more than 120 tracks from
highly respected artists of the worldwide electronic dance music scene. All
people involved in the project, made their contribution completely free of
charge.