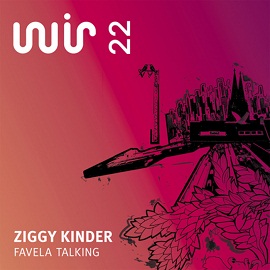 Artist …… : Ziggy Kinder
Title ……. : Favela Talking
Genre ……. : House
Label ……. : Wir
Catnr ……. : WIR022
Source …… : WEB
Quality ….. : 320kbps avg / 44.1KHz / Joint Stereo
Duration …. : 00:26:56 (62.6MB)
Rls.date ….. : 16-05-2011
1. Favela Talking 9:22
2. Favela Talking (Soukie & Windish Remix) 8:23
3. Favela Talking (Rene Breitbarth Remix) 9:11
Ziggy Kinder – Favela Talking [WIR022] Release Info :
DJ Support / Reviews:
Nhar, Gary Martin, Daniel Mehlhart, De:Bug, www.bln.fm, Tom Wax, You FM, Till
Krger, Klner, M.A.N.D.Y., SLAM, Luciano, Partysan, Richie Hawtin, Maetrik, Mike
Callander, Clo, Monika Kruse, James Holden, DJ T
We are proud and happy to present the first release by our Cologne buddy ZIGGY KINDER. Since many years Ziggy is a close friend and has impressed with his work on labels like WARE and TIEFSCHWARZ imprint SOUVENIR. "FAVELA" is the generally used term for a shanty town in Brasil. Ziggy has recorded the vocals originally with Aline de Magalhaes during his Brasil-trip. This house-tune has been tested
succesfully on the dancefloor and comes with great remixes by Soukie & Windish from Hamburg. The digital release also includes a remix by Deep Data mastermind
Breitbarth from Berlin.