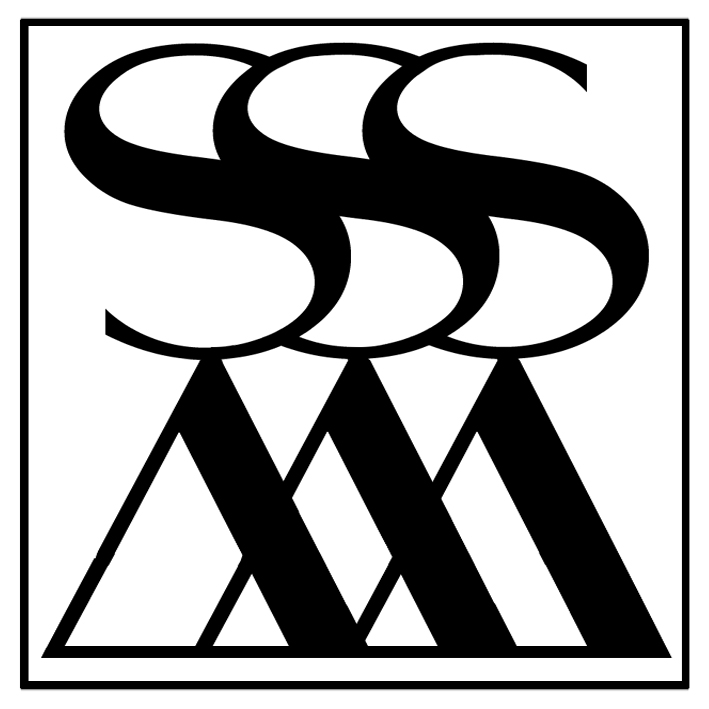 Stroboscopic Artefacts was launched in Berlin, September 2009 by Lucy.
Stroboscopic Artefacts showcases adventures into electronic music from artists across the world. The label, as the name suggests, acts like a strobe light illuminating pioneering club sounds with each vinyl release. Stroboscopic Artefacts borrows the curiosity of a scientist to search the underground scene for the freshest and deepest electronic music.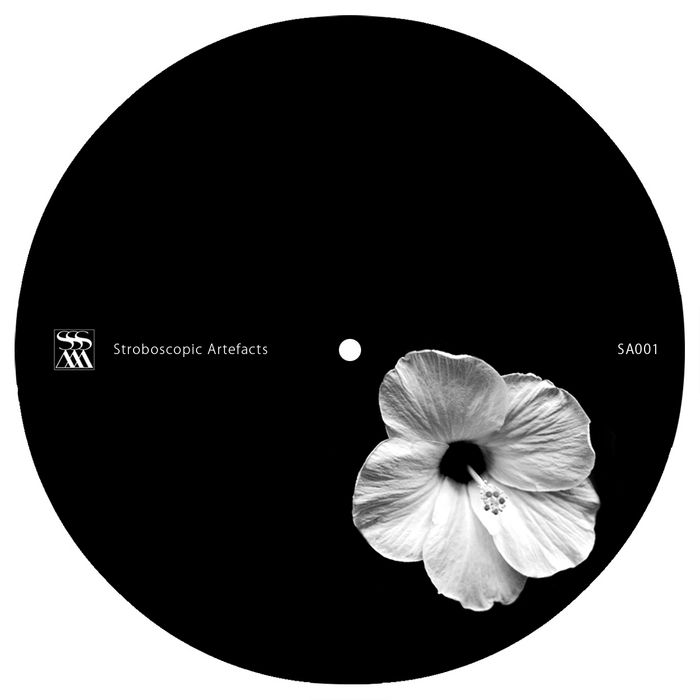 [SA001] Lucy – Why Dont You Change, Dub Man Walking
Stroboscopic Artefacts' first vinyl release is an incendiary two track EP. Label founder Lucy gives us a visionary blueprint for the future Stroboscopic Artefacts releases, etching out the soundtrack for an apocalyptic club scenario. Out of the A-side's dark, pulsing beats and itchy baselines, a granular voice rises up. Krishnamurti's rasping vocal cuts through, creating a colossal techno track. Amid resonant piano samples and utopian 60s strings, a crystalline question emerges: "Why Don't You Change"? In the middle of a hazy, overcrowded dance floor this peak-time guerrilla track hints at a moment of epiphany. On the B-side "Dub Man Walking", Lucy's dub-roots background collides with his techno identity. The heavy drum machine structure is injected with obsessive dubby baselines and intersected by high frequency distortion. The track floats, the elements never fully solidify, instead they surge forward becoming ever more urgent.
Why Don't You Change
Krishnamurti (Acappella Extended )
Dub Man Walking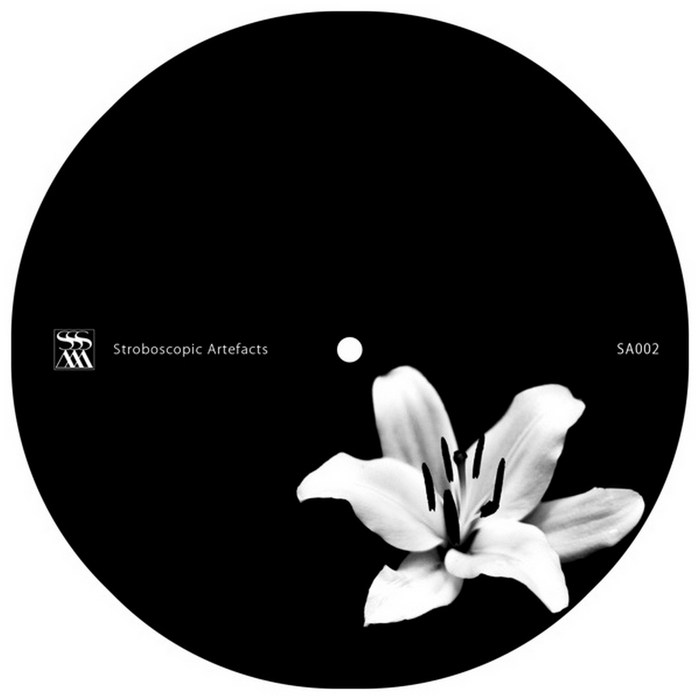 [SA002] Xhin – Fixing The Error, Link
Stroboscopic Artefacts is proud to welcome on board Singapore-based Xhin. "Fixing the Error" is an enormous peak-time club killer. Xhin knits together the sinister sound of the revolt of the machines. High frequency drum machines and ferrous sub-bass synthesizers are working urgently against the clock. Close your eyes, dissolve, step into dystopia. You are transported into a post-human cityscape where strobes reflect off smelting metallic sounds and deafening alarms wail. These warning codes, layer upon layer, fashion a vision of a metropolis gorging itself on sprawling noises. The flip side, "Link" has no narrative. Instead, this deep, brooding slice of dub-techno is composed of pure atmospheric pressure. The undercarrige slithers and slinks, interrupted by crackles of lightening and prehistoric rumbles. The result is a construction created in a cold palate of pyrite grey: bubbling, spherical and terrifying. This is dark. This is urgent. This is Xhin.
Fixing The Error
Link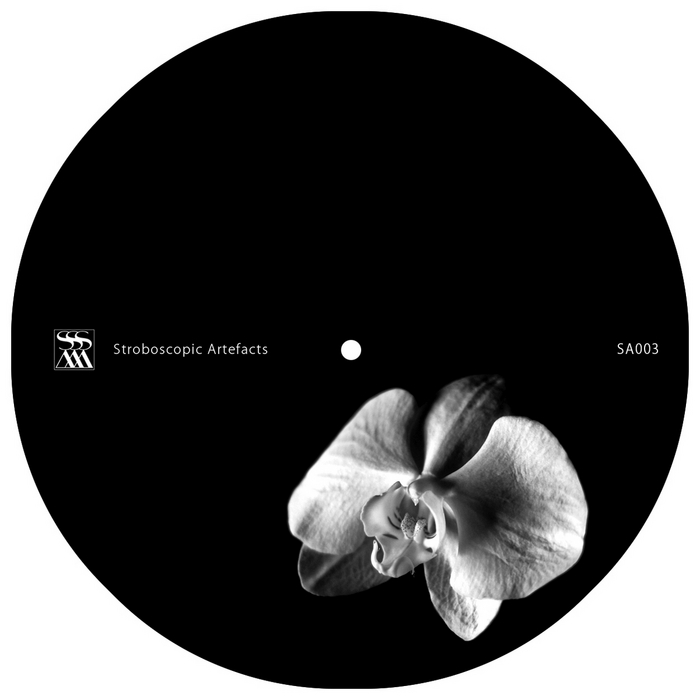 [SA003] Lucy & Ercolino – Gmork, So The Nothing Grows Stronger
SA003 sees label owner Lucy and underground trailblazer Ercolino, inspired by novelist Michael Ende's imagery, create two visions of a nihilistic future. The 12" begins with the tale of fear incarnate "Gmork", the most powerful weapon for controlling society. The A-side is a portrait of this terrifying beast: slinking baselines come from its black heartbeat and white noise grows from its unearthly appetites. Fat, squelching noises emerge as light, hope and ideas are quashed, ground up and eaten. What emerges is a genius slice of dark, brooding techno crafted from the nectar of your darkest nightmare. The story gets even bleaker with "So The Nothing Grows Stronger", a narrative of blips, bleeps and squeals. This extreme dub techno track is a mutinous call to arms, the sound of the insurgence. It's a wakeup call, an anthem for the malcontents. Dadub also masterfully extracts two crafty dj tools provided as digital bonuses. No excuse to not spread the savage stories that you have heard.
Gmork
So The Nothing Grows Stronger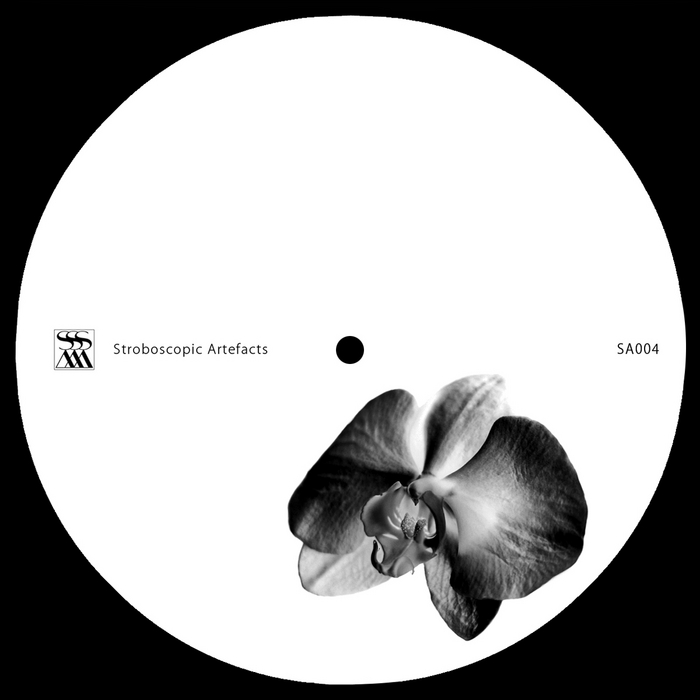 [SA004] Lucy & Ercolino – Gmork, So The Nothing Grows Stronger – Remixes
SA004 features two exceptional remixes of Lucy & Ercolino's last 12" on Stroboscopic Artefacts. The A-side "Gmork" is given the darkly elegant techno treatment by someone who needs no introduction: Luke Slater. On the B-side, Dadub rips into "So The Nothing Grows Stronger" with a massive dub agenda, showcasing the meeting point between the UK dubstep scene and Berlin's formidable techno output. Techno pioneer Luke Slater, AKA Planetary Assault Systems, remoulds and rethinks "Gmork" in the studio, giving the track his twisted hallmark. He takes the original elements of "Gmork" and weights them base-side-up. In his hands the track becomes more dizzying, disorientating and hypnotic than before. Dadub's retreatment takes the original material and reconfigures it using subtractive synthesis. The analogue process assures the track's bespoke, simmering atmosphere.
Gmork (Remix Luke Slater)
So The Nothing Grows Stronger (Remix Dadub)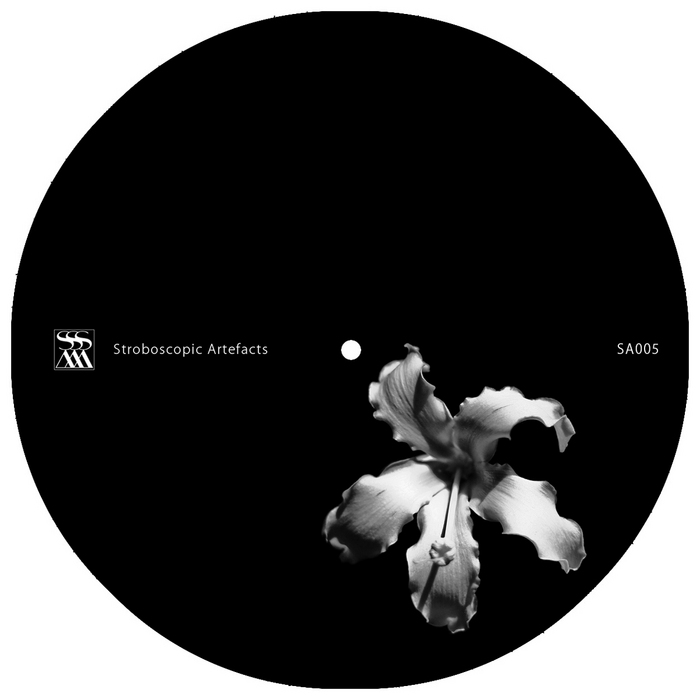 [SA005] Frank Martiniq – Blast Corps
SA005 is destined to become a vinyl collectors' must-have. Frank Martiniq explores a whole new sonic identity on this unique 12", forging together off-kilter beats and fists full of atmospheric compression. "Blast Corps" opens the EP with a surge of delayed baseline. Crispy static rises from below and echoes swoop and simmer beneath the full blooded base. It builds insistently, the 4/4 structure is infused with far off blips and the dusty sizzles of low-pitched white noise. On "Dark Star" warm dub keeps the sound organic. It's elemental, the baseline seems enormous enough to have a gravity of its very own and the other elements pull together around its weight. It teases, the breathy elements twitch, fidget, become fully formed but refuse to drop. Frank Martiniq refuses the obvious, and opts for the discerning. This is the stuff of intrigue, as is the percussive opening to B2 "Lovelane". Here a rattling, clattering sequence breaks out into a euphoric, syncopated structure. It's dark, playful and danceable techno.
Blast Corps
Dark Star
Lovelane
Blast Corps Tool
Dark Star Tool
Lovelane Tool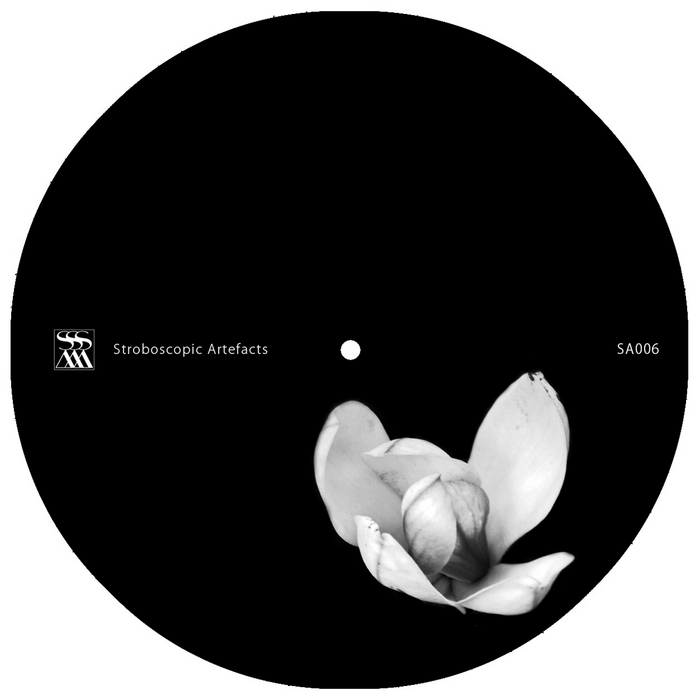 Stroboscopic Artefacts rip into autumn with a masterful split vinyl. SA006 sees Jonas Kopp taking to the A-side with the punishingly good "Alkitran" and the flip side picks up where the Monad Series left off with Markus Suckut's "Vary". "Alkitran" writhes hissing and spitting into existence. Snares lash across the opening, to be replaced by subaqueous grumbles and whirling from above. The title "Alkitran" begs no translation; the track's sticky, black palette and viscous textures effortlessly communicate the notion of tar. Markus Suckut's "Vary" takes the opposite tact; his dark tones are built amid structures that are suffused with light and dappled with the grindingly ecstatic. This is superbly elegant techno that has refused to sacrifice any of its hardness in order to achieve elegance. The digital release contains two tools extracted by label owner Lucy. Striped down, but simultaneously turned up, he takes the tracks in a distinctly IDM direction.
Jonas Kopp –Alkitran
Markus Suckut – Vary
Jonas Kopp – Alkitran (Lucy Tool)
Markus Suckut – Vary (Lucy Tool)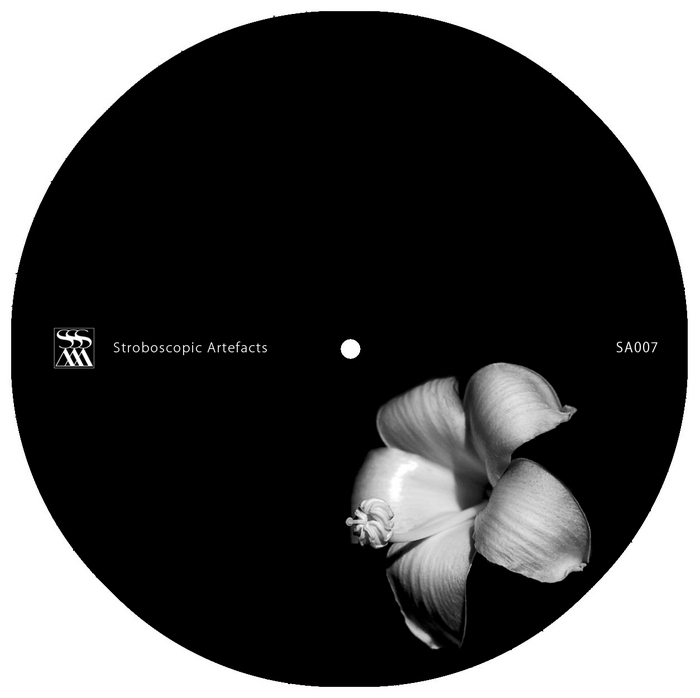 [SA007] Modern Heads And Perc – Dax
SA007 sees Perc and Modern Heads create the first collaborations between these two core Stroboscopic Artefacts artists. The result is a punishing hybrid of Perc's dubstep tendencies and Modern Heads' cutting techno. A-side "Mendax" is cavernous. Built upon solid dub foundations, it spills over into grinding, metallic territory. If the title's to be believed it takes inspiration from the shady world of lies and deceit. The atmosphere seems to agree, there's certainly something mendacious at work here. B1 takes the EP's atmosphere and adds abrasion. In "Percdax" cold, hard percussion is layered over a bed of warm dub. Closer "Moddax" errs on the eerie. It skulks, is full of sticky bleeps and the result is unnervingly dubbed out. All three track titles share the same suffix and if this indicates that they also share one quality it's that they're best heard in the glinting shadow of a club just before day break.
Perc & Modern Heads – Mendax
Perc – Percdax
Modern Heads – Moddax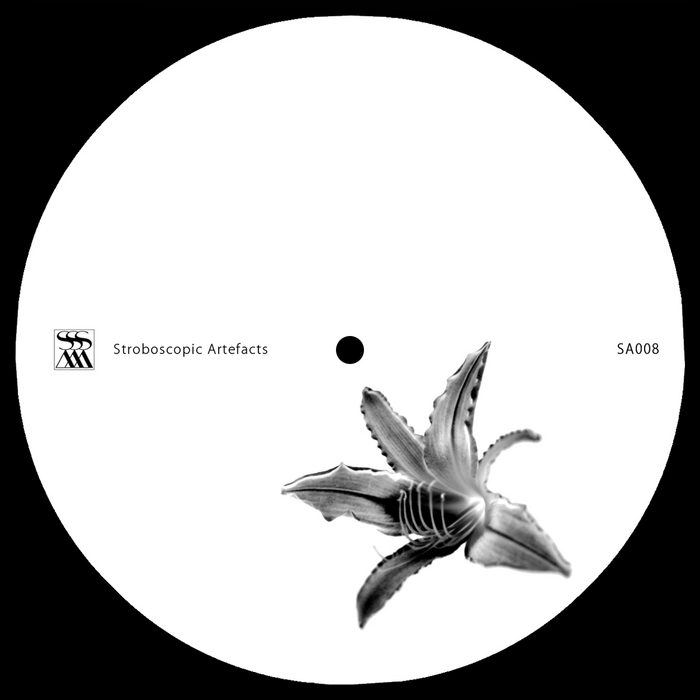 [SA008] Lucy – Beelines For Working Bees
'Beelines For Working Bees' is a 12" that sees four of the most innovative artists in electronic music rethinking and reconfiguring the strands of Lucy's forthcoming album 'Wordplay for Working Bees'. The relationship between the point of origin and the end point is not a prescribed one: the beelines of Tommy Four Seven, James Ruskin, Peter Van Hoesen and Truss return to the hive of Lucy's album taking the most experimental and cross-pollinated paths. SA008 acts as a case in point for techno, melding and fusing genre boundaries to reveal new hybrid sounds. SA008 presents a utopian vision that's puckering at the seams. The artists chose the tracks that they wished to remix and fused their own defined sound identities with that of Stroboscopic Artefacts. In anticipation of Lucy's debut album this is a delicious foretaste of what's to come and a cryptic insight into four of techno's leading minds.
Tof (Tommy Four Seven Remix)
Bein (James Ruskin Remix)
Lav (Peter Van Hoesen Remix)
Eon (Truss Remix)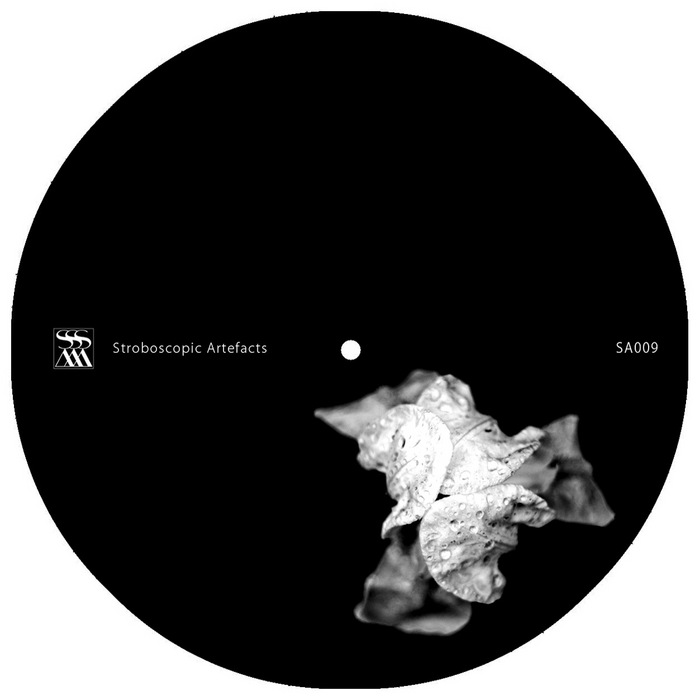 [SA009] Pfirter, Dadub – Universe, Metropolis
'SA009 sees Stroboscopic Artefacts return to the split vinyl format, with the formidable Pfirter taking to the A-side and the two minds behind Artefacts Mastering, Dadub, taking care of the B-side. As Pfirter's 'Monad IV' proved, his releases on SA are not as you've heard him before. His vision cut to wax is "Universe", a 10 minute odyssey that's both militantly 4/4 and peppered with unpredictability. It's 4/4 that's optimized for those liminal moments in a peak-time set. Dadub's 'Metropolis' is a cityscape rendered in all its complexity. They take dub and scissor into it. It's panoramic in scope and knottily brilliant. From these two tracks, two tools have been skillfully extracted by a new edition to the SA family: Edit Select. Out of Pfirter's 'Universe' he distills a silken serum. And what emerges from the distilled essence of the track is pure iridescence. The B-side 'Metropolis' is pushed deep; the beats drop fathoms below and leagues above the top lines reverberate with hazy memories.
Pfirter – Universe
Dadub – Metropolis
Pfirter – Universe (Edit Select Dub)
Dadub – Metropolis (Edit Select Dub)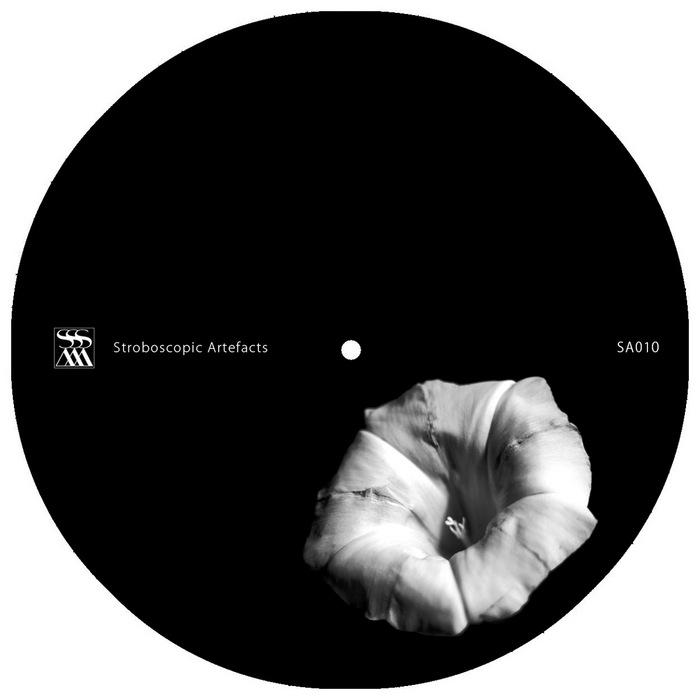 [SA010] Xhin, Go Hiyama, Donor – Hepta, Tasu, Lapse
SA010 presents three uncompromising visions from Xhin, Go Hiyama and Donor. A1 is Xhin's aggressive return to wax on SA. 'Hepta' is a gnarling, snarling tale that erupts into acrid broken beat. This track comes from Xhin's new studio sessions, and it anticipates the coming of his most ambitious project yet. B1, 'Tasu', comes from a new addition to the SA fold, Go Hiyama. 'Tasu' is perfectly swung peak-time techno and a foretaste of the Monad chapter that Go Hiyama is currently crafting. Donor's flipside, 'Lapse', shares the deep atmosphere that permeated his Monad II. While hi-hats sneak into the foreground and the background is punctuated by murmuring vocals, 'Lapse' gathers velocity around the weight of its bassline. SA010 is concluded on digital by Markus Suckut. His hands transform 'Hepta' into an essence, unravel the threads of 'Tasu' and in looping the vocal that's buried deep inside Donor's 'Lapse' he unleashes something that's mesmerizingly existential.
Xhin – Hepta (Original Mix)
Go Hiyama – Tasu (Original Mix)
Donor – Lapse (Original Mix)
Xhin – Hepta (Markus Suckut Dub)
Go Hiyama – Tasu (Markus Suckut Dub)
Donor – Lapse (Markus Suckut Dub)
SAMPLER SERIES: A sample is a small part of the whole, selected because it's a premier example of its class.
'Resampled' takes Stroboscopic Artefacts' Sampler Series and tangles it with reflexivity.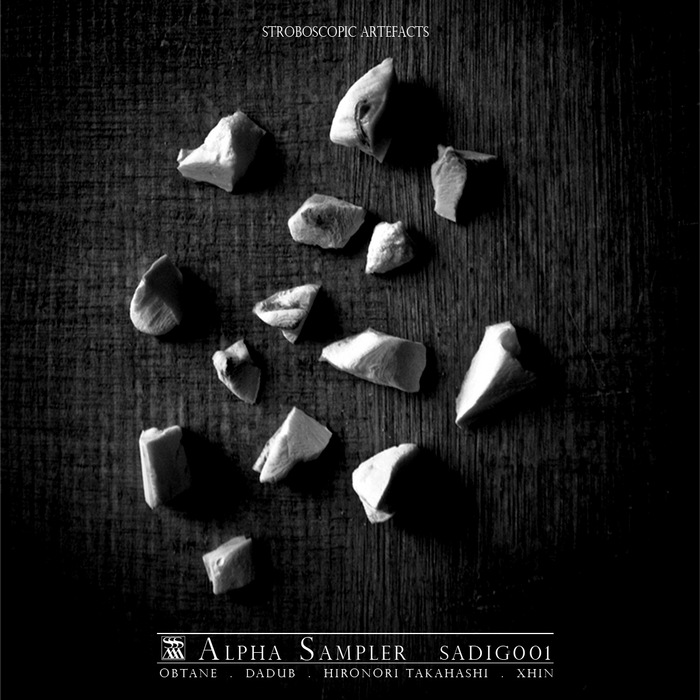 In the Alpha Sampler, Stroboscopic Artefacts has collected together four tracks from very different artists. Opener Obtane's "Now I Am Blind And I Can See You" quivers and flicks, whispers and crackles itself into existence. From here, Dadub unleashes "Blue Whale's Dub", an immense creature trawls deep waters, but as the drop comes, iridescent light pours in. In contrast, Japanese Hironori Takahashi takes us to the noisy chaos of Tokyo with "Medue". Through this carnivorous beast, Takahashi plays with depth perception. Weighty bassline structures, uplifting piano samples and persistent hi-hats collide. The closer is from Xhin. "Arrival" is, in his own words, "an environmental sound design experience". Even though the bassline is entirely discarded, this is no Xhin-lite. Instead, a simmered down symphony: elemental, ecstatic and most of all, terrifying.
Obtane – Now I Am Blind And I Can See You
Dadub – Blue Whale's Dub
Hironori Takahashi – Medue
Xhin – Ar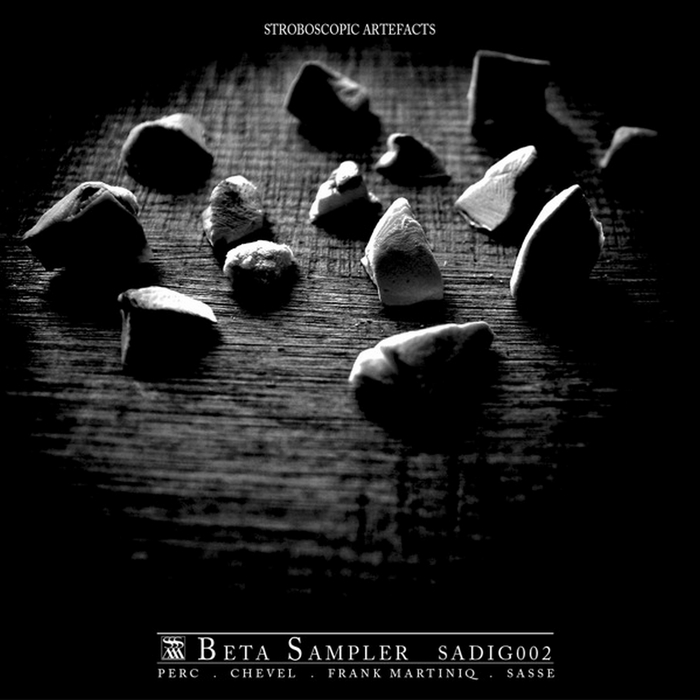 Stroboscopic Artefacts present the Beta Sampler, showcasing four startling fresh cuts. From Perc's exacting mind comes the brilliant "Wooden Art". Over a bed of bubbling dub, dystopian pads slice through a gnashing wall of beat patterns. Next comes "Trevisun", with its Detroit minimalistic approach. Chevel brings us a perfectly dizzying 10am track, replete with lopsided beats, viscous synths. Then Frank Martiniq transports us to an enchanted afterhours land with "My Visor". This dubtechno masterpiece takes us back to a time where the elegance of synthesis and dubbing was of paramount importance. The baton is lastly handed to Berlin house giant Sasse who proudly pushes his sound in a totally new direction on "Face2Face With Reality". Here Sasse collides his house instincts with dub know-how, creating an inspirational hybrid.
Perc – Wooden Art
Chevel – Trevisun
Frank Martiniq – My Visor
Sasse – Face2Face With Reality
The Gamma Sampler sees Stroboscopic Artefacts collect together four cuts that take you from the dance floor right into the ether. It starts resolutely dance floor as Modern Heads open with the brilliantly constructed "1969". The track forms a perfect arc. It begins with pared-down bass, opens out as melody surfaces from deep below, stretches upwards as synth patterns bubble into being, before the other side of the curve elegantly returns to the origin. "Fade" comes from New York's Donor. Full of offkilter, swung bass lines, its distinctly strange sound seems to harbour more than a drop of contempt. Abstract Souls unleash "Abstract Subway" full of swishing, swooping patterns. As if sampling the act of perception itself, it's blurred, charcoaled black but flecked with colour. The sampler is closed by Claudio PRC's "Aphelion" which seems to transpose the sound of a planet when its orbit has curled far from the sun.
Modern Heads – 1969
Donor – Fade
Abstract Souls – Abstract Subway
Claudio PRC – Aphelion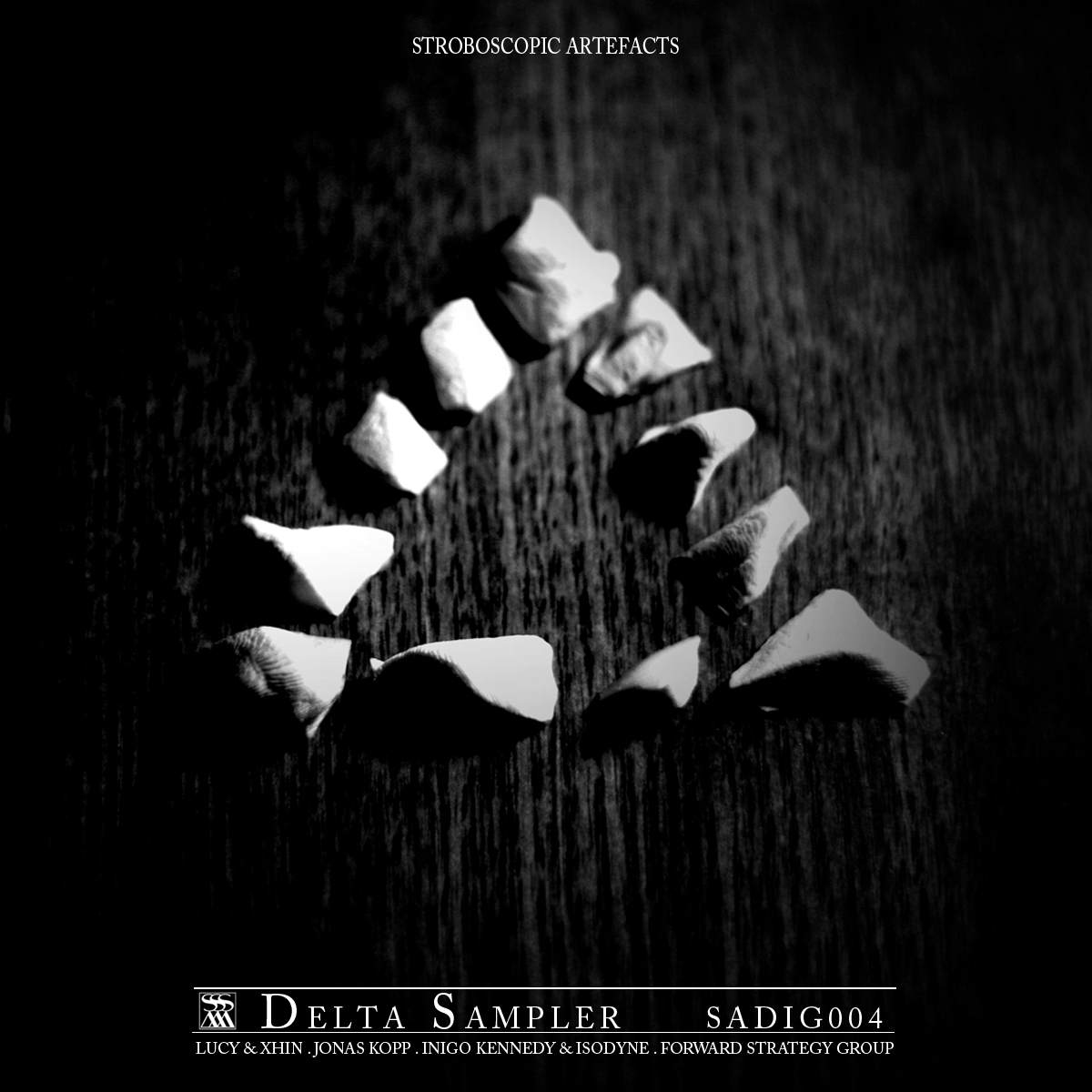 The Delta Sampler is composed by four tracks that traverse electronic music possibilities from straight up techno to oblique drone. Opener "LX1" sees Lucy and Xhin teaming up for their first collaboration. Dark, slightly brooding, the meeting of their minds is mapped out with incisive kicks, knotty dub and hi hat sizzles. Jonas Kopp "M33" is a 4/4 structure filled with discontent. The track strains with aqueous grumbles and tense peak time techno emerges. Inigo Kennedy and Isodyne borrow their structure from the observations of physics. Their "Lagrange Point" is a bassline that fluxes between a background of reverberating pads and a foreground of slithering chords, but somehow remains constant. From here the sampler closes with "Inside The Shadows", Forward Strategy Group's malevolent slice of drone. The complex sequence of loops builds a reflective atmosphere that revels in the hidden.
Lucy & Xhin – LX1
Jonas Kopp – M33
Isodyne & Inigo Kennedy – Lagrange Point
Forward Strategy Group – Inside The Shadows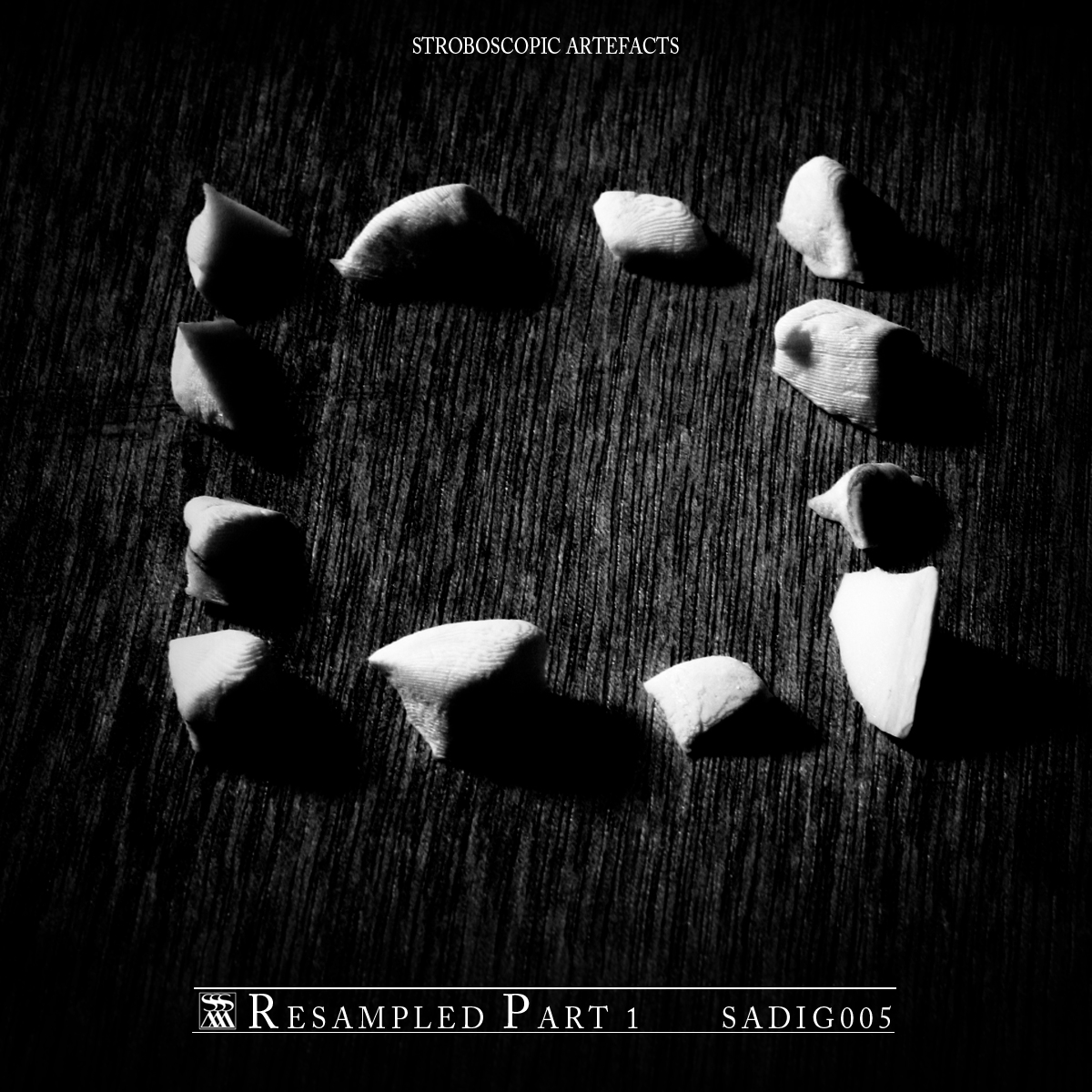 [SADIG005] Various Artists – Resampled Part 1
Out of the Alpha, Beta, Gamma and Delta Samplers' original 16 tracks, 8 of the producers have remixed a track from the other 8 artists. The creative process goes inverse and the original cuts get chiseled into, sanded down or polished bright. Part 1 opens with Lucy's 'Twofold Remix' of Xhin's 'Arrival' where what starts out as 4/4 techno resolves into an experimental dew. Jonas Kopp's 'Argatian Remix' attacks the break-beat structure of Lagrange Point to the point where it could be an early Mole People release, this is Kopp as you have never heard him before. Hironori Takahashi's 'Medue' is pushed into deep ephemerality with Obtane's 'Puppetmachine Remix' taking it to a weightless, beat less place. Donor's 'Distress Remix' of Chevel's 'Trevisun' compresses the swung baselines to create a crackling background and with the force that comes to the fore it makes for a very pithy conclusion to Part One.
Xhin – Arrival (Lucy Twofold Remix)
Isodyne & Inigo Kennedy – Lagrange Point (Jonas Kopp Argatian Remix)
Chevel – Trevisun (Donor Distress Remix)
Hironori Takahashi – Medue (Obtane Puppetmachine Remix)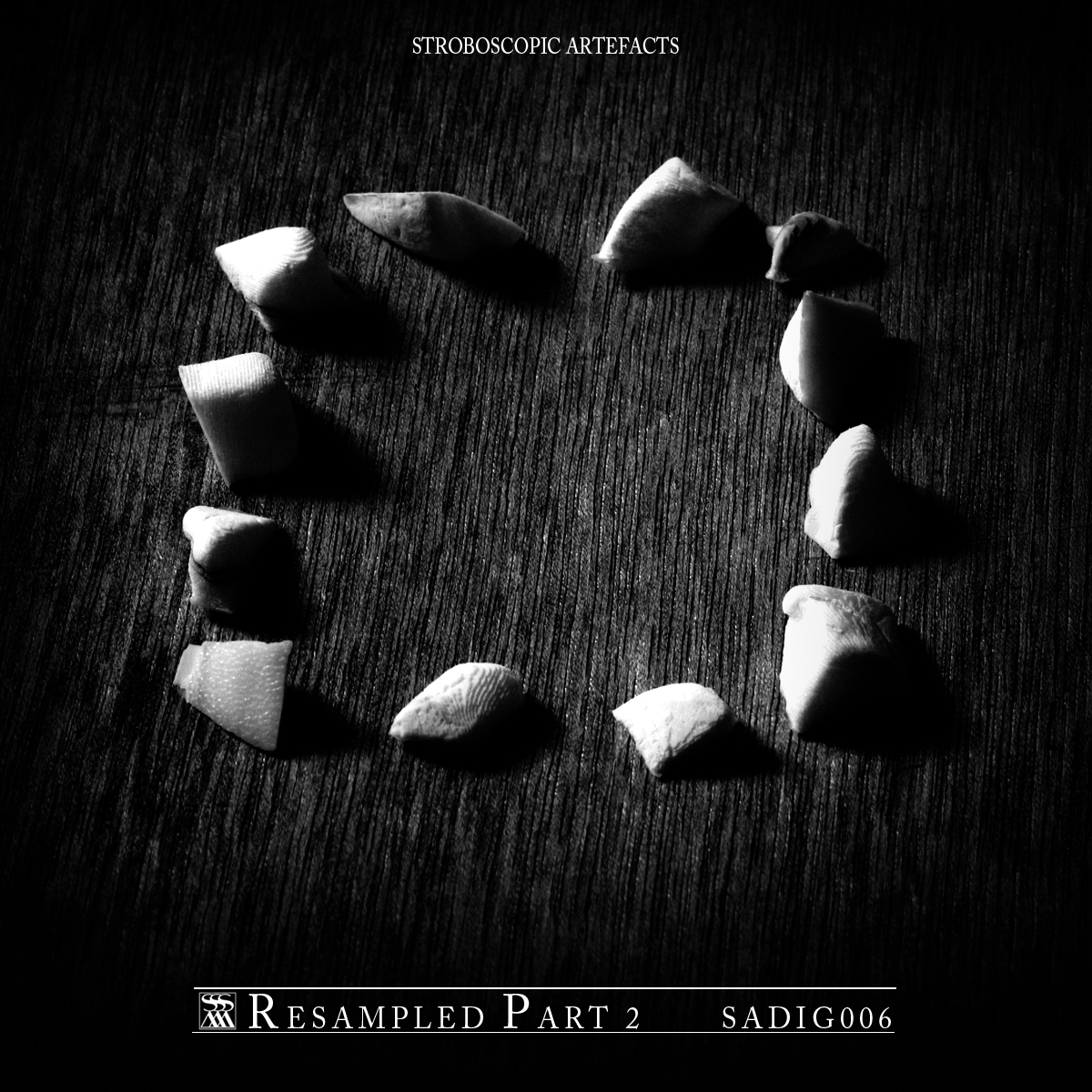 [SADIG006] Various Artists – Resampled Part 2
Out of the Alpha, Beta, Gamma and Delta Samplers' original 16 tracks, 8 of the producers have remixed a track from the other 8 artists. The creative process goes inverse and the original cuts get chiseled into, sanded down or polished bright. Part Two sees Modern Heads take Perc's 'Wooden Art' and create bold broken beat, the 'Jumplex Remix' is knitted, knotted and calcified. Forward Strategy Group's 'Inside the Shadows' faces Dadub's 'Metropolis Remix', the perfect descriptor for this skyscrapingly macrocosmic reworking. Frank Martiniq's 'Defiance Remix' pulls Sasse's original from tech-house and into the realm of ambitious, ecstatic brilliance. Claudio PRC's 'Perspective Mix' granulates 'Abstract Subway' to the point where all that is left is a dark, inky pool of pure harmonics, which draws Part Two to a laconic and lingering close.
Perc – Wooden Art (Modern Heads Jumpler Remix)
Forward Strategy Group – Inside The Shadows (Dadub Metropolis Remix)
Sasse – Face2Face With Reality (Frank Martiniq Defiance Remix)
Abstract Souls – Abstract Subway (Claudio PRC Perspective Remix)

MONAD SERIES: "The generation of number series is related to objects of geometry as well as cosmogony. From the Monad evolved the Dyad; from it numbers; from numbers, points; then lines, two-dimensional entities, three-dimensional entities, bodies, culminating in the four elements earth, water, fire and air, from which the rest of our world is built up."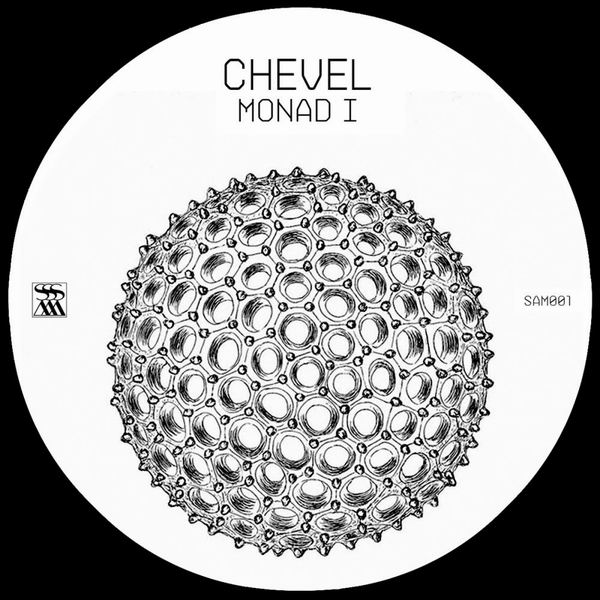 Chevel's command of his sound palette is flawless: Monad I seamlessly contorts from elegance to malevolence. The incremental changes, readings, measurements, observations are collected and clustered together. The EP forms a log of four experiments into texture, timbre, tone. It's geometric techno. It's violent subaqueous dub. It's stratospheric ambience tangled amid whispy white noise. Chevel's just 19 and he's that moreish combination of low profile and high quality.
Fulcron
Portego
Tren
Hexadecimal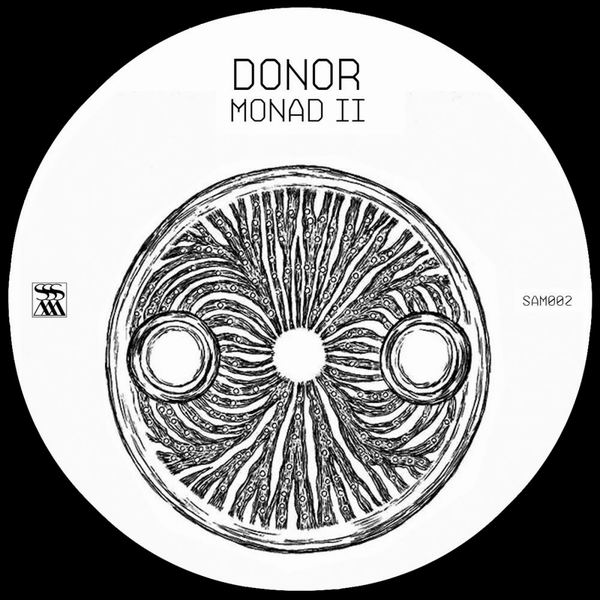 [SAM002] Donor – Monad II

Donor's Monad II is nothing short of bone rattling. He entered the studio with armfuls of field recordings and processed them to the limits of what the descriptors hard, deep and oblique can describe. The range of ideas on show here is impressive, from deep and dub filled to far off and spectral. It's straight-up techno that's been pulled inside-out, shaken upside-down. With swung basslines, off-kilter patterns and crunchy white noise, it's all here and it's demanding to be heard.
Confine
Remainder
Portal
Rhetoric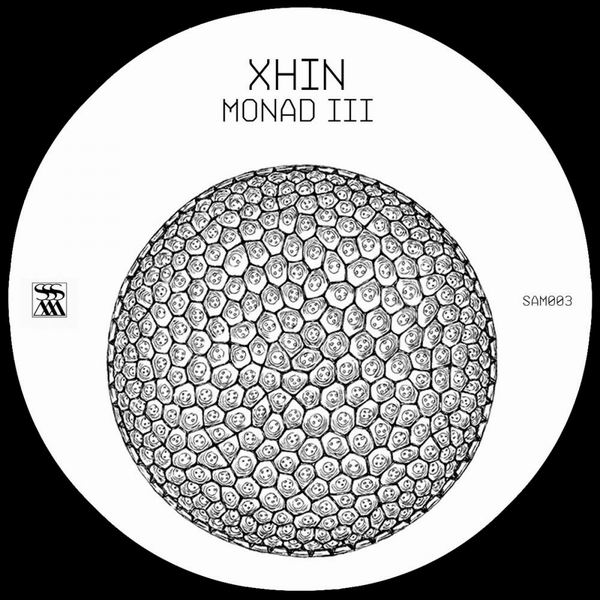 Xhin's Monad III is dark. It's a veritable master class in the art of techno: not one murmur is superfluous and not one beat drops out of place. The tracks are terrifyingly elegant, unfathomably deep and laced with delicious surprises. Spliced with the knowledge of a geneticist. Cut with the scissors of a master tailor. Analogies fall short. These inexplicable tracks, meticulously crafted from distortion and darkness, seem to somehow have undergone the next stage of evolution.
Mind
Key
Mutate
Seed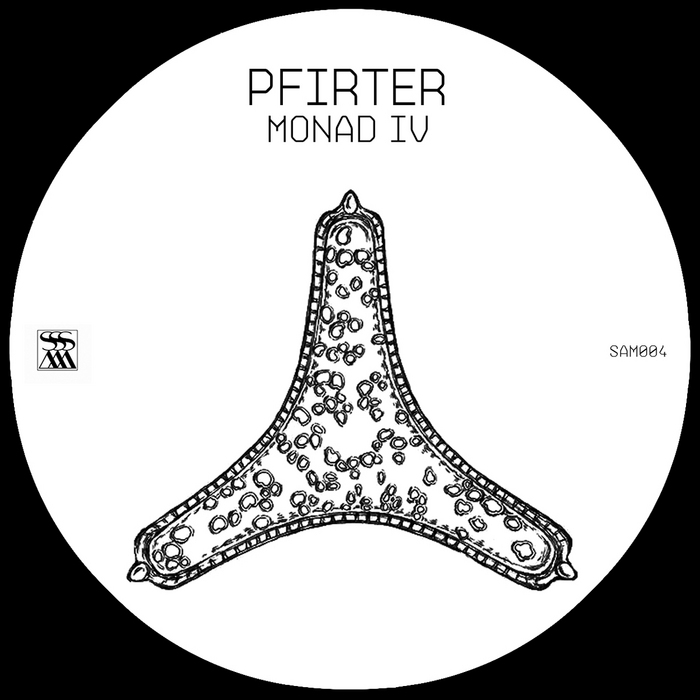 Pfirter's Monad IV traverses the possibilities of techno. The sounds fold into themselves and simultaneously spiral outwards. It's an EP that has architectural and macrocosmic ambitions. Founded on massive bass it clangs out of turn and sprawls crackling and hissing into the ether. Monad IV ends with a serrated slice of drone, perhaps it was recorded underwater or perhaps its sound data from a satellite, what does seem certain though is that it comes from a place that's very far from terra firma.
Arcon
Repeticion
Supraventricular
Materia
Perc's Monad V is suffused with hypnotism. Despite being built upon beats that move in repetitious motions, it refuses to lull you into a sense of security. It's deep techno with sinister drone sensibilities. The off-key undercarriages swell and the structures strain and swarm. Snatches of vocals appear and fizzle away into white noise. Brutal patterns veer off into elegant angularity. Monad V demands you to expect the unexpected, and with these dark, dance floor ready cuts Perc does not disappoint.
Tension
Rowan
Stoq
Bozo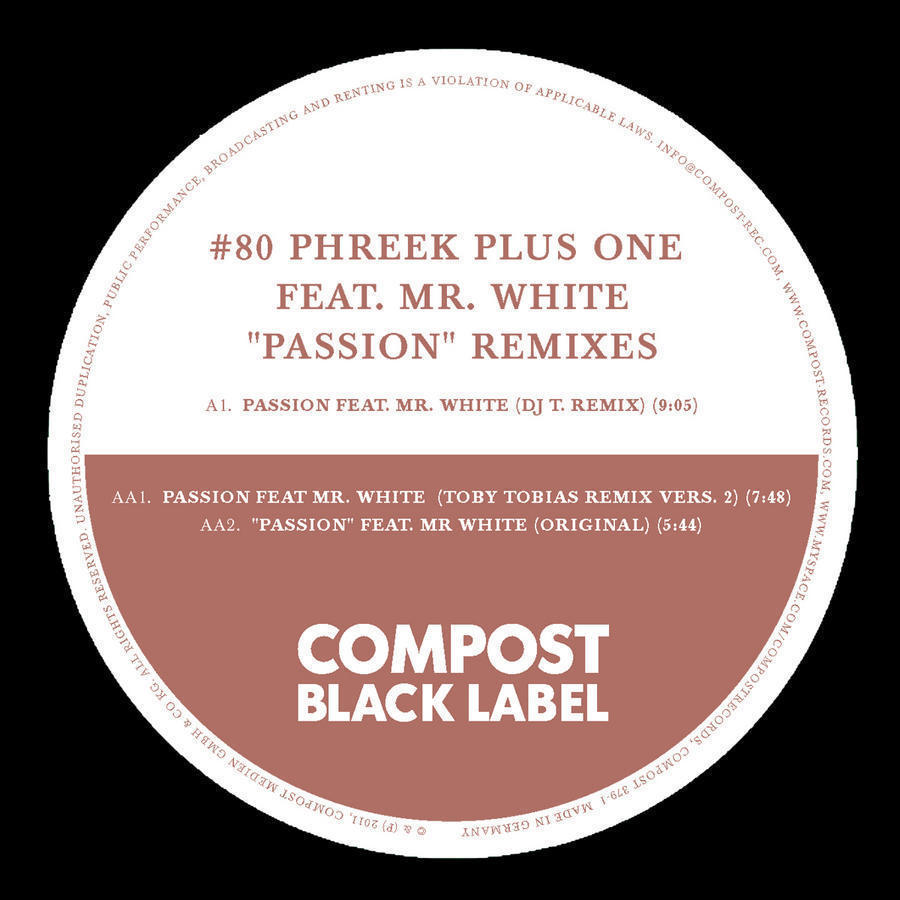 [SAM006] Markus Suckut – Monad VI
Markus Suckut's Monad VI is filled with iridescence. This is techno with sub aqueous sensibilities. The bass lines wander into dub territory and deep, nautical techno emerges. With track titles including "Cosmos" and "Wormhole" it's clear that this EP has ambition. Using a palette that shimmers with a dark brilliance Markus Suckut questions the limits of what the Monad could possibly mean, and in doing so he seamlessly fuses the ecstatic with the esoteric.
Parsec
Pulse
Wormhole
Cosmos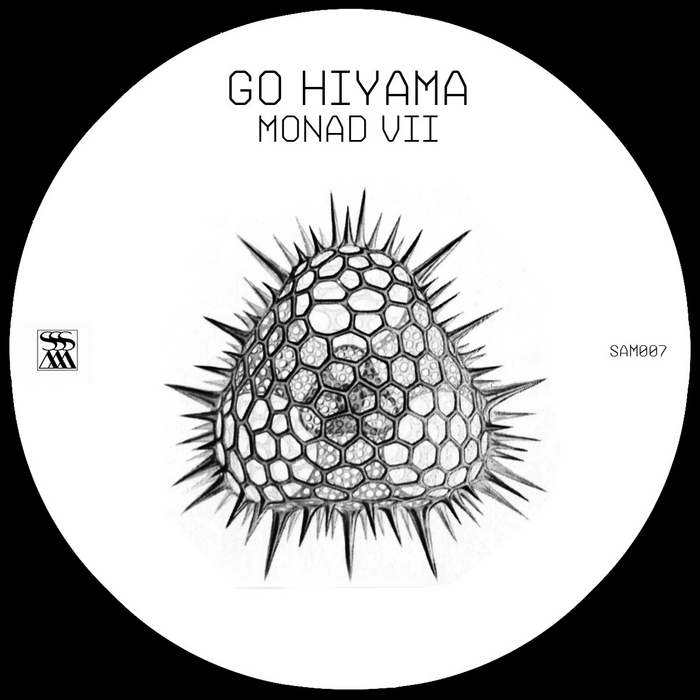 [SAM007] Go Hiyama – Monad VII
Go Hiyama's Monad VII is a tale of mathematical precision, with titles that translate from the Japanese as 'Equals', 'Multiplication', 'Division' and 'Subtraction'. It's a story of origin that seems to sample cells dividing, genetic material splintering and organisms knitting themselves into existence. The palette is raw, the beats broken, the dub blistering and the sum of the EP's four parts creates a blissfully hybrid whole.
Wa
Kakeru
Waru
Hiku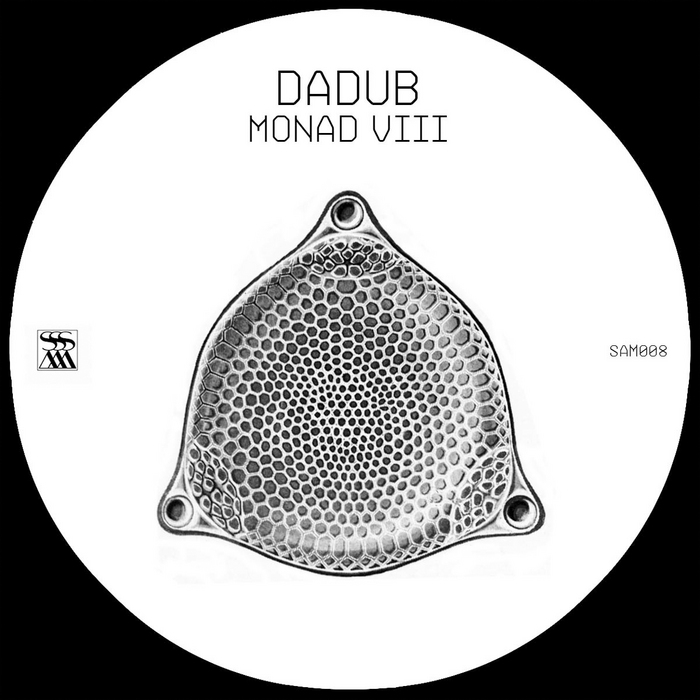 Dadub built Monad VIII upon the concept of systems. It's an EP where molecules, hyper-structures, sonic cells shuffle together to form a subaqueous dub landscape. This is a vision of creation as a fluid, self-organizing structure. Dadub have created an experiment into the creative process which has produced four systematically ecstatic results.
Hadean
Ilya
Amnion
Biopoiesis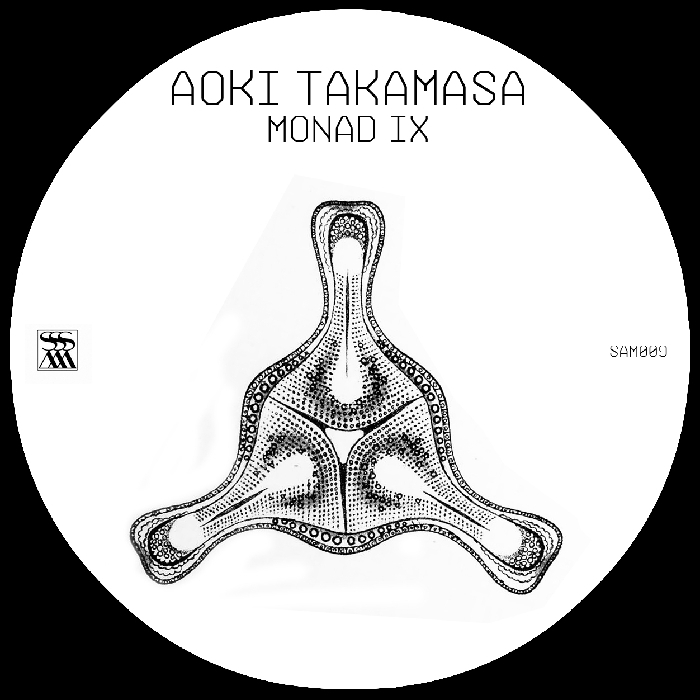 [SAM009] Aoki Takamasa – Monad IX
AOKI takamasa's Monad IX is a stark example of exploring the periphery of contemporary electronic music and yet impressing an artisitc identity upon these fringes. An anonymous voice on 'mnd-sng-01' blurts 'shake everything', and this is his point. Shake not just yourself on the dance floor, but shake your notions of artistic processes. The tracks draw attention to themselves as constructions, they're not titled but serial numbered from 'mnd-sng-01' right through to 'mnd-sng-04'.
mnd-sng01
mnd-sng02
mnd-sng03
mnd-sng04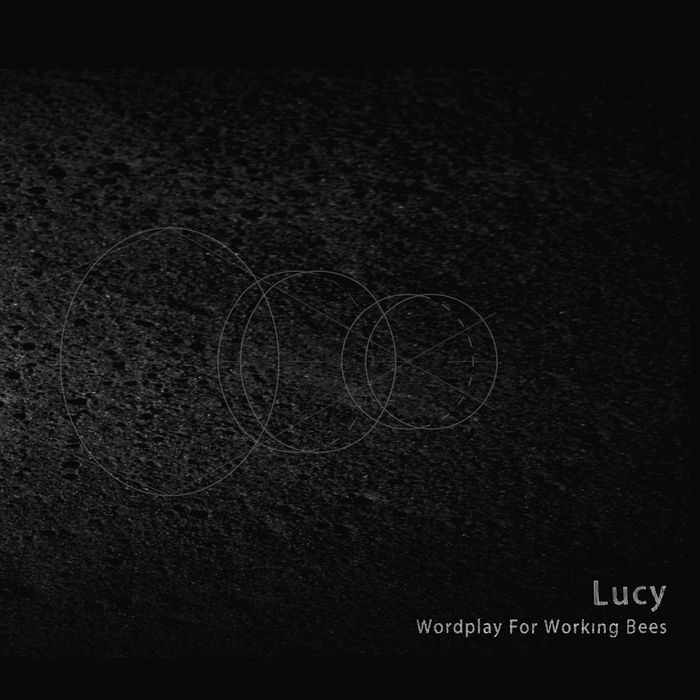 Lucy – Wordplay For Working Bees (SACD001)
With 'Wordplay for Working Bees' Lucy creates a blueprint, not just the departure point for the full length format according to Stroboscopic Artefacts, but he also lays down new possibilities for the techno album. Refusing the obvious 4/4 route, Lucy traverses the widest possibilities of electronic music. 'Wordplay for Working Bees' encompasses IDM that leans towards drone, puckering, dub-filled techno and ambient in its most oblique forms. The beloved character of Lucy's DJ sets, the way he layers tracks to find unique timbre and tone, is reflected in his studio approach. Lucy's debut album results in the most delicate and delicious juxtapositions, as the unexplained and unexpected tangle together in the ear.
1 thear
2 tof
3 bein
4 gas
5 lav
6 eis
7 torul
8 eon
9 es
10 mas
11 ter