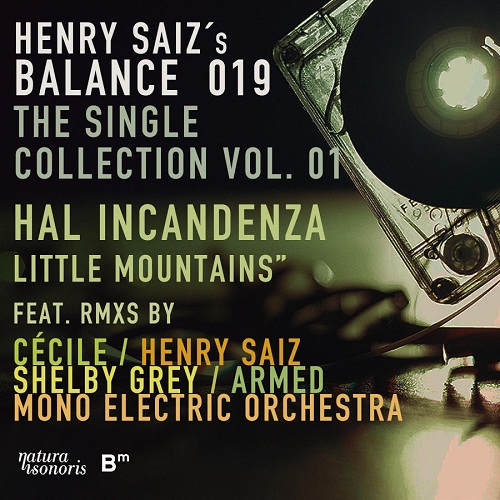 Support: Joris Voorn / Hernan Cattaneo / Cosmonauts / Slam / Monaque / RA
Following on from Henry Saiz' critically acclaimed Balance 019 compilation, Natura Sonoris has joined forces with Balance Music to extract 3 offerings from the superb CD mix. Each volume contains exclusive remixes of the chosen tracks by some of the most exciting new names of the electronic music scene.
Volume 1 is the track that really kicks things off on Disc 1 of the mix. Henry Saiz' underground alias Hal Incandenza offers what he is known for in the shape of Psychedelic, Disco House fusion and future classic "Little Mountains" with 5 remixes including a master class from Henry himself.
Other remixes include a sublime Tech House re-work from New York based producer, Mono Electric Orchestra. A bouncing Deep House rendition from Cecile takes the original to the smoother of dance floors which is joined by the fun loving House re-make from Shelby Grey and finishing with an avant-garde psychedelic trip from Spain's rising talent Armed.
Artist: Hal Incandenza
Title: Balance 019 Singles Collection Vol. 1
Genre: Indie Dance / Nu Disco / Electronica
Label:: Natura Sonoris
Catnr: NS026
Mp3 Download Source: WEB
Quality: 320kbps avg / 44.1KHz / Full Stereo
Digital Released: September – 2011
1. Hal Incandenza – Little Mountains (Armed Remix) [06:40]
2. Hal Incandenza – Little Mountains (Cecile Remix) [06:33]
3. Hal Incandenza – Little Mountains (Henry Saiz High-End Remix)[08:04]
4. Hal Incandenza – Little Mountains (Mono Electric Orchestra Remix)[08:13]
5. Hal Incandenza – Little Mountains (Original Mix) [07:57]
6. Hal Incandenza – Little Mountains (Shelby Grey Remix) [05:54]