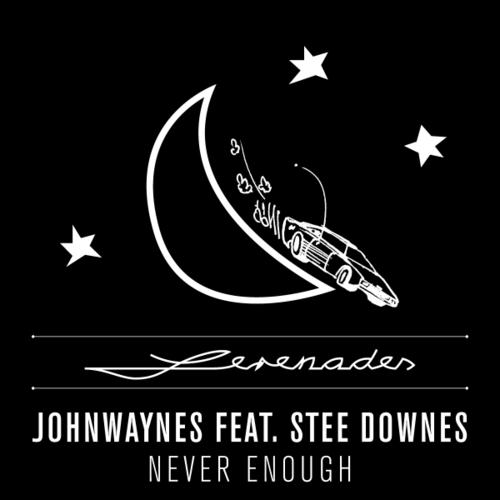 Johnwaynes – Never Enough [SRNDS003] Release Info :
Talented Portugese duo Johnwaynes have had a fruitful career so far with releases on labels like Brique Rouge and Compost. Now they appear on Serenades, with this trippy and inspired vocal house track called 'Never Enough'. Featuring the soulful vocal talents of Stee Downes, the Irish Amsterdam-based singer whose smooth tones can also be found on Sonar Kollektiv or on the Lovebirds summer hit 'Want you in my Soul', the team have cooked up a real hit in the making with 'Never Enough'.

Combining deep, sexy house vibes with an insistent, catchy vocal and expertly produced elements the track comes in two distinct versions. The original keeps things low down and dirty, wrapping up the story in a cool 8 minute version. Melodious pianos and deep square bass come together in a glorious moment of underground pop house. The 'Raw Mix' however pushes the story further with a more ravey vibe and extended tripped-out moments, yet keeps it deep and soulful with warm rhodes keys and plenty of atmosphere!
Artist: Johnwaynes
Title: Never Enough
Genre: House / Tech House
Label:: Serenades
Catnr: SRNDS003
Mp3 Download Source: WEB
Quality: 320kbps avg / 44.1KHz / Full Stereo
Digital Released: September – 2011
1. Never Enough (Feat. Stee Downes) 8:04
2. Never Enough (Feat. Stee Downes) (JW Raw Mix) 8:05