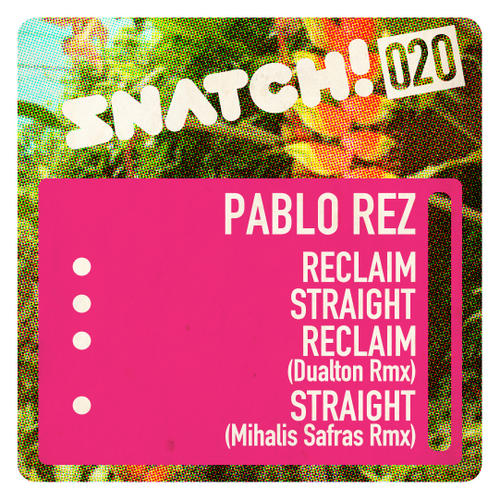 Artist: Pablo Rez
Title: Reclaim / Straight
Genre: House / Tech House
Label:: Snatch! Records
Catnr: SNATCH020
Mp3 Download Source: WEB
Quality: 320kbps avg / 44.1KHz / Full Stereo
Digital Released: September – 2011
01. Reclaim 06:43
02. Straight 06:36
03. Reclaim (Dualton Remix) 08:17
04. Straight (Mihalis Safras Remix) 06:09
Pablo Rez – Reclaim / Straight Release Info :
Its always nice to keep it the family and thats exactly what Riva Starr is doing on the latest release from Snatch!, as he welcomes his brother, Pablo Rez. Naples born, Pablo first found music at the age of eight years old. Having studied music he found himself in a hardcore band in his teens. From there it was the lure of the drum machine and after spending some time in Japan, Pablo had begun to create his own music. A fusion of dub-techno and deep house. 2007 saw his "Yokohama" track on Minisketch become a firm favourite with the techno crowd and hold firm in the beatport charts for many weeks. Pablo's Snatch! debut sees him dropping two super-fresh cuts in the form of 'Straight' and 'Reclaim'.
As its name suggests, 'Straight' is upfront 4/4 filtered house. Disco-tinged breaks and snapping snares make it perfect weapon for any floor. 'Reclaim' finds Pablo going deeper. Rolling toms and a smooth Rhodes riff work together with a delicate vocal to produce a lovely early set number. On the remix of 'Straight' is Greek producer Mihalis Safras. Staying true to the original but softening the edges, Safras delivers just the right level of funk and sophistication. On 'Reclaim' Dualton step up. Again, staying true, they keep things deep whilst adding some extra bite.