Artist: Plastikman
Title: Arkives
Genre: Techno / Deep Techno
Label:: Minus
Catnr: MINUS100
Mp3 Download Source: CD
Quality: 320kbps avg / 44.1KHz / Full Stereo / + WAV
Released: 2011
This Release is available also in our Private FTP in WAV Quality..
Richie Hawtin's triumphant return to the stage as Plastikman in 2010 proved that his best-known alias is as innovative and as relevant as ever. Hawtin has taken Plastikman's most classic material, originally released between 1993 and 2003, and reworked it for a truly live performance accompanied by mind-bending, synchronized visuals—a sound and light show like no other, one that collapses the distance between present-day festivals and the uncompromisingly underground warehouse parties of the mid '90s.
For many attendees, this is their first taste of Plastikman. Since 2003, Hawtin has been far better known simply as Richie Hawtin, the celebrated DJ and mastermind behind the Minus label. Some fans today were still infants when Plastikman's acid ripple first began streaming from Hawtin's basement studio in Windsor, Ontario, Canada.
For long-time devotees and new fans alike, Hawtin now presents Plastikman's Arkives, a comprehensive box set that pulls together all 17 years of the Plastikman story so far, including remastered versions of all six previously released Plastikman albums and a trove of rarities, unreleased sessions and new material.
Arkives, which is a strictly limited, made-to-order edition -only as many copies will be manufactured as have been pre-ordered- is released in four different formats:
Reference (16-disc CD/DVD/book edition)
Analog (6 records on 180-gram vinyl in a deluxe box, with poster)
Digital (digital download version)
Komplete (including all CDs, vinyl, book, DVD, and bonus digital downloads)
Arkives Reference, the main personalized edition, features 15 CDs and 1 DVD. The deluxe packaging includes a slipcase with foldout sleeves for all 16 discs, plus a 100-page book that tells the Plastikman story in archival photos and a newly commissioned text. The set includes newly remastered versions of all six previously released Plastikman albums—Sheet One, Musik, Recycled Plastik, Consumed, Artifakts (B.C.), and Closer—and five further CDs of rare and unreleased material:
• Rekonstruktions collects Plastikman's classic and hard-to-find remixes for other artists, including La Funk Mob, System 7, New Order, Depeche Mode, Hardfloor, and even an unreleased remix of his own Robotman project.
• Replikants features all-new remixes specially commissioned for the project, in which Hawtin's influences and heroes rework Plastikman's back catalog. Reaching far beyond the world of techno, the disc features luminaries such as Vince Clarke, Cliff Martinez, François Kevorkian, Moby, Chris & Cosey, Severed Heads, Flood, and Mute's Daniel Miller & Gareth Jones.
Two further CDs contain previously unreleased material. One features the never-before heard, complete recording session from which "Spastik" emerged, along with an unreleased John Peel in-studio live session. Still more previously unreleased Plastikman material follows on the second of these CDs, including the soon-to-be-released single "Slinky."
Finally, Nostalgik collects rare, out-of-print, vinyl-only editions and bonus Plastikman tracks. This is a once in a lifetime chance to experience the full sweep of Plastikman's journey so far.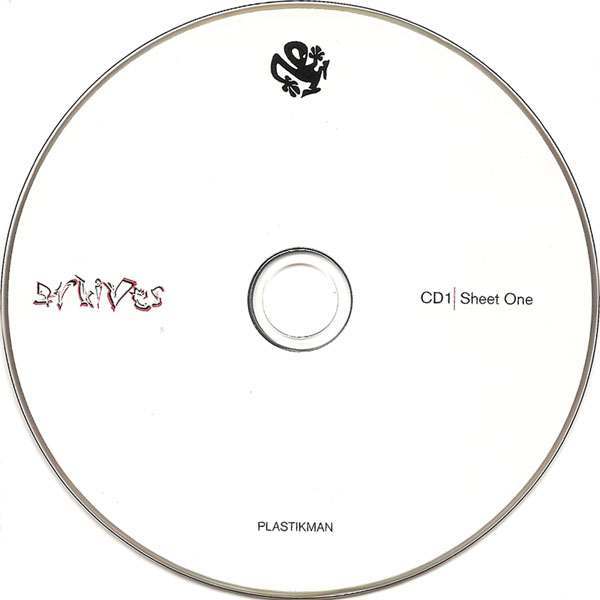 CD1 – Plastikman – Sheet One   
01. Drp [01:45]
02. Plasticity [11:01]
03. Gak [05:37]
04. Okx [00:34]
05. Helikopter [06:30]
06. Glob [08:20]
07. Plasticine [11:19]
08. Koma [04:10]
09. Vokx [02:07]
10. Smak [06:43]
11. Ovokx [02:11]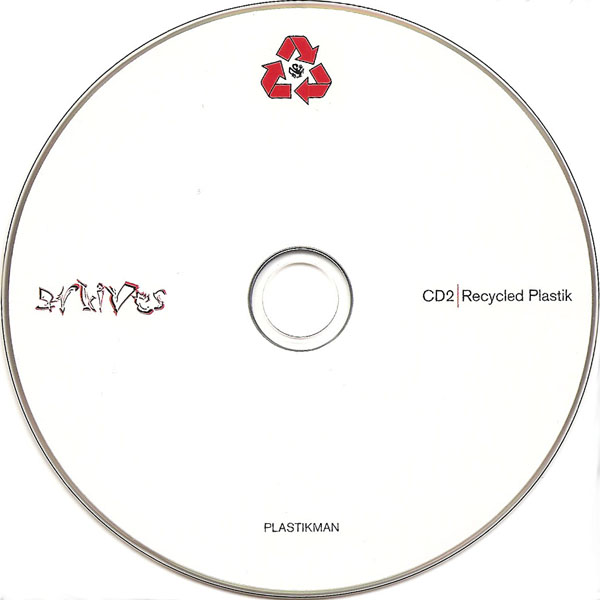 CD2 – Plastikman – Recycled Plastik
01. Krakpot [11:14]
02. Freek [06:44]
03. Kiropraktor [04:30]
04. Oldskool [05:05]
05. Spaz [07:42]
06. Naturalistik [04:39]
07. Elektrostatik [09:53]
08. Elektrix [05:57]
09. Gak (Remix) [06:52]
10. Sickness [07:51]
11. Panikattack [08:41]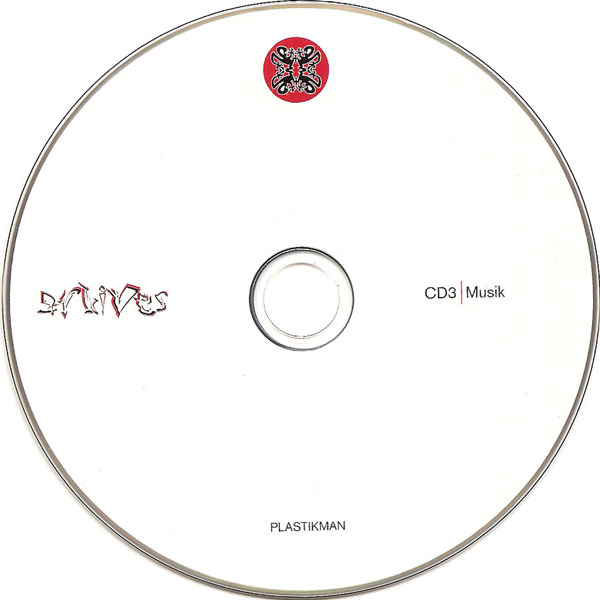 CD3 – Plastikman – Musik
01. Konception [08:03]
02. Plastique [13:16]
03. Kriket [05:35]
04. Fuk [05:01]
05. Outbak [05:13]
06. Ethnik [09:03]
07. Plasmatik [05:25]
08. Goo [02:02]
09. Marbles [11:06]
10. Lasttrak [08:22]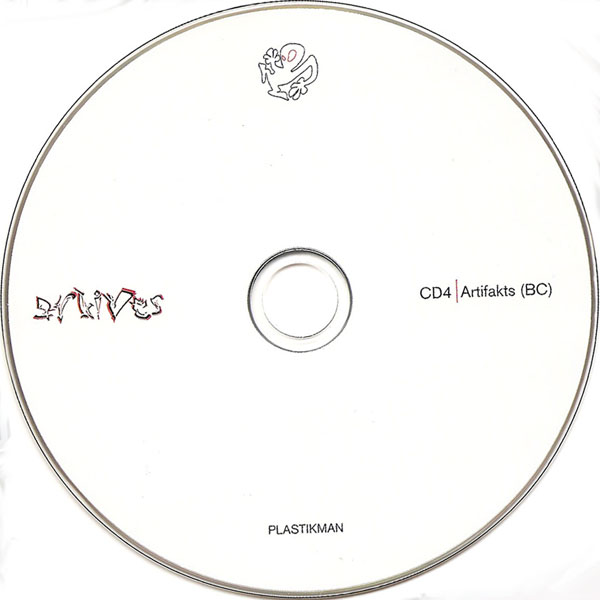 CD4 – Plastikman – Artifakts (BC)
01. Korridor [05:48]
02. Psyk [08:30]
03. Pakard [12:13]
04. Hypokondriak [10:34]
05. Konstant [07:50]
06. Rekall [10:47]
07. Skizofrenik [04:59]
08. Are Friends Electrik? [12:58]
09. Lodgikal Nonsense [02:18]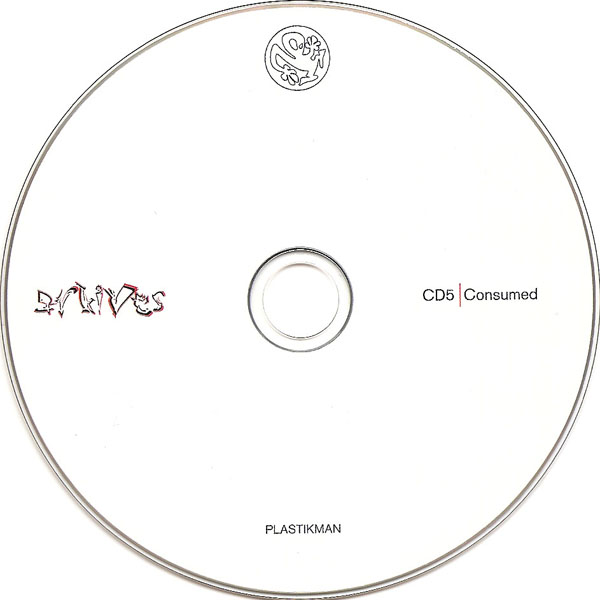 CD5 – Plastikman – Consumed
01. Contain [08:28]
02. Consume [11:19]
03. Passage (In) [00:54]
04. Cor Ten [06:49]
05. Convulse (Sic) [01:24]
06. Ekko [03:56]
07. Converge [04:24]
08. Locomotion [08:47]
09. In Side [12:36]
10. Consumed [11:44]
11. Passage (Out) [03:07]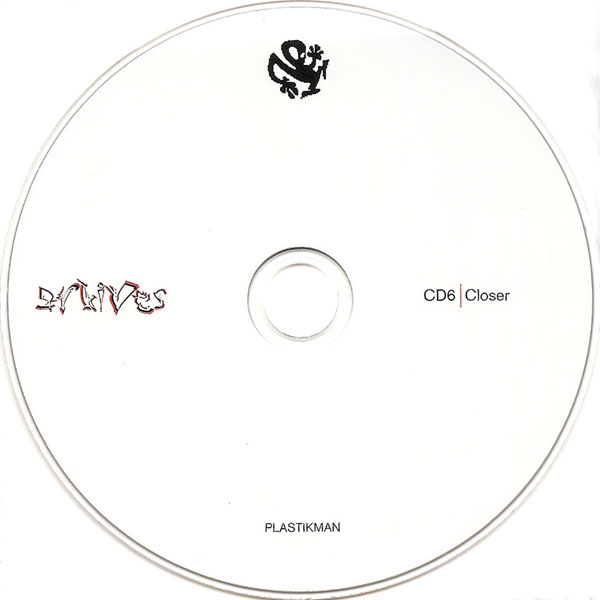 CD6 – Plastikman – Closer
01. Ask Yourself [08:46]
02. Mind Encode [05:43]
03. Lost [03:47]
04. Disconnect [05:41]
05. Slow Poke (Twilight Zone Mix) [08:24]
06. Headcase [09:16]
07. Ping Pong [09:27]
08. Mind In Rewind [10:19]
09. I No [03:39]
10. I Don't Know [11:06]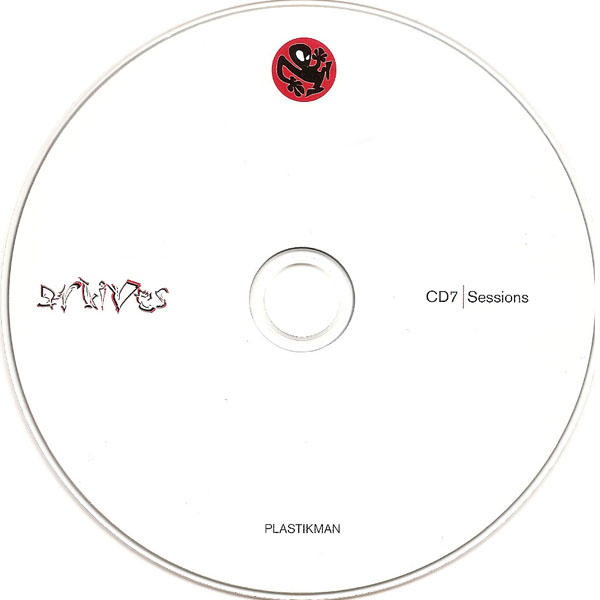 CD7 – Plastikman – Sessions
01. Part 1 [14:24]
02. Part 2 [04:57]
03. Clap Break [00:13]
04. Snares and Claps [00:12]
05. Snare Outtakes [00:11]
06. Rides [00:57]
07. Rides and Snares [00:57]
08. Ending Effects [01:16]
09. Spastik Original Version [09:20]
10. Spastik Dubfire Rework [09:30]
11. PP001 [08:29]
12. Dubfunk [05:45]
13. Helikopter [06:22]
14. Manik [06:34]
15. Live at Spastik: Slak and Kriket [07:14]
16. Live at Transcendance: Spastik [02:35]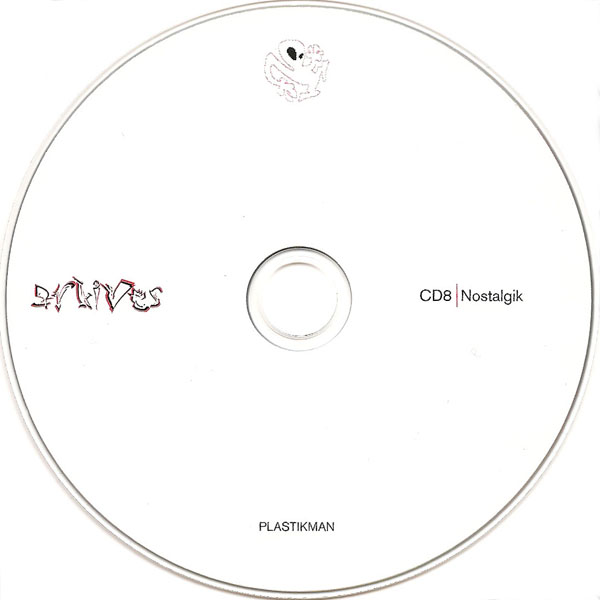 CD8 – Plastikman – Nostalgik
01. Snark [08:34]
02. Aquatik [10:43]
03. Plinkplonk [07:13]
04. Kink [06:41]
05. Plonker [05:12]
06. Panikattack (Second Attack Remix) [08:05]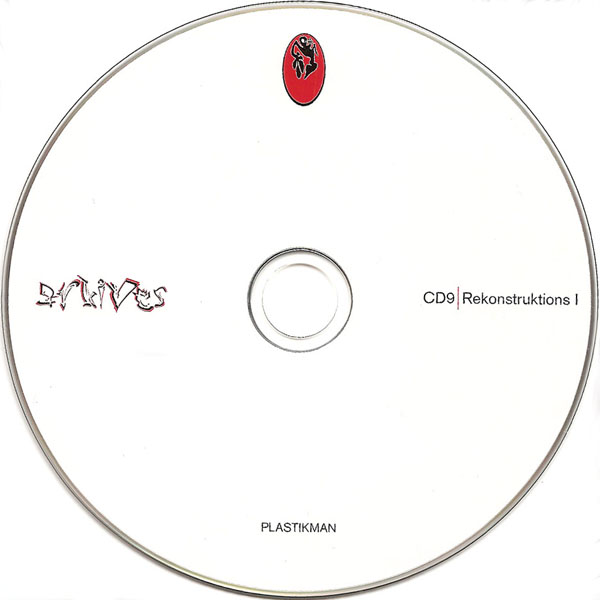 CD9 – Plastikman – Rekonstruktions I
01. Motorbass Get Funked Up [06:48]
02. Blueprint [08:51]
03. One to One Religion [08:13]
04. Umayeyo [06:36]
05. Markiv [06:21]
06. Vikram the Vampire [09:48]
07. Painkiller [08:40]
08. Hypnofreek [06:18]
09. JAK Rabbit [09:23]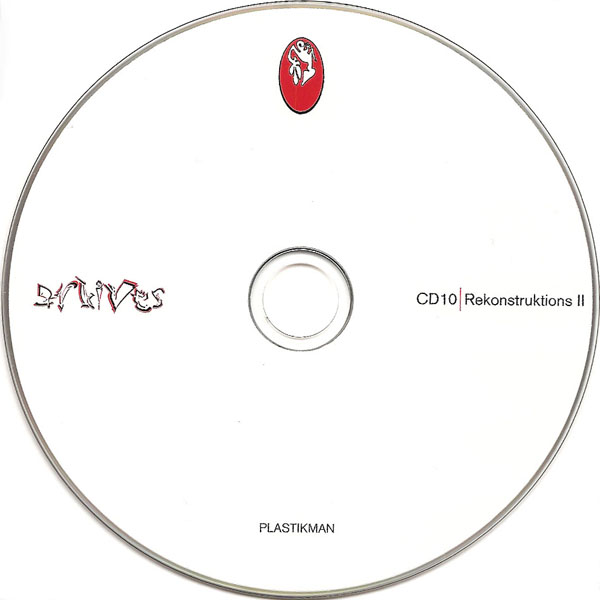 CD10 – Plastikman – Rekonstruktions II
01. Blue Monday [08:02]
02. Don't Laugh [12:15]
03. Rock 2 House [10:23]
04. Baby Kate [08:00]
05. Into the Nature [10:26]
06. Do Da Doo [11:59]
07. Alpha Wave [13:11]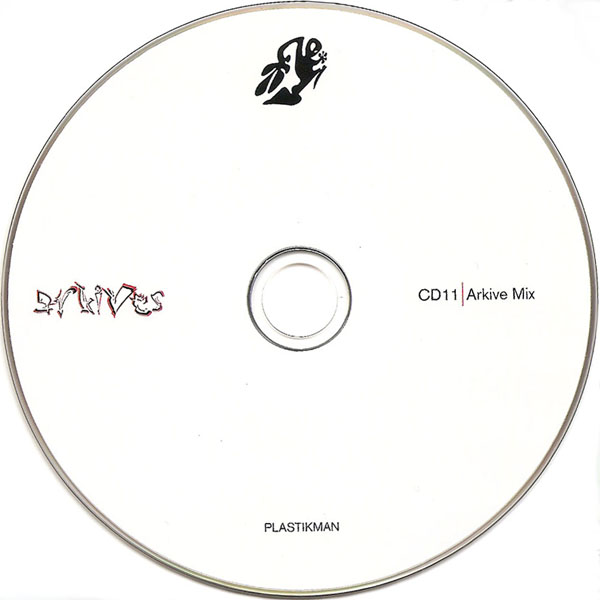 CD11 – Plastikman – Arkive Mix
01. Korruption (1994) (Musik) [08:21]
02. Rakjaktak (1993) (Musik) [06:22]
03. Plastique Vox (2010) (Musik) [00:55]
04. Pakard Discontinued Model Version (1997) (Artifakts) [07:31]
05. Nostalgik String Excerpt (1997) (Artifakts) [01:18]
06. Konceiled (1998) (Artifakts_Consumed) [06:35]
07. Compress (1997) (Consumed) [03:13]
08. Compression (1997) (Consumed) [01:34]
09. Collapse (1997) (Consumed) [04:44]
10. Close (2002) (Consumed) [04:10]
11. First, Last and Always (2002) (Closer) [03:07]
12. Ask Yourself (2010) (Closer) [00:32]
13. Detached (2003) (Closer) [06:55]
14. Inside U (2003) (Closer) [07:10]
15. Ask Yourself (2010) (Closer) [01:12]
16. Disconnect (2003) (Closer) [04:32]
17. Closed (2002) (Closer) [01:39]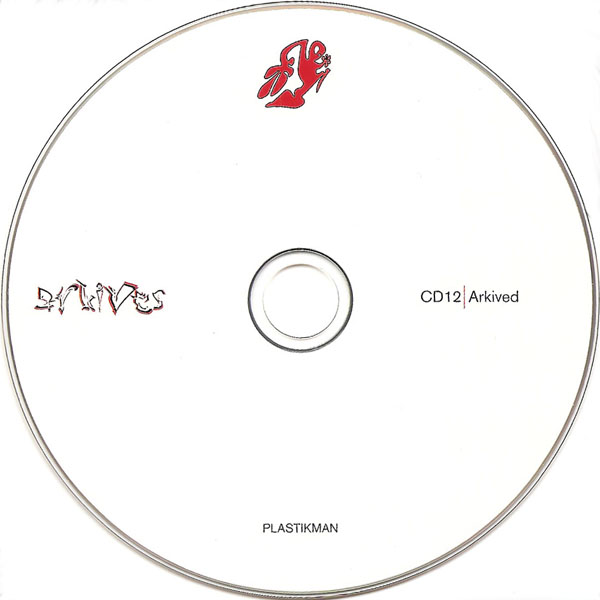 CD12 – Plastikman – Arkived
01. Spastik Jack (1994) [05:16]
02. We Wanna Jak (1994) [04:00]
03. Monkee (1994) [04:33]
04. Tom Tom (1995) [07:29]
05. Slinky (1995) [06:21]
06. Snarkish (1996) [07:18]
07. Baktrak (1997) [08:40]
08. Ekko (1997) [09:03]
09. Fokus (1997) [01:14]
10. Krakked (2003) [06:48]
11. Akoustik (2008) [07:22]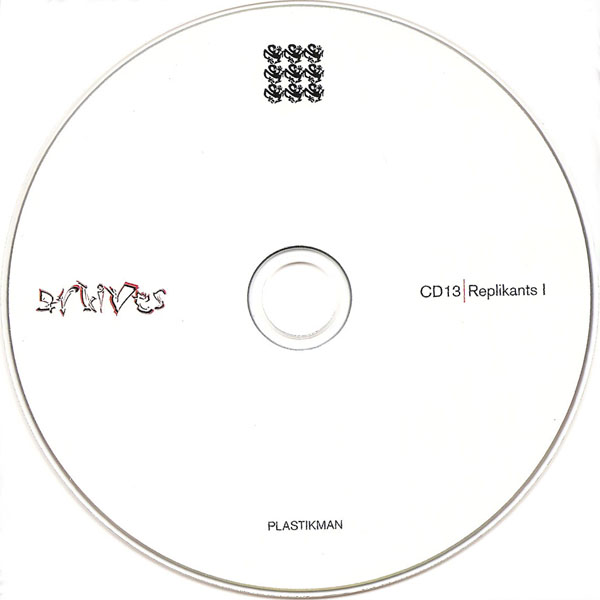 CD13 – Plastikman – Replikants I
01. Ask Yourself (Cliff Martinez Remix) [06:14]
02. Disconnect (Alva Noto Remodel) [06:24]
03. Sheets 'N' Blankets (Crazy Sheet Soul Center Variation) [09:22]
04. Are Friends Electrik? (Convertible Remix) [06:29]
05. I Don't Know (Carter Tutti Remix) [06:54]
06. Pakard (Flood's See You One The Other Side Remix) [09:10]
07. Akoustik (F.K. Remix) [09:03]
08. Mind in Rewind (Carl Craig Prog 47 Remix) [11:05]
09. I Don't Know (Kazuya Nagaya Remix) [13:46]

CD14 – Plastikman – Replikants II
01. Plasticity (Dubfire Remix) [09:46]
02. Krakpot (Moby Remix) [08:35]
03. Mind In Rewind (Steve Bicknell Lost Remix) [05:51]
04. Gak (Gaiser's Oozing Through Windsor Tunnel Remix) [07:12]
05. Mind Encode (Severed Heads Remix) [03:53]
06. Ping Pong (Ambivalent's Consumed by Pong's Remix) [06:59]
07. Oedipus Komplex (Heartthrob Rework) [07:00]
08. Helikopter (Green Velvet Remix) [07:26]
09. Ask Yourself (MK Remix Hawtin Edit) [04:36]
10. Elecktrostatik (Vince Clarke Remix) [04:41]
11. Mind In Rewind (Berg Nixon Remix) [05:18]
12. Prototype (Peter Namlook Re-Interpretation) [03:10]

CD15 – Plastikman – Extrakts
01. Krossover (Fuse vs. Plastikman) [08:59]
02. Plastique (Short Video Mix) [04:40]
03. Hump [05:27]
04. Afrika [07:36]
05. Psykik [05:50]
06. PK [07:40]
07. Disconnect (Single Edit) [03:12]
08. Digital Divide [10:28]
09. Circles [05:49]
10. Risk Assessment [08:47]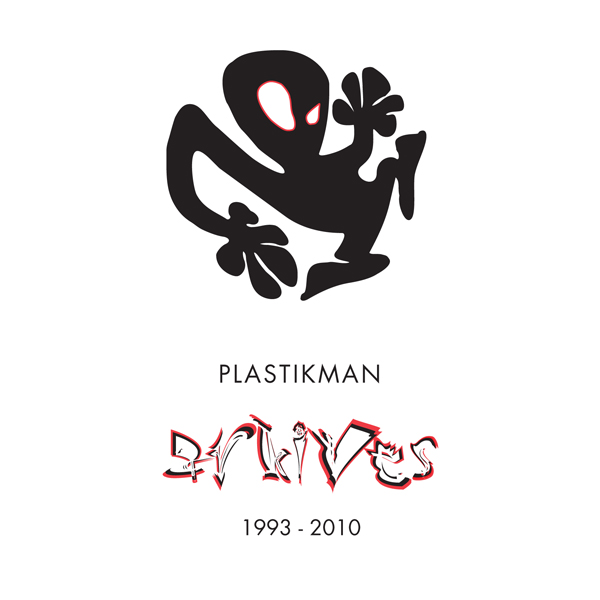 Digital Bonus Tracks (rare/unreleased)
1. Plastikman – PKamb
2. System 7 – Alphawave (Full Remix)
3. Disconnect (Delano & Sab Mix)
4. Elektrostatik (Vince Clarke Mix)
5. Ask Yourself (M.K. Mix)
6. Glob (Hobo Mix)
7. Disconnect (Gaiser Mix)
8. Plastique (Mathew Jonson Mix)
9. Ask Yourself / Headcase (Fabrizio Mix)
10. Consume (Ambivalent Mix)
11. Headcase (Marc Houle Mix)
12. Kriket (Derek Plaslaiko Mix)
13. Oldskool (Magda Mix)
14. Ping Pong (Skoozbot Mix)
15. Ethnik (Paco Osuna Mix)
16. Goo (Paco Osuna Mix)
17. Kriket (Danilo Divigorito Mix)
18. Elektrostatik (Skoozbot Mix)
19. Disconnect (Skoozbot Mix)
20. Mind In Rewind/Headcase (Click Box Mix)
21. I Don't Know (Psyche Mix)
22. Lodgikal Nonsense (Matthew Dear Mix)
23. Pakard (Flood Mix Hawtin Edit)
24. Marbles (Fabrizio Maurizi Mix)
25. Marbles (Rex Sepulveda Mix)
26. Slinky (JPLS Mix)