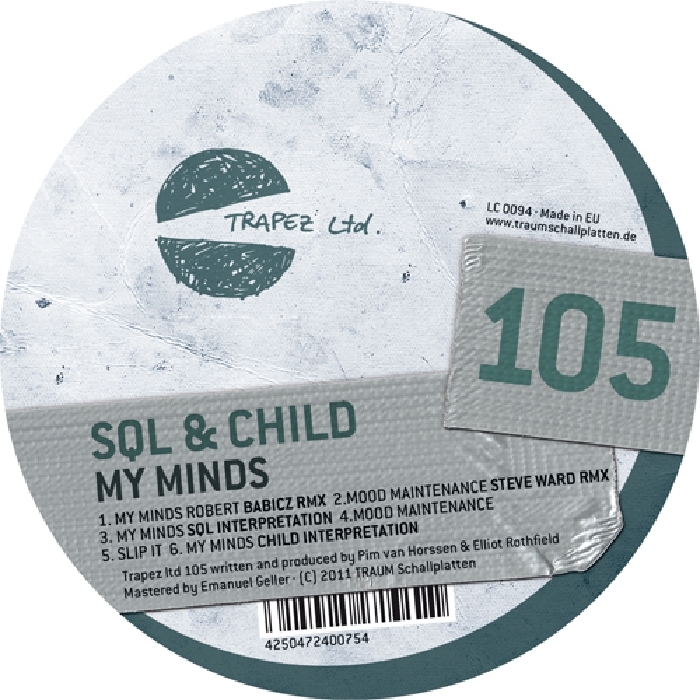 Artist: SQL, Child
Title: My Minds
Genre: Techno
Label: Trapez Ltd,
Catnr: TRAPEZLTD105
Source: WEB
Quality: 320kbps avg / 44.1KHz / Joint Stereo
Date: 22-09-2011
1. My Minds (Robert Babicz Remix) 9:54
2. Mood Maintenance (Steve Ward Remix) 7:22
3. My Minds (SQL Interpretation) 6:25
4. Slip it 7:23
5. Mood Maintenance 6:29
6. Mood Maintenance (Sascha Sonido Remix) 6:43
7. My Minds (Child Interpretation) 6:20
SQL, Child – My Minds [TRAPEZLTD105] Release Info :
SQL is back in collaboration with the Australian producer and DJ Child!Their release marks two side, the originals being more on the deep side of things, whereas the remixes being produced much more in the tougher Trapez ltd style.
The release starts with a bit of a techno take from Robert Babicz. His remix of My minds kind of sounds a bit like Joe Beltrams Energy Flash in contrast to the very water like floating percussive powered original (SQL interpretation) on position 3 on this release. We see a remix of Australian producer Steve Ward who has been riding high, being played by popular DJs such as: John Digweed, Sasha, Hernan Cattaneo, Christian Smith, Dubfire, and Technasia in the past.
His remix of Mood maintenance has a a superb drive and gives way to short but explosive breaks though chord sounds! This track definitely is made for the bigger techno floors!Slip it adds to SQL and Childs originals on this release, this one being cool and housy. The track is extremely well arranged and offers a lot of well played piano parts.The original of Mood maintenance starts in the fashion of a night crawler but opens up to haunting chords, tiny melodies and moody sounding vocals and breathing.The original shows SQL and child are aiming at deeper grounds with this release.
We welcome Sascha Sonido, who has recorded before for Flash recordings and Kaato. Sascha has given Mood maintenance a good touch of modern German house, jacking and always and the move to stir up attention with his skilfully quirky grooves as he is celebrating that genre each weeks with his DJs sets. Last but not least Child himself has reinterpreted My minds in a kind of afterhour mix, keeping a fine balance of psychedelica and drum powered techhouse.