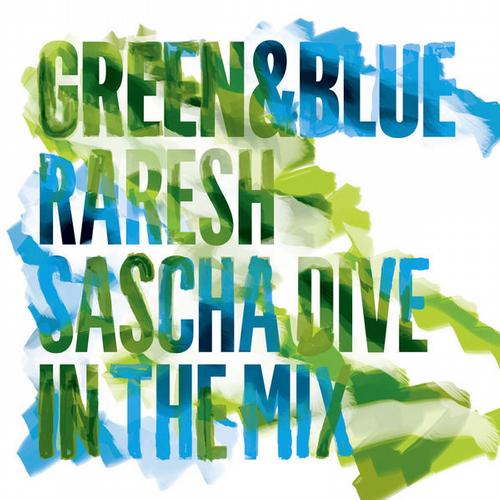 VA – Green And Blue 2011 (Mixed By Raresh And Sascha Dive) Release Info :
Raresh and Sascha Dive have mixed this year's Green & Blue compilation.
Headlined as usual by Ricardo Villalobos and Sven Vath, the 2011 Green & Blue festival takes place next month at its original venue: Waldschwimmbad Obertshausen, a waterside spot just outside of Frankfurt. This year's two-disc mix is curated by a newcomer and a veteran of the annual party: Dive will make his Green & Blue debut this year, while Raresh returns after playing in 2007 and
2008. From the looks of it, each artist takes a different approach to the task, with Raresh staying deep and groovy (Deepchord, Claro Intelecto, Villalobos'
remix of "Cafe del Mar") and Dive going for something a bit more upbeat, with cuts from Mr G, Ben Klock and Guillaume & the Coutu Dumonts. Both make use of DJ
Ali's "Park Your Mind." The mix is due out next month on Cocoon Recordings.
Artist: VA
Title: Green And Blue 2011 (Mixed By Raresh And Sascha Dive)
Genre: Tech House / Deep House
Label:: Cocoon Recordings
Catnr: CORMIX035DIGITAL
Mp3 Download Source: WEB
Quality: 320kbps avg / 44.1KHz / Full Stereo
Digital Released: August – 2011
CD1: Mixed by Raresh
01. Priku – Sweet Alandala (Dan Andrei Barcelona Remix)
02. Deepchord – Sofitel
03. Harrison Fnord – Dubgirl
04. Cezar Lazar – FRI1911
05. Danilo Schneider – 2 L'ecole (Buck Remix)
06. Delano Smith – Wires
07. Star*Dub/Vermittelnde-Elemente – The Source
08. Ion Ludwig – Harnas Rythm
09. DJ Ali – Park Your Mind
10. Och – Hate Internet (Claro Intelecto Remix)
11. Daze Maxim – Ultrabright
12. Mondo – WorkMme (Rootstrax Version)
13. AndrΘs Zacco – Icegrass
14. Kelvin K – Ancestral Moon (D9 Acid Mix)
15. Dan Andrei – Double Deez
16. Ernesto Ferreyra – Los Domingos Vuelo a Casa (Luciano Remix)
17. Energy 52 – CafΘ Del Mar (Ricardo Villalobos Dub)
CD2: Mixed by Sascha Dive
01. Cezar Lazar – FRI1911
02. Margaret Dygas – Ocbinh's Groove
03. Problem Kids – I Will Lead (Hollway & Eastwick Mix)
04. Ben Klock – OK feat. Elif Bicer (Kenny Larkin Remix)
05. Rino Cerrone – Optical Way B2
06. Agoria – Heart Beating (Argy Bonus Beats)
07. Recloose feat. Dwele – Can't Take It (Luciano's Remix)
08. Sascha Dive – Jus Groove
09. Guillaume & The Coutu Dumonts – Walking the Pattern (Extended Mix)
10. Stephen Hitchell – For Convextion
11. DJ Ali – Park Your Mind
12. Orange Muse – Oyster (John Selway Raw Remix)
13. Diego – Deep2
14. Marc Antona – Fast Track
15. Mr. G – Be Free
16. Osunlade – The 8th Chakra
– –
1. Green & Blue 2011 (Mixed By Raresh) 74:31
2. Green & Blue 2011 (Mixed By Sascha Dive) 72:55