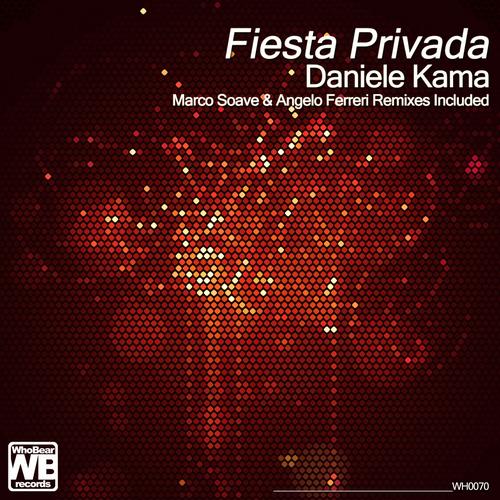 Artist: Daniele Kama
Title: Fiesta Privada
Genre: Tech House
Label:: WhoBear Records
Catnr: WH0070
Mp3 Download Source: WEB
Quality: 320kbps avg / 44.1KHz / Full Stereo
Digital Released: October – 2011
01. Fiesta Privada (Angelo Ferreri Remix) 08:00
02. Fiesta Privada 07:10
03. Scuba Resort (Marco Soave Remix) 06:54
04. Scuba Resort 07:09

DOWNLOAD| | Download with out limits!
Daniele Kama – Fiesta Privada Release Info :
Daniele Kama was born in Rome on the 21th of june in 1983. At the end of the 90s he begins to work like a resident dj at the "1800 club" (RM). At the same time he conduced a radiophonic show on RSC (fm101.20) with Simone Cristini.At the beginning of 2005 Daniele Kama And Simone Cristini created "Sexophobia" project, two inedit tracks probuced by Elio Milani than they was suddently inserted in "Electronic influence E.P.".
In 2007 with Patrizio Mattei he created the "Mann Verlorener" project,produced by Whiff records…and he recently released: Tendency feat. Erika Tanaka , Andrea Roma – I Feel the same (D.Kama rmx) and Daniele Kama – Trust It produced by Stereo Seven… Many fans of clubbing have certainly started to know her first European hit, entitled "Trust it" in 2009 was supported by leading international DJs. Daniele Kama has moved from there in his footsteps in the world today to become a house music producer and a dj greatly appreciated.
His achievements are numbered by rewinding the tape before Sphera Records where Daniel has many vinyl and collaborations with artists such as Kaiserdisco, Pierce, Phunklarique and Broombeck. Following the trend of sound led him to produce new and more experimental tracks in other musical contexts, such as touching label Potobolo, Blackrose, Microtech, Soulman Music, and many other circuit tech house today. But many are still projects and collaborations with quality stuff.