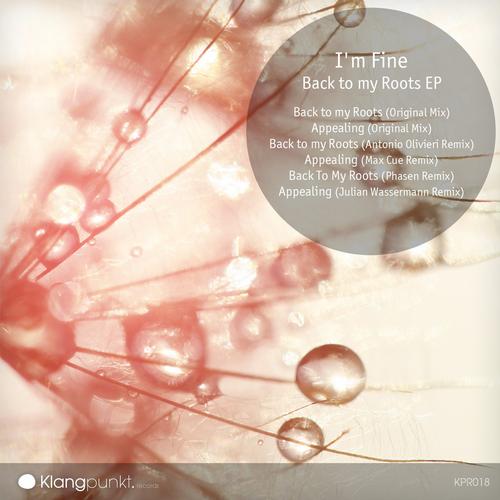 Artist: Im Fine
Title: Back to my Roots EP
Genre: Tech House
Label:: Klangpunkt Records
Catnr: KPR018
Mp3 Download Source: WEB
Quality: 320kbps avg / 44.1KHz / Full Stereo
Digital Released: October – 2011
01. Appealing – Julian Wassermann Remix [07:00]
02. Appealing – Max Cue Remix [07:07]
03. Appealing [06:33]
04. Back to my Roots – Antonio Olivieri Remix [08:00]
05. Back to my Roots [07:02]
06. Back to my Roots – Phasen Remix [08:53]

DOWNLOAD| | Download with out limits!
Im Fine – Back to my Roots EP Release Info :
With a huge amount of releases in Berlin in the future, its time for "Im Fine" to give their contribution to the Mannheim based label "Klangpunkt Records".Welcome inside the productions of Im Fine! An explosion of melody, hot beats, perfect rhythm and a saxophone.To please all of you electronic music lovers out there were throwing remixes of: "Back To My Roots" & "Appealing" into the goodie bag. Antonio Olivieri, Mac Cue, Julian Wassermann and Phasen will be remixing and give you their interpretations of the tracks.