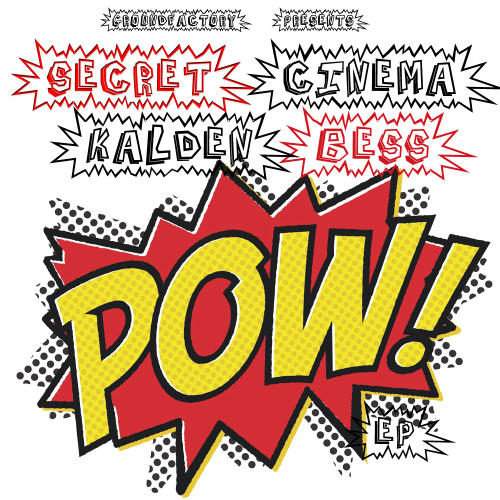 Artist: Secret Cinema & Kalden Bess
Title: Pow EP
Genre: Techno
Label:: Ground Factory Records
Catnr: GF030
Mp3 Download Source: WEB
Quality: 320kbps avg / 44.1KHz / Full Stereo
Digital Released: October – 2011
01. Bam Bam 06:51
02. Pow Pow 06:38
03. Pow Pow (Dub Mix) 06:38

DOWNLOAD| | Download with out limits!
Secret Cinema & Kalden Bess – Pow EP Release Info :
" Pow EP " is fresh out of the Ground Factory lab. This time, Kalden Bess collaborates with Secret Cinema to deliver three shades of serious groove to the world, and they take no prisoners. Bass like a tank, dirty handclaps, mechanical snares, repetitive hammering: a sound that's becoming distinctive of Ground Factory. That's what this one is all about.
A well-wrapped and hard groove built to enslave the dancing masses that leaves them no time to breathe. It's a kind of dark union between the extreme tribal dynamism of recent Tom Hades productions with the spellbinding CLR sound. The result: a techno tank. Remember Maetrik's "Sexy" remix of Timo Maas' "Kick 1 Kick 3" that probably blew your mind off a few months ago? Pow Pow is a techno derivative on the same crazy "Almost tech-house, but… not quite" theme. It got one of those groovy, heavy and dancefloor-friendly basslines.
It got a weird French vocal. It got that festive, tribalistic feeling created by some repetitive, mind-bending horns. It's also got a straightforward, merciless progression towards dancefloor madness. Add some drumrolls to the mix and there, you got a funky monster. The Dub version of "Pow Pow" is a latenight techno version of the original, featuring less vocals, more drums, deeper bass and no horns. The addition of dirty handclaps and a haunting back vocal loop transform the vibe completely and create a dark, banging techno monster that's going to drive some people out of their minds.