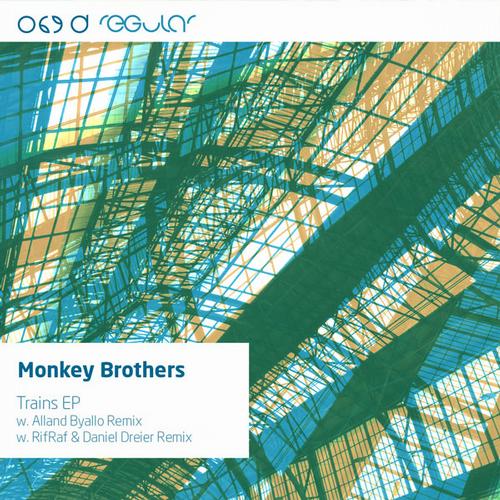 Artist: Monkey Brothers
Title of Mp3: Trains EP
Genre: Deep House / Tech House
Label:: Regular
Catnr: REGULAR069D
Mp3 Download Source: WEB
Quality: 320kbps avg / 44.1KHz / Full Stereo
Digital Released: November – 2011
01. The Factory (Alland Byallo Remix) [08:26]
02. The Factory (Original Mix) [06:14]
03. Trains From My Window (Original Mix) [07:13]
04. Trains From My Window (RifRaf & Daniel Dreier Remix)[06:51]
Monkey Brothers – Trains EP Release Notes :
We are happy to announce the return of Monkey Brothers to Regular label. Even more after their latest successful EP along Darren Price and Pier Bucci. Exactly, I mean 'The End Of The Day' (regular050d). Also remarkable the great EP in Catalytic with Alexkid remix included: 'Somebody'. Having said that, let's ride the 'Trains'. A surprising and changing mood four-songs list. At first 'The Factory'. A dark, mystic and intriguing female vocals tech-house track. Afraid to dance? I don't think so…
If you still have doubts, there is Alland Byallo's remix to get these out. Vibrant deep house with a great Detroit musical touch. A whirlpool of stabs and soul vocal samples that are going to catch you. 'Trains' (Original) is our pick of the bunch thanks to its chunky-trancy loops, wicked crying sounds licks and the groovy bass. That devilish hook line! RifRaf & Daniel Dreier remix is a more dubby and naked house music track. A very atmospheric and sensitive cut but that also can cause our favorite disease: dance!