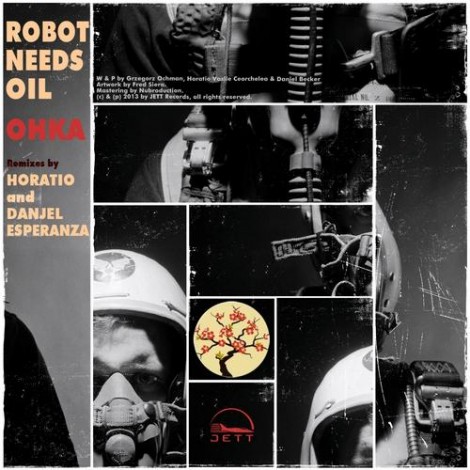 Robot Needs Oil – Ohka EP
What a pleasure to welcome back one of my favorite producer : Greg aka Robot Needs Oil. I can always find a lot of emotion, feeling and sensibility in his productions. These 2 originals "Ohka" and "The Last Kamikaze" make me think about a japanese spring with cheery blossoms covering trees.
On the remixers side I'm really glad to introduce Horatio from Natural Rhythm. For his first JETT appearance the Romanian tech house master delivers a powerful rework which perfectly fits with the dancefloor peaktime. Last but not least my mate and Meleon Music boss Danjel Esperanza uses his skills to put a dark and groovy mood in his remix.
Fred Siera.
Released by: JETT Records
Catalogue no.: JETTDGT014
Artist: Robot Needs Oil / Remixes Horatio, Danjel Esperanza
Release: Ohka EP
1. Robot Needs Oil – A1 – Ohka / Jettdgt014
2. Robot Needs Oil – A2 – Ohka (Horatio remix) / Jettdgt014
3. Robot Needs Oil – B1 – The Last Kamikaze / Jettdgt014
4. Robot Needs Oil – B2 – The Last Kamikaze (Danjel Esperanza remix) / Jettdgt014
DJ FEEDBACKS :
FLORIAN MEINDL : Ohka and the last kamikaze are nice summer tunes!
DOLE & KOM : Track one is great! Wil play this baby out for sure!!!
TONY DEE : Both originals for me nice!!!!!
MARTIN PATINO : The Last Kamikaze is nice.
ALDO CADIZ : Great music , thx.
AGENT! : A1 is top, reminds me of some older cadenza
MARC DePULSE : Support for Ohka, really like it! best best !
SASCHA SONIDO : Horatio for me. Full support!
PATRICK KUNKEL : Cool EP once again.
SERGIO PARADO : Strong release!!! thanks
MIRCO VIOLI : Both original mixes for me.
PHONOKEMI : Nice release, i really like A1 & B1 looking forward to play and thanks!!
ALEX DOLBY : Danjel experanza for me!
EDDY ROMERO : The Last kamicaze ! Sounds great !
LUCA MORRIS : will play Horatio ..but both the rmxes are nice…support!
LONYA : Horatio mix is great.
ANDREA & BIGI : The Last Kamikaze original is my favorite !! Thanks
CHUBE.KA : FULL SUPPORT!
ALESSIO COLLINA : Original mixes are insane, well done!
LARRY PETERS : Ohka is perfect for me!
DAVID GTRONIC : Nice Release, tnx!!
AFROBEAT : Very nice the first Original!! Thanks a lot for the track!!! Will play it!
STEVE MULDER : I like the Horatio remix.
SEBOCAT : Excellent EP again as always from JETT, Horatio Remix is my favorite!!
LINKS:
Support JETT and become fan : www.facebook.com/jett.fr
Check our website (releases, booking, podcasts) : www.jett.fr