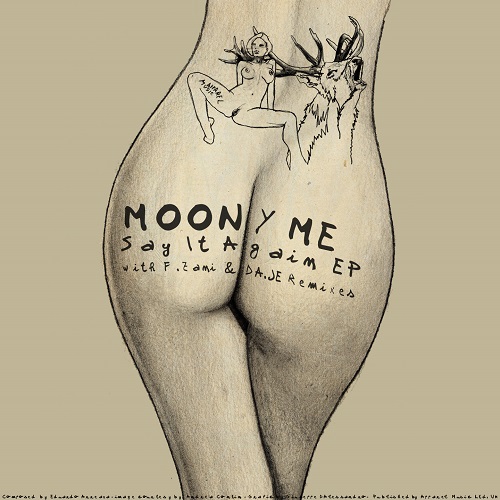 Moony Me – Say It Again EP (PROMO)
Few piano chords lead us into the world of Eduardo Arreaza (International Deejay Gigolo) aka Moony Me.
The structures of the Mooney Me tracks are less diluted and sliding, quick changes and long waits to let us move in any direction with the head and the pelvis.
The approach of remixers is undoubtedly personnel and of different nature. Francesco Zani delight us with two different versions, very concrete and dynamic, while DA.JE (Kisk & Roy Gilles pjct) takes us back in time, to the flashes of Disco, when you could dip still in fluctuating sound, dense and pure. Mastered by Gennaro Mastrantonio, cover image of courtesy by Andrea Contin, grafic and management by Giuseppe D'Alessandro, Published by Apparel Music Ltd, Uk © 2013.
Artist. Moony Me
Title. Say It Again EP (PROMO)
Genre. Deep House
Released by. Apparel Music
Catalog number. APD080
Bitrate. 320 kbps avg / 48.0KHz / full stereo
PRESALE. Officially 02-09-2013
01. Say It Again 7:58
02. Late Night Vibin 7:02
03. Say It Again Francesco Zani Dub Mix) 5:33
04. Say It Again (Francesco Zani Re-Acid Mix) 5:41
05. Say It Again (DA.JE Remix) 5:38
FTFO – "for the fans of" kisk, lopazz, scsi-9, e-dward!, elon, huxley, moody, brither's vibe, lula circus, pablo bolivar, john tejada, kjofol, sek, delano smith, gavin herlihy, yapacc,
vincenzo, roy gilles, domy, cella, rio padice, genny g, gennaro mastrantonio, uglh, nice7, franklin de costa, moodymanc, echonomist, anton kubikov, alex danilov, keisuke kondo…
PRESALE NOW!
– –
www.apparelmusic.com/
soundcloud.com/moony-me
www.facebook.com/apparelmusic