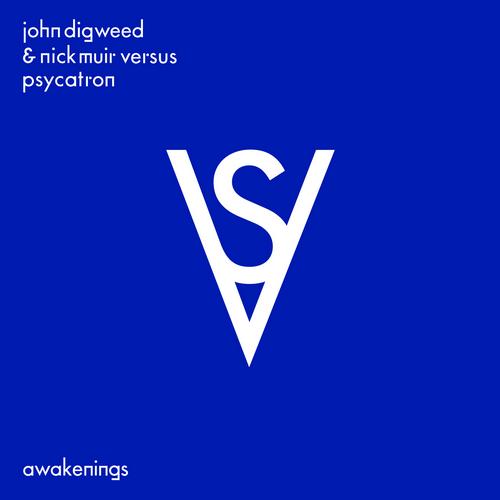 John Digweed and Nick Muir collide with Psycatron on this pounding Techno fueled number, harking back to the golden age of acid tinged baselines and urgent, frenetic drums. Furious breakdowns build anticipation on this peak-time dance-floor killer! John and Nick have been very busy recently with their new album project 'Versus' just finished they are set to release the first track from it on Sep. 9th with a collaboration with Northern Ireland's finest Psycatron called 'Awakenings'. John and Nick have been massive fans of Psycatron for many years and even remixed ' Memories of the Moment " back in 2011.
Nick Muir, Psycatron, John Digweed – Awakenings
'Awakenings' is a full on heads down acid techno workout that takes no prisoners on the dance floor and not for the faint hear-ted. With tough percussion and bubbling acid sounds this track will rock any main stage to the most underground venue and everything in between. What john and nick thought was initially going to be a EP of several collaborations it has morphed it'self into ' Versus' a 3 disc limited edition box set with collaborations with Carlio Lio, Christian Smith and Whebba, Pig&Dan, jozif and The Japanese Pop-stars just to name a few.The next mail out will feature a nice sample of tracks from this album.
Artist Nick Muir, Psycatron, John Digweed
Title Awakenings
Genre Techno
Label Bedrock Records
Catalog# BEDAWAKE
Released 2013
MP3 Download Source WEB
Play Time 08:04 min
Total Tracks. 1
Bitrate 320 kbps
1. Awakenings (Original Mix) ( 8:04)
Total Playtime: 08:04 min

Cosmobox Direct Downloads
[spoiler]
[/spoiler]