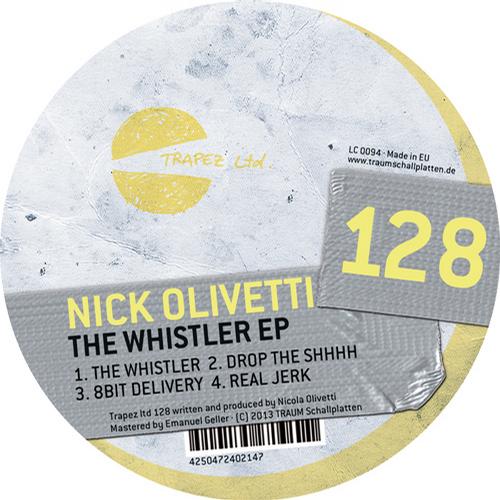 Nick Olivetti has released before on Trapez ltd but this is by far his most "booty call" inspired EP.
The opening track "The Whistler" is a heavy bold 808 track. It is packed with shouts, screams and breaks and respectively full of "heavy stunts" which will turn the clubber upside down. "Drop The Shhhh" is a track with break-beat and old school vintage samples, we have not heard since 12 years, to conquer the track and make it a passionate love affair with the music from the past.
"8bit Delivery" is a mule of a traxter, heavy seductive on the baseline side baselines that keep moving below your feet like a magic carpet an oriental break with pitched up noises follows and a male voice says: "did you know I change my name to Susan?" all of that is already a trademark with the "madman" Nick Olivetti. "Real Jerk" starts with a mechanical knocking on your door… like only Robocop is capable of! The sample "he is a real jerk" creates an atmosphere of disintegration and anxiety as if an UFO has landed in the bedroom. This unfocused and intimidating track is a real bummer on this EP. Keep away because it leaves stains on your skin or just dance them off.
Artist Nick Olivetti
Title The Whistler EP
Genre Tech House
Label Trapez Ltd
Catalog# TRAPEZLTD128
Released 2013
MP3 Download Source WEB
Play Time 28:51 min
Total Tracks. 4
Bitrate 320 kbps
1. 8bit Delivery (Original Mix) ( 7:05)
2. Drop The Shhhh (Original Mix) ( 6:54)
3. Real Jerk (Original Mix) ( 7:36)
4. The Whistler (Original Mix) ( 7:16)
Total Playtime: 28:51 min

Cosmobox Direct Downloads
[spoiler]
[/spoiler]