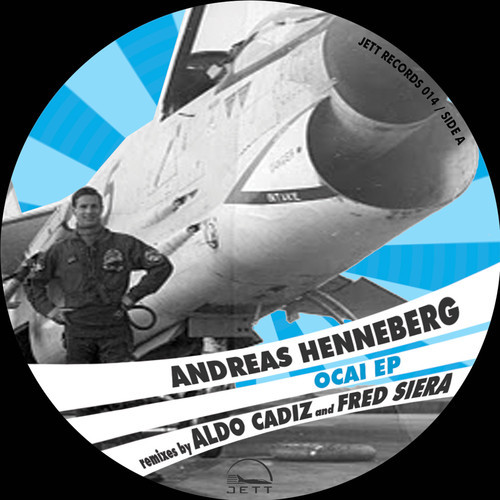 Andreas Henneberg – Ocai EP – After Martinez, it's another great honor for me to welcome a king size artist on JETT.
Andreas Henneberg is founder of Voltage Musique Records and Cascandy as well as part of "The Glitz" and "Hennon". He is also parts of the famous Plantage 13 family and regulary releases on record labels like IDEAL Audio, Confused Recordings, Herzblut, AREAL, Kiddaz.FM, Material and Toolroom.
Aldo Cadiz is already well known on JETT with his famous EP "Zaze Tripa" in 2011, he strikes again with his very own groovy and techy style. I did the other remix…I hope you will like.
Fred Siera.
Released by: JETT Records
Release/catalogue number: Jett014
Release date: 8 April 2014
1. Andreas Henneberg – A1 – Ocai 7:18
2. Andreas Henneberg – A2 – Ocai (Aldo Cadiz remix) 8:27
3. Andreas Henneberg – B1 – Watch What 7:21
4. Andreas Henneberg – B2 – Watch What (Fred Siera remix)
DJ FEEDBACKS :
MARCO CAROLA : Downloaded, thanks
MIHALIS SAFRAS : Love for andreas..all mixes rock!!
MARTIN EYERER : Cool Siera remix !
ANTHONY PAPPA : It's ok and l will use this as a filler. Thanks. Pappa.
RIVA STARR : Downloading for Riva Starr.
KOLOMBO : Will try it out! thnx
HERMANEZ : Aldo Cadiz remix is dope !
DUBFIRE : Downloaded for Dubfire by Ronald
PIEMONT : JETT never fails :)
GEL ABRIL : Aldo Cadiz mix for me tnx!
CUARTERO : Aldo for me thanks
DAN DRASTIC : Nice Aldo Cadiz Remix
DANILO VIGORITO : Very good!!!
THE JUNKIES : Aldo's beats sound cool.
MACROMISM : Support !
RICHIE HAWTIN : Downloaded for r hawtin
DUBNITZKY : Great remix from Aldo Cadiz dope dope dope :)
HEARTIK : Some old school stuff with a great mixdown,incredible!! thumbs up!!
ZOE XENIA : Nice work on Aldo Cadiz Remix and Watch What Original!
STACEY PULLEN : Cool thanks
MARC DePULSE : Henne I love you :) Great tracks!!!
DAVID HERRERO : Cadiz remix. Thanks!!
WOLLION : Andreas is on fire! thx…
SHAWNECY : 10/10
ATAPY : Will try this, thanks!
JUSTIN JAMES : "Watch What" is the jam..
FIGUEROA : Aldo Cadiz remix is really special, support.
OBANDO : Big Release here! aldo cadiz rmx is amazing also the watch what original have differents sounds i like it. support.
ANDRE BUTANO : Really cool tracks , thanks
DOLE & KOM : Good work by our mates… Full support!!!
CASPAR : Great ep
FERRY CORSTEN : Thanks for sending
SASCHA SONIDO : I like the remixes. Thanks
EMANUEL SATIE : Aldo Cadiz remix sounds cool!!
ROLAND M DILL : Really cool stuff, all great mixes, thanks!
THE DOLPHINS : Good! downloaded thx
JULES & MOSS : Great one !! Andreas quality… :)
PAUL NAZCA : Nice release! support Paul
HORATIO : Cool ep
MIRCO VIOLI : Full support and downloading.
YVAN GENKINS : Aldo Cadiz remix ! thanks
MAXIME DANGLES : Nice ep, i'll play fred siera remix, thanks !
AGENT : Grrrrande aldo ! top !
NEVERDOGS : Thanks for the music, Aldo Cadiz for us
SASCH BBC : Big pack !
MIYAGI : Andreas quality as usual. Fred is also doing a great job!
WERNER NIEDERMEIER : Like the Watch What original the most.
SCAN MODE : Fred Siera rmx for me
MARCO FENDER : Nice job guys!
LOQUACE : Aldo Cadiz for me!
MARIO DA RAGNIO : Thx..ALDO for me!!!!!! great tune!
EDDY ROMERO : Aldo Cadiz is my man thnks !
FRANCESCO BONORA : Ocai original mix is killer
SAMI WENTZ : Solid package, thanks
TASTER PETER : I'm a big fan of andreas! nice pack! full support!
DANIA : Nice ep!! thanks
DANJEL ESPERANZA : AMAZING RELEASE HENNEBERG <3!!!!! Bomb tracks/remixes! yeahyeah yeaahhhh :D
EDGAR DE RAMON : Fred remix runs for me, nice release, thanks for the music :)
DANIEL SANCHEZ : Cool ep! many thanx
DHAZE : This is Super!
BASTIEN : Great tunes, ocai original and remix 4 me.. :D
SASCHA RIOT : Ocai Original and both remixes are cool. Thx!
LARS WICKINGER : Nice release! Also the Remixes are great!
TOMIKA : This is what I call quality! the Fred Siera remix is totally huge, probably the best track i heard in a long time!
WILLIAM DANIEL : Nice!
VLAD ELROY : Ocai original is gooooood! Love it! Full support!
SVEN KERKHOFF : Fred Siera rmx is nice
BEN TEUFEL : Nice release, thx
AUDIOJUNKIES : Very cool ep both originals and Fred Siera remix for me
PASHQUE : Aldo Cadiz remix for me, thanks.
SPENCER K : Thanks for the promo!
COLLECTIVE MACHINE : Ocai original is cool! thx
LONYA : Watch What is superb , support
NATHAN BARATO : Cadiz is great
LUDVAN ALLAN : Will try Aldo Cadiz for sure ! Thx Jett
GARETH WHITEHEAD : Nice
D'JAMENCY : For me Ocai original mix & Fred Siera rmx support ! thxx ;
DANILA : Aldo Cadiz Remix is explosive!
NICK HOLLYSTER : Aldo' remix is ace, will play and support !
ROBIN ORLANDO : Amazing release. Great remix by Aldo Cadiz.
PAZKAL : …a cool Release.Like most Ocai Original and Watch that Fred Siera Remix. Will Play. Thanx for sending
KIM KEMI : NIce tune, will go for Watch What!
ADAM HELDER : Ocai Original for me!
DANIEL DEREK : Nice! thank you
THOMAS A.S. : Great ep
ADRIANO FILIPPUCCI : Nice release ocai both tracks are for me thank u
YANN POLEWKA : Ocai (Original) is massive! supoprt
KAINE : Will play the Aldo Cadiz remix, thanks!
ENFANTS MALINS : Downloaded for Enfants Malins ! Thanks
VANILLA ACE : Cool, will try out.
MARK JACKUS : GREaT RELEASE! Massive tunes!
ALINEP : Nice ep – Ocai (original mix) and watch what (Fred Siera) for me! thanks again JETT
ANGEL LOPEZ : Great Ep, thanks.
OUTSTRIP : Great job, full support
STANDARD FAIR : Fred Siera Remix for me!
OLIVER MOLDAN : I liked both originals best
LUCA MANIACI : Aldo Cadiz, thanks
WILLIAM WILD : Oh yes i will support and charts the Aldo Cadiz remix this month. Awesome groove !
WADE : Andreas Henneberg – Watch What is nice
VITO : Fred Siera Remix like it
RUSLAN CROSS : Thx, big release!
CHUBE.KA : Watch what and ocai remix for me
M.A.D'S : Really good EP, my fav. it's Whatch What (original)
STEVE LEROY : Watch What is a Killer Track!!!!! Thanks for the Download!
MANCINI : Love the groove of Aldo Cadiz remix and Fred Siera remix!
THE LION BROTHERS : Download from TLB
LEIX : Aldo Cadiz rmx for me, dope track!
ANTHONY PL : Full support!! very nice ep!!!
PHILIPPE LIARD : Thnx ..!!! aldo cadiz for me ..!
NICK HAPE : The Fred Siera cut is the one for me.
SEBOCAT : Aldo Cadiz Remix and Watch What Original for me, nice EP!
JULIAN M : Cool release ;)
MIKE BUKE : Will try it Out!
ADRIAN ESCOBAR : Nice ep like remixes here,thanks
YOUSHTAK : Full Support !
FRED DE CLERC : Watch what is a dop
DOCEPULGADAS : Downloading !
DIGITAL FM : Nice music! Thanks JETT ;)
BERLIN STEREO : Great release! support! thanks for sharing
RADIO HDR : I only support "Wach What" Fred Siera Remix
Soundclound link :
beatport link :