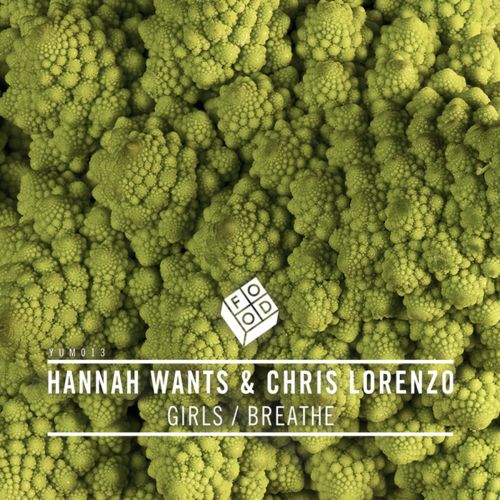 Artist Hannah Wants & Chris Lorenzo
Title Girls – Single
Genre Deep House, House
Label Food
Catalog# YUM013
Released 2014
MP3 Download Source WEB
Play Time 11:04 min
Total Tracks. 2
Bitrate 320 kbps
1. Girls ( 5:06)
2. Breathe ( 5:58)
Total Playtime: 11:04 min

Shadow Child and Kry Wolf's Food Music has gained a reputation since its inception for consistently supporting new and exciting sounds across the bass music spectrum, and that is set to continue with the release of the long-awaited 'Girls/Breathe' EP from Food fan favourites Hannah Wants & Chris Lorenzo.
Hannah Wants & Chris Lorenzo are the Birmingham-based duo behind 'Dappy', the immense bass house anthem that made waves across the UK dance scene and received a DJ Mag Best of British nomination for 'Best Tune'. Hannah Wants's bi-monthly mixtape series has gained an almost legendary status, while Chris Lorenzo has made his name collaborating with the likes of Pete Graham and as part of the duo Cause & Affect. Both Hannah and Chris also regularly appear at Birmingham's seminal 10:31 and 2:31 club nights, cementing their standing as two of the scene's most exciting names right now.
Although the duo have become notorious for their hard-hitting sound, 'Girls' and 'Breathe' show off a slightly different side to Hannah and Chris. First up is 'Girls', which was the standout track on MK's recent Radio 1 Essential Mix. Using samples from an R'n'B classic, Hannah and Chris create an intense, moody track with a driving bassline.

On the flip, 'Breathe' may surprise listeners at first with its airy and atmospheric pads, but soon returns to more familiar territory with an 808-style bottom line that will get the floor bouncing.

Dropping just in time for summer, both 'Girls' and 'Breathe' will be met with excitement from fans and DJs alike, as Hannah and Chris continue to mold their own unique sound.