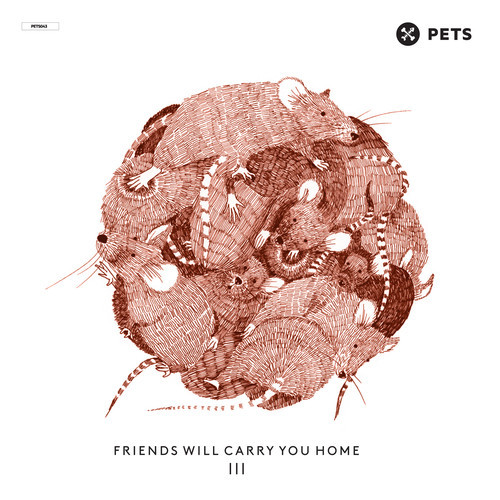 FRIENDS WILL CARRY YOU HOME III – Part 3
[Pets Recordings]
Pets Recordings are partying at the very forefront of house music right now… With each release stretching their consistent-yet-excitingly unpredictable remit further into unchartered territories, the latest in their well-established Friends Will Carry You Home series compounds their curatorial creativity like never before.
Now on its third outing, this is the label's largest in the album series so far; tethering its myriad wild talents for one giant audio class photo, label bosses Catz 'N Dogz have successfully represented their label's vast remit with clarity and harmony. Every groove, every rhythm and every influence you associate with Pets' musical menagerie is all here. What's more, it's all exclusive…
The deep bass bubbles of Catz 'N Dogz' rugged contemporisation of Spirit Catcher's 2004 classic "Voodoo Knight". The infectious percussive tech funk and synth seduction of Axel Boman's "It Starts With The Stomach". The unrelenting pounds and pulverisations of Andre Kronert's "Thrills". The loopy techno chugs of Catz Eatz Dogz' "Calling Every Day". The loose lolloping groove, commanding disco strings and subtle Moroderisms of Paco Wegmann's "The Return Of The Funk". The epic emotional dynamic and organic swing of Eric Volta's remix of We Draw A's "Silent Tide". Need we go on?
18 unique reminders that Pets Recordings is not only at its prime, but it's at its largest and also at its most excitingly varied…. While most of us only have one or two friends who'd put up with us enough to carry us home, Catz 'N Dogz have nurtured and developed such a fine ensemble of musical mates, each and every one would carry them home. What's more, they'll carry you, too.
Artist: VA
Title: FRIENDS WILL CARRY YOU HOME III – Part 3
Label: Pets Recordings
Catalog Number: PETS044
Music Genre/Style: Deep House / Tech House
Released: 2014
MP3 Download Source: WEB
Bitrate: 320kbps / 44100kHz / Full Stereo
Total Tracks: 6
Size: 94.46 megs
1. Bearight, Solangi – Shake It Down (Original Mix) 6:17
2. Catz 'n Dogz, Eats Everything, Catz Eats Dogz – Calling Every Day (Original Mix) 5:58
3. Danny Daze – I Can't Breathe (Original Mix) 6:25
4. Jay Shepheard – Highway (KRL Remix) 6:33
5. Rachel Row – L Square (KiNK Outer Space Mix) 6:42
6. We Draw A – Silent Tide (Eric Volta Knows His Drums Mix) 7:15
Total Playtime: 39:10 min
EXCLUSIVES