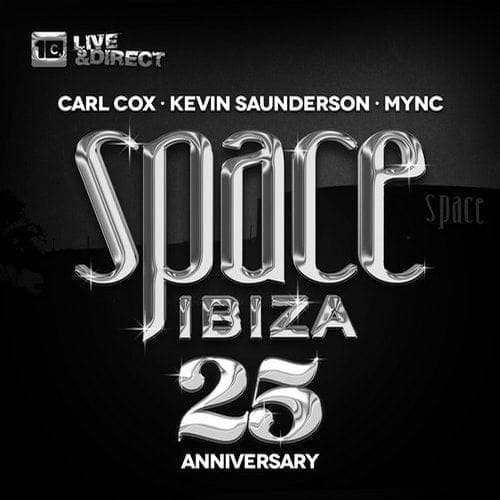 Space Ibiza 2014 (25th Anniversary) – Mixed by Carl Cox, Kevin Saunderson & MYNC
VA
LABEL: Cr2 Records | ITC2LD052
GENRE: House / Techno
RELEASED: 2014
MP3 DOWNLOAD SOURCE: WEB
BITRATE: 320kbps / 44100kHz / Full Stereo
TRACKS: 62
SIZE: 1554.75 megs
1. &ME – Locust (Original Mix) 8:32
2. 4Th Measure Men – 4 You (Original Mix) 6:14
3. Amadeas, 999 – Find The Answer feat. Amadeas (Marco Bailey Remix) 7:36
4. Ant Brooks, Adrian Hour – Bodymove (Original Mix) 6:06
5. Ante Perry, Shimmer – Express Yourself (Jaceo Remix) 6:14
6. Arjun Vagale, Ramiro Lopez – Bomber7 (Original Mix) 7:27
7. Bizarre Inc – Playing With Knives (Quadrant Remix) 6:47
8. Blind Minded – Champagne Kisses (Original Mix) 6:38
9. Brandon DeCarlo – Not With Standing (Original Mix) 6:50
10. Brixton & Bommersheim – Yoo Substitute (Original Mix) 8:10
11. Carl Cox – Kommen Zusammen (Joseph Capriati Remix) 7:44
12. Carl Cox – See You Again (Dorroo Remix) 7:15
13. TACHES – Malindi (Original Mix) 5:04
14. Carl Cox, Nicole Moudaber – See You Next Tuesday (1st Cox Version) 9:44
15. Daniel Avery – Knowing We'll Be Here (Kink Remix) 5:34
16. Dantiez Saunderson – Red Confession (Original Mix) 7:46
17. Dantiez Saunderson – The Harp (Original Mix) 8:07
18. Dany Cohiba, House Of Virus – Can U Dig It (Dantiez Saunderson & Roger Jay Remix) 6:11
19. Dark Science – Rust (Original Mix) 7:14
20. Drumcomplex, Roel Salemink – Bullet In My Head (Original Mix) 6:42
21. Elio Riso – La Passione (Chris von Nunchaku Mix) 6:22
22. Fabio Neural – Background (Steve Nash Remix) 7:35
23. FCL – It's You (San Soda's Panorama Bar Acca Version) 6:21
24. Greg Gow – Three Ways To Skin A Cat (Way 01) 7:31
25. Groove Armada – Hyde & Freak (Original Mix) 7:34
26. Gus Gus – Crossfade (Maceo Plex Mix) 7:34
27. Guy Gerber, Dixon – No Distance (Original Mix) 7:56
28. Hot Since 82 – Don't Touch The Alarm (Original Mix) 7:02
29. Ian O'Donovan – Firefly (Original Mix) 8:02
30. Inner City, Kevin Saunderson – Bad Girl feat. Inner City (House of Virus Remix) 6:12
31. Inner City, Kevin Saunderson – Big Fun feat. Inner City (Kevins E-Dancer Dark Ass Dub) 8:49
32. Inner City, Kevin Saunderson – Good Life feat. Inner City (Pig & Dan Less Is More Remix) 8:47
33. Inner City, Kevin Saunderson – Hallelujah feat. Inner City (Original Mix) 3:22
34. Joe Brunning – Underground E Motion (Original Mix) 7:34
35. John Norman, Dantiez Saunderson – Resonance (Original Mix) 7:13
36. Jon Rundell – Cybernetics (Original Mix) 6:11
37. Jonno Brien – Work Ya (Original Mix) 6:21
38. Joseph Capriati – Always & Forever (Original Mix) 8:30
39. Kaiserdisco – Ceviche (Original Mix) 6:54
40. Kasbah Zoo, OniWax – Shifted Control (Original Mix) 7:36
41. Kevin Saunderson – Rock To The Beat (Original Mix) 2:52
42. Trevor Rockcliffe – Don't Hold Back (Trevor Rockcliffe 2nd Mix) 7:37
43. Kevin Saunderson, Reese – The Sound (Ben Sims 25th Anniversary Edit) 7:45
44. Kevin Saunderson, Tronikhouse – Uptempo (Original Mix) 4:04
45. L8M8, Damarii Saunderson, Tina Akers – The Path feat. Tina Akers (Original Mix) 7:45
46. Mark Knight – The Return of Wolfy (Original Mix) 8:05
47. X-Press 2 – Muzik X-Press (Original Mix) 8:18
48. Nile Rodgers – Do What You Wanna Do (IMS Anthem) (MK Disko Dub) 5:45
49. Octave One, Ann Saunderson – Black Water feat. Ann Saunderson (Full Strings Vocal Mix) 8:39
50. Osunlade – Dionne (Original Mix) 4:16
51. Oxia – Perception (Original Mix) 7:19
52. Paco Wegmann – The Return of the Funk (Original Mix) 6:29
53. Paperclip People – The Climax (PCP Version) 6:40
54. Patrick Topping – Forget (Original Mix) 6:06
55. Pete & The Fox – System (Original Mix) 8:05
56. Ramiro Lopez, Coyu – Donga (Original Mix) 6:59
57. Shiba San – Okay (Original Mix) 5:59
58. Steve Mulder – Madiba (Original Mix) 7:11
59. Strobe, Tom Wax – Thora Thora (Original Mix) 8:18
– –
60. Carl Cox – Space Ibiza 2014 (Carl Cox Mix) 79:24
61. Kevin Saunderson – Space Ibiza 2014 (Kevin Saunderson Mix) 77:40
62. MYNC – Space Ibiza 2014 (MYNC Mix) 73:28
Total Playtime: 644:05min
---
Review : Space Ibiza 2014 (25th Anniversary) – Mixed By Carl Cox Kevin Saunderson & MYNC
For 25 years, Space Ibiza has been the world's most respected nightclub. Consistently hosting the most popular nights on the island, the Platja d'en Bossa club has featured every single great artist in the world of electronic music. In the year of its 25th anniversary, Space Ibiza has been chosen as the global number one at the three most important dance music galas; the IDMA, the DJ Mag and the Vicious Magazine awards.
In order to celebrate this 25th Anniversary, Space Ibiza and Cr2 have produced this compilation featuring three DJs which have become synonymous with Space.
For many fans and connoisseurs, Carl Cox is Space Ibiza. His legendary nights at the club have always featured some of the most forward-thinking Techno on the island. A staple of the club scene for over two decades, Carl Cox provides a mix combining some of the hottest names in the underground scene with the very best of his Intec label artists.
Kevin Saunderson needs no introduction. Along with Juan Atkins and Derrick May, he can rightfully claim to be the originator of the Techno sound. Hailing from Detroit, Kevin is the man behind the classic Inner City tracks 'Big Fun' and 'Good Life'. Besides, he runs the successful KMS label. His mix features classic tunes by artists of the likes of X-Press 2 and Paperclip People – as well as unreleased gems from the KMS family.
As head of Cr2 Records, MYNC has been responsible for discovering some of the biggest names in Dance music. Eric Prydz, Fedde Le Grand and Chuckie are some of the artists that have had Cr2 as their home over the last decade. A respected producer and remixer, MYNC has remixed the work of artists such as Azari & III, Nervo and Nile Rodgers. A versatile DJ, MYNC has given us a mix of cutting-edge sounds that are currently being heard all over Ibiza with a few trademark curveballs thrown in.
Space Ibiza 25th Anniversary is available on iTunes, Beatport & Google Play. Also, it can be acquired in the Space Ibiza online store. A Deluxe 3 CD package will be available from all good retailers.
EXCLUSIVE