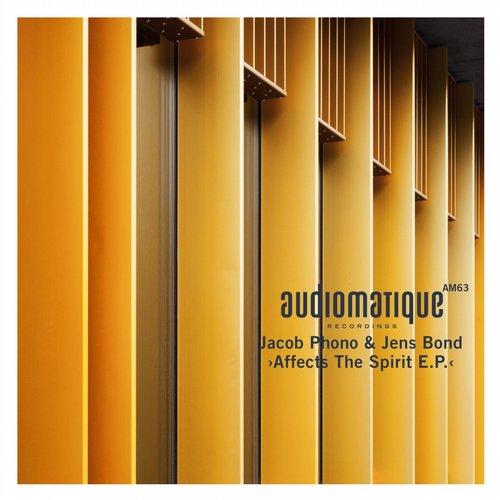 Affects The Spirit EP
Jacob Phono & Jens Bond
LABEL: Audiomatique | AM63
GENRE: Tech House
RELEASED: 2015
MP3 DOWNLOAD SOURCE: WEB
BITRATE: 320kbps / 44100kHz / Full Stereo
TRACKS: 3
SIZE: 56.15 megs
3 TRACKS TOTAL
1. Affects The Spirit 7:12
2. Ion 8:17
3. Jane's Addiction 7:47
Total Playtime: 23:16 min
Berlin lynchpins Jacob Phono and Jens Bond continue a fine run of collaborative EPs on Steve Bug's ever-reliable Audiomatique imprint. Deadly deep, dark and detailed, all 3 tracks are intense, club-ready excursions along the border between house and techno.
As you'd expect from DJs with residencies at Katerholzig and Watergate respectively, this is music primed for the dancefloor, each intricate rhythm no doubt testament to Bond's years of training and experience as a drummer.
The title track is deep and spacious, with a spoken word sample and eerie interlude of feedback that shows the duo have more than a few beguiling tricks up their sleeves.
'Ion' meanwhile is a masterclass in sub bass, a relentless groove that expands and contracts around body and mind, precision-engineered for peak-time deployment. 'Jane's Addiction' rounds things off, stripped back, with a dub techno sensibility to its circling reverberations; it's intense, hypnotic and utterly immersive.
Across all three tracks, it's the little details that stand out: the split-second snatch of distant choric voices that offers a moment of respite in "Jane's Addiction", the shimmering vibes and wind chimes of "Affects The Spirit." Much more than functional, this is the work of exceptional imaginations.
More information about Labels