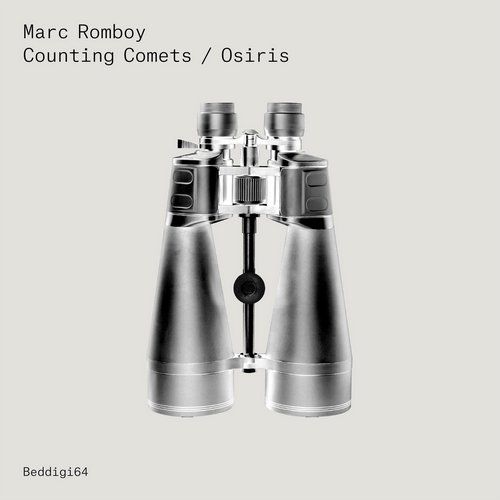 Counting Comets Part 1 / Osiris
Marc Romboy
LABEL: Bedrock Records | BEDDIGI64
GENRE: Techno
RELEASED: 2015
MP3 DOWNLOAD SOURCE: WEB
BITRATE: 320kbps / 44100kHz / Full Stereo
TRACKS: 2
SIZE: 42.90 megs
2 TRACKS TOTAL
1. Counting Comets Part 1 (Original Mix) 10:36
2. Osiris (Original Mix) 7:15
Total Playtime: 17:51 min
"Electronic muzik is my life!" Marc Romboy
In its quest to release exceptional, forward-thinking electronic music, John Digweeds Bedrock label constantly joins forces with some of the worlds finest artists. One name missing, until now, has been Düsseldorfs world-renowned DJ/Producer, Marc Romboy, whose deep, engaging house and techno sounds mark him out as a true maverick.
Label debuts don't come bigger than this, Counting Comets Part 1 is an electronic opus that channels the spirit of early original electronic innovators (such as Kraftwerk) and creates a truly futuristic vision: hypnotic, cinematic, a fantastical journey towards utter dancefloor delirium and beyond. The spiritual beauty and flowing energy of Osiris is no less wondrous, its subtle melancholic euphoria and deeply delicious groove will make it a standout selection anywhere.
"I love to DJ all over the globe, because I like the way that everybody understands and lives the same language, the universal language of techno or house music. " Marc Romboy
Electronic music with a certain piece of soul – reminiscent of old school Chicago/Detroit dance floor insanity – is Marc Romboys true passion. He has been a distinctive presence in the house/techno scene for two decades, launching two ground-breaking labels, Le Petit Prince (1994) and Systematic (2004), and presenting his weekly radio show "Systematic Sessions" (since 2009), never tiring of coming up with fresh and innovative ideas to push the limits of electronic sounds. Marc Romboys exceptional Bedrock debut is one to treasure for a long time to come.
Also, listen out for a stunning downtempo version of Counting Comets Part 2 coming in July on Bedrocks Underground Sound Of Ibiza 2 3xCD compilation album release.