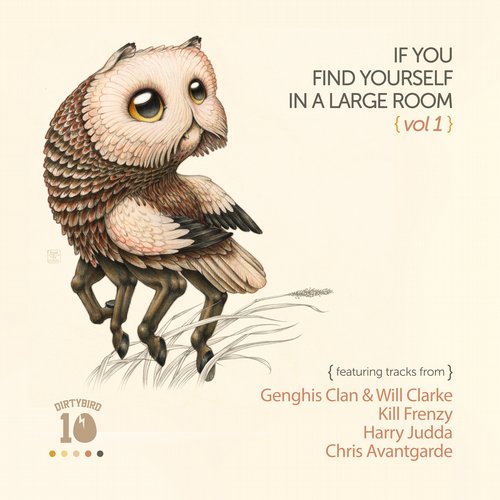 If You Find Yourself In A Large Room Vol. 1
VA
LABEL: dirtybird | DB124
GENRE: Tech House, Techno
RELEASED: 2015
MP3 DOWNLOAD SOURCE: WEB
BITRATE: 320kbps / 44100kHz / Full Stereo
TRACKS: 4
SIZE: 56.13 megs
4 TRACKS TOTAL
1. Genghis Clan & Will Clarke – Jackintosh 5:25
2. Harry Judda – Skull It 5:41
3. Kill Frenzy – H.O.U.S.E. 6:17
4. Chris Avantgarde – The Good Old Days 5:47
Total Playtime: 23:10 min
DJs have all been here before. You get to the show and you have all your deepest coolest records ready to go for your extremely intimate connection with the crowd. Except when you get there the crowd is a bunch of total maniacs and the guy before you already has it at 11. The room is a massive rectangle with sound bouncing off all the walls. The only thing that works sonically is big kicks and well defined sounds and thats all the crowd wants from you.
So if you find yourself in a large room this summer, or you need something to blow up a festival we offer you these 4 jams on the bigger and harder edge of the Dirtybird spectrum. Each one is massive and has been battle tested by me in huge rooms already.
You may recognize some previous Dirtybird stars like kill frenzy, Will Clarke and Genghis Clan as well as some new faces in Harry Judda and Chris Avantgarde.