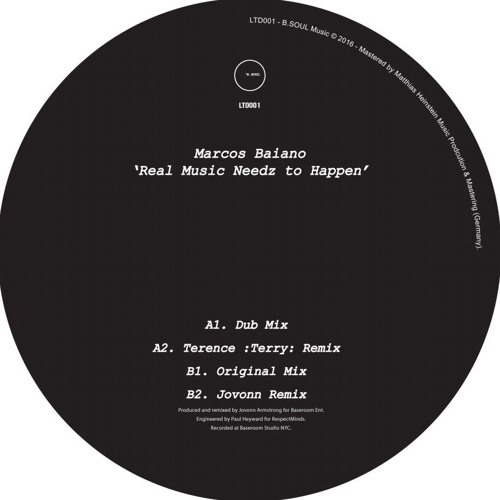 ALBUM: Real Music Needz To Happen
ARTIST: Marcos Baiano
REMIXERS: Terence Terry, Jovonn
LABEL: B.soul Music | LTD001
GENRE: House
ORIGINAL RELEASED 2016
BITRATE: 320Kbps
SIZE: 62.96 MB
TOTAL TRACKS 4
Marcos Baiano – Real Music Needz To Happen – 11A – 122 (06:52)

122.00bpm/11A

Marcos Baiano – Real Music Needz To Happen (Dub Mix) – 1A – 123 (07:22)

123.00bpm/1A

Marcos Baiano – Real Music Needz To Happen (Jovonn Remix) – 4A – 120 (05:57)

120.00bpm/4A

Marcos Baiano – Real Music Needz To Happen (Terence Terry Remix) – 4A – 123 (07:20)

123.01bpm/4A
Total Playtime: 00:27:31 min
B-SOUL Music' is pleased to introduce his new musical project, only vinyl, giving a clean and simple message: 'Real Music Needz to Happen'. Nowadays we have too much technology and too many 'sepcial-effetcs', which move us from reality. We need to go back to basics to rediscover the true essence of each sound, in its nature, and above all expressing the most important part of his emotion.
'Real Music Needz to Happen' is the first release on wax, for B.SOUL Music, soul of Marcos Baiano, presented in four versions: Original & Dub Mixes, with the special support of two remixes, signed Jovonn and Terence :Terry:.
The 'Original Mix' is full of 'old-school' contents, complemented by a warm and evolving groove, Marcos characteristic. The Dub version is much closer to all the needs that our current music scene requires, but without missing a special atmosphere and always keeping on the scene an 'olds-chool' soul.
'Jovonn's Remix' sums up the message of the label, in a hypnotic groove, complementary to a 'kick' full of energy. Everything, linked by the unique taste of a genius, that Jovonn has accustomed us to savor and it's sincerely suggested to rise the dance floor to another level.
'Terence :Terry: Remix' also fits perfectly the idea of this project. Showing what is the connection between the Old-School Electro & Deep House and our 'modern' world. Flawless groove and captivating atmospheres.
B.SOUL Music emphasizes the frantic search for a 'future', with the help of these two factors: old & new. We must never forget our origins, we need this to be able to go ahead. And above all we must not forget that: Real Music.. Needz to Happen.