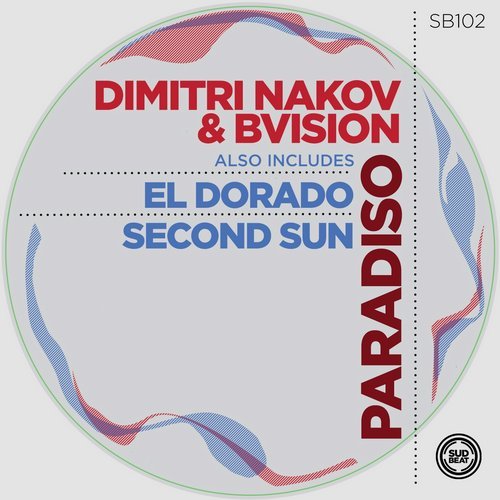 Paradiso
ARTIST: Dimitri Nakov, BVision
LABEL: Sudbeat Music
GENRE: Deep House
RELEASED: 2016-11-21
BITRATE: 320Kbps
DOWNLOAD SIZE: 56.49 MB
TOTAL TRACKS 3
BVision, Dimitri Nakov – El Dorado (Original Mix) (08:20)

Deep House / 125bpm/Amin

Dimitri Nakov, BVision – Paradiso (Original Mix) (08:23)

Progressive House / 123bpm/Dmin

Dimitri Nakov, BVision – Second Sun (Original Mix) (07:30)

Tech House / 125bpm/Gmaj
Total Playtime: 00:24:13 min
Dimitri Nakov is clocking releases on Saved, Bedrock and Selador amongst others, co-creator and resident of legendary Never Say Never at Ushuaia and the weekly Sunset Ashram Ibiza, this talented French producer and DJ is on the up.
BVision hails from Brazil, and his work has graced Superfreq, Selador and Tulipa, and his fan base includes Marco Carola, Mr. C and Stefano Noferini.
The artists have similar tastes yet different at the same time, delivering a musical yin and yang effect, and Sudbeat proudly welcomes these forward thing producers.
The title track 'Paradiso' as the titles suggests is a warm beautiful affair, with its layers gelling effortlessly. The pairings deep yet warm sounds merge as the dark bass meets the luscious arp.
Cool fx and squelches grace this gem, as the breakdown lands creating a dance floor moment and a half. This is deep and deadly and packs a mean punch.
We are off to 'Eldorado' next, and its a percussive deep swung grooved affair that greets us. Warm blippy melodics tinkle over the swaggering techie workout, and subtle low end adds character and an air of sophistication. Subtleness is the key here, as its aura develops and puts you under its spell.
Rounding things off nicely, we have 'Second Sun' with its infectious arp directing us along. A hypnotic soundscape graces us, as ethereal vocals lace this super cool track. Its all about the vibe here as movements along this voyage take us on twists and turns, before the breakdown lets the arp really shine, and then clever use as it kicks back in. Fresh!
want more tunes like this?

Upgrade now!