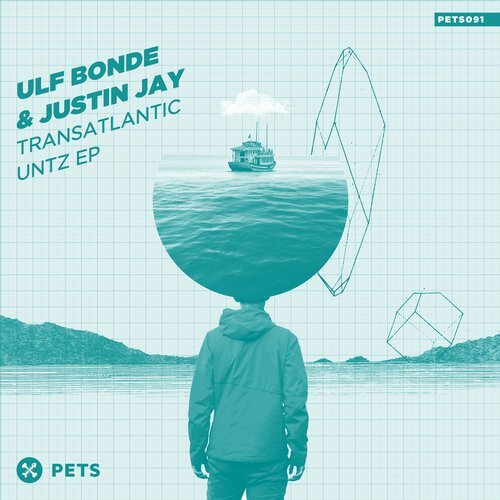 RELEASE: Transatlantic Untz
ARTIST(S): Justin Jay, Ulf Bonde
REMIXERS:
LABEL: Pets Recordings / PETS091
GENRE: Minimal / Deep Tech
RELEASED: 2018-04-27
BITRATE: 320Kbps
DOWNLOAD SIZE: 46.55 MB
TOTAL TRACKS 3
Justin Jay – Land Ahoy! (Original Mix) (06:18)

/ Amin, 123bpm

Justin Jay, Ulf Bonde – Journey Across The Treacherous Sea (Original Mix) (07:59)

/ Dmaj, 120bpm

Ulf Bonde – Transatlantic Untz (Original Mix) (05:59)

/ F♯min, 123bpm
Total Playtime: 00:20:16 min
It's been a long time. Justin Jay lands on Pets for the first time since his Momentum EP in 2015 with a clutch of deep rumbling house jams. And he brought along an old friend for the voyage.
Last spotted in cahoots on Freerange in 2016 with Indecision, LAs Justin Jay and Stockholms Ulf Blonde splash down together once again with the fittingly-titled Journey Across The Treacherous Sea. With the drums gradually building from ebbs to tidal waves and back again, the waters flip from choppy to calm as the twinkling moonlight breakdown enters the mix Before throwing us overboard again.
Ulf takes the control of the ship's wheel for The Transatlantic Untz. Building on his releases on labels such as Justins Fantastic Voyage, Culprit and Room Temperature, the warm bass-tickled kicks and gentle sense of momentum provides safe passage with full heads-down heat.
Last but not least, Justin provides the final captain's orders with the deliciously trippy Land Ahoy. Laced with ricochet textures and a gradual ascent into blissful sci-fi cascades, its a game of total hypnosis as more bleeps fly and swoop across the mix. Beautiful as always from all parties concerned.