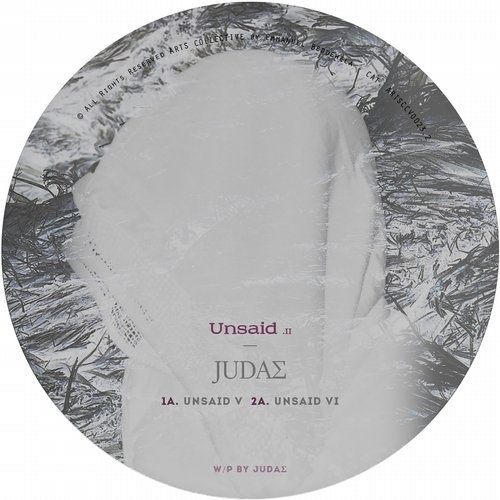 RELEASE: Unsaid Pt. II
ARTIST(S): Judas
REMIXERS:
LABEL: Arts, ARTSCOLLECTIVE0232
GENRE: Lossless, Leftfield House & Techno
RELEASED: 2018-07-16
AVAILABLE FORMAT: 320Kbps (+ Lossless)
DOWNLOAD SIZE: (57.80 MB MP3)
TOTAL TRACKS 4
Judas – ID 5 (Original Mix) (05:50) / 11A, 129bpm

Energy 7

Judas – ID 8 (Original Mix) (05:36) / 9A, 129bpm

Energy 4

Judas – ID 12 (Original Mix) (06:36) / 12A, 129bpm

Energy 6

Judas – ID 13 (Original Mix) (07:09) / 4A, 129bpm

Energy 6
Total Playtime: 00:25:11 min
Everyone is a moon and has a dark side which he never shows to anybody. Judas aka JUDAΣ is back with one of the biggest collection of records since today, presenting more sides of his vision as the artist and as a conceptual persona, these are 4 Cuts that brilliantly put you in the zone, right when the needle drop on the record. Judas present this project in 2 parts, both part of the same creature, and of the same concept, 'Unsaid' goes far beyond the usual aspect of the functionality, in this case, functionality is a pure tool, every single work shows you a path into his mind.