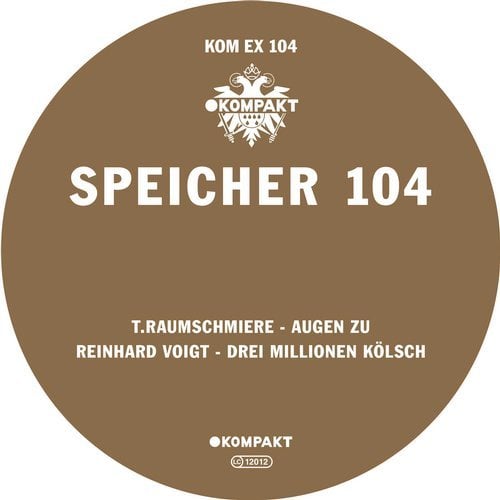 RELEASE: Speicher 104
ARTIST(S): Reinhard Voigt, T.Raumschmiere
REMIXERS:
LABEL: Kompakt, KOMPAKTEX104D
GENRE: Lossless, Techno
RELEASED: 2018-07-06
AVAILABLE FORMAT: 320Kbps (+ Lossless)
DOWNLOAD SIZE: (24.81 MB MP3)
TOTAL TRACKS 2
T.Raumschmiere – Augen Zu (Original Mix) (05:00) / 8A, 130bpm

Energy 6

Reinhard Voigt – Drei Millionen Kolsch (Original Mix) (05:50) / 9A, 123bpm

Energy 6
Total Playtime: 00:10:50 min
25 years of KOMPAKT is no reason to get hysterical. Then again, it's a nice occasion to have a laid back look at the situation in electronic music today. Minimal techno in all it's varieties is now established as the worlds best dance music, as you may know. So far, so good. What's next? Nothing. Dance on!

I've gain two essential insights with the passage of time. First off, that music which over the years only knew "faster, better, stronger" and "forwards ever – backwards never" can constantly repeat, quote and loop itself without killing itself. A music that suspends the meaning of time and eventually can set a parallel, better universe of fantasy against the twisted grimaces of reality. Again and again.

And secondly, that getting older living in/with this music is a quite relative term to which ideally a serenity of age can ring a bell. This shows that 25 years after 1993 so many protagonists, enthusiasts, DJs, musicians, relentlessly rave fighters – with all personal advancement – are still there and still celebrate, play or produce this/theirs music; and compete themselves and their music just with that.

Two such heroes of the neat and tidy bass drum culture are with no doubt T.RAUMSCHMIERE aka MARCO HAAS and REINHARD VOIGT. From day one, those two figureheads have given live-techno the glam of stage-diving rock 'n' roll, long before vodka and beer prevailed as alternative lube for ecstatic dancefloors.

Even better they both now raise the glass at the longest techno-bar in the world named KOMPAKT EXTRA/SPEICHER. With DREI MILLIONEN KÖLSCH, Reinhard Voigt continues to establish his savvy "way into sound", which he's pursued for a few years now on his many releases. He's turning genre clichés into a very personal take with his defiant mix of the deepness of a lonesome cowboy and his implicit faith in the dancefloor and gives the music a very personal touch of ennnoblement of the faith in itself. Technos dignity shall be inviolable.

For me, AUGEN ZU by T.RAUMSCHMIERE is one of the most beautiful masterpieces of bass-heavy "Umta Umta" techno. A few strikingly brilliant vocal lines from the master himself, put through the machines and combined with a relentlessly sequencer that says it all. This cheers my heart and we will always need such tracks to remind us of ourselves. And to forget about ourselves. Smash hits of unreason! Or the prettiest declaration of love to a music which gets its magical moments from what's happening between the bass drum-beats. But only by this when the bassdrum remains linear and will do so forever. Both Marco Haas and Reinhard Voigt know that. Because after techno comes always techno.