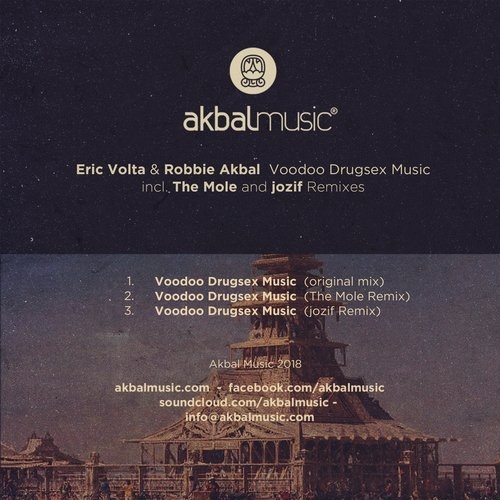 RELEASE: Voodoo Drugsex Music Incl. The Mole And Jozif Remixes
ARTIST(S): Robbie Akbal, Eric Volta
REMIXERS: jozif, The Mole
LABEL: Akbal Music, AKBAL155
GENRE: AIFF, Electronica / Downtempo
RELEASED: 2018-08-17
AVAILABLE FORMAT: 320Kbps (+ AIFF)
DOWNLOAD SIZE: (55.00 MB MP3)
TOTAL TRACKS 3
Robbie Akbal, Eric Volta – Voodoo Drugsex Music (Original Mix) (09:50) / D, 120bpm

Energy

Robbie Akbal, Eric Volta – Voodoo Drugsex Music (The Mole Remix) (06:40) / D, 120bpm

Energy

Robbie Akbal, Eric Volta – Voodoo Drugsex Music (Jozif Remix) (07:27) / A, 124bpm

Energy
Total Playtime: 00:23:57 min
Eric Volta and Robbie Akbal recently team up in Berlin to create an hypnotic druggie groove. Inspired by a Burning Man-esque mental driving kinda journey, combined with organic percussion, mystical elements, vintage samples and crazy synth lines, this record is real trip on sound.

The record comes together with two amazing remixes by The Mole and jozif. Both unique in their ways but sure to be liked by many taste makers in the circuit.

The first remix comes from The Mole, canadian living in Berlin – a true real artist always delivering an organic view of dance music, releasing his music in labels like Kompakt, Mutek, and Cynosure just to name a few , his remix for Akbal Music is a exquisite classic deep house vision of the original track. A real warm, organic and timeless version.

To round the release we have jozif (Bedrock-Culprit) a juicy talented amazing happy mind artist, always delivery funky, sexy grooves and this occasion is a real example! Quality Ep all around. Expect smiling faces when you drop this remix !

It´s a huge pleasure to welcome all this friends and great artists to the Akbal Music family.

Enjoy the record!