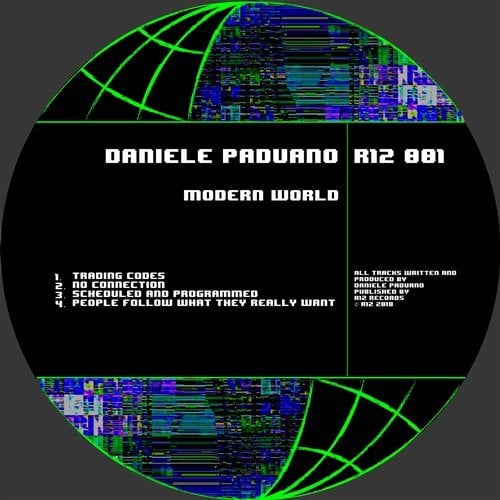 RELEASE: Modern World
ARTIST(S): Daniele Paduano
REMIXERS:
LABEL: R12, R12001
GENRE: Techno
RELEASED: 2018-09-28
BITRATE: 320Kbps
DOWNLOAD SIZE: 52.02 MB
TOTAL TRACKS 4
Daniele Paduano – Trading Codes (Original mix) (04:32)

/ 11A, 93bpm

Daniele Paduano – No Connection (Original Mix) (05:11)

/ 08A, 93bpm

Daniele Paduano – Scheduled And Programmed (Original mix) (06:40)

/ 03A, 140bpm

Daniele Paduano – People Follow What They Really Want (Original mix) (06:12)

/ 03A, 140bpm
Total Playtime: 00:22:35 min
For the next premiere on @DarkScienceElectro we take a listen to an upcoming release by @Daniele-Daduano for the two-year old label @R12_music
R12 records was born of two minds influenced by many different genres and experiences, created and managed by Daniele Paduano and @Angela-Dragonetto as a means of diffusion for many of their artistic concepts. The name R12 (a refrigerant used in many industrial processes) was influenced by studies and interests in chemistry by Daniele. For the label's ninth release this Berlin-based artist brings us a 4-track EP with 1 track focused on Techno and the other 3 honed in on Electro sounds. The entire EP was recorded in Naples, between the autumn of 2017 and the winter of 2018. All tracks are characterized by its main sounds obtained from a linear Roland Synth. The track selected by @DVSNME to premiere is the opening track entitled 'Trading Codes'. This track oozes with the sounds of Elektron's powerful 'Analog Keys' synth as well as the Roland D-05/DX7 providing support with pads. Ethereal atmospheres and a pulsing bass dance around 808 rhythms that give the track some spontaneity. This release is coming out on digital September 17th with a vinyl release to follow shortly at the beginning of November.