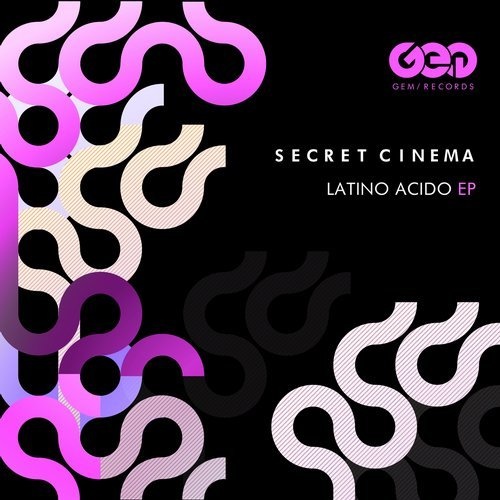 RELEASE: Latino Acido EP
ARTIST(S): Secret Cinema
REMIXERS:
LABEL: Gem Records / GEM059
GENRE: AIFF, Techno
RELEASED: 2018-11-30
AVAILABLE FORMAT: 320Kbps + AIFF
DOWNLOAD SIZE: (32.03 MB MP3)
TOTAL TRACKS 2
Secret Cinema – Latino Acido (Original Mix) (06:27)

/ B, 126bpm

Secret Cinema – C-Flower (Original Mix) (07:30)

/ Eb, 126bpm
Total Playtime: 00:13:57 min
Label boss Secret Cinema returns to Gem courtesy of the long-awaited follow up to his rapturously received Séance EP. The Latino Acido EP comes straight from the Dutch techno legend's modular synth setup, and features two dancefloor-friendly cuts, both of which have evidently been produced with peak-time floors in mind.

Never one to carelessly release music, Jeroen 'Secret Cinema' Verheij is a veteran of the Dutch electronic music scene and a man whose sound continues to diversify. Both the title track, 'Latino Acido' and 'C-Flower' have been on heavy rotation in Verheij's sets for the past year, with both tracks tested and changed based on crowd response at his gigs.

'Latino Acido' is a hypnotic, synth heavy cut that takes no prisoners with its eerie, menacing overtones; A perfect tool with which to steer the night in a whole new direction. A versatile gem that's indicative of the producer's best work, it's sure to go down a treat wherever it's let out of the bag. The B-side consists of the aforementioned 'C-Flower'. Characterised by its firm, incessant percussion, it develops into a whole new monster by the time its devilish baseline rears its head. A banging, discerning cut that's sure to feel the love from all corners of the electronic music scene, this too is another robust cut that's sure to induce smiles and leave heads spinning on the dancefloor.

With Gem Records set to release EPs by Egbert, Stefan Weise and DJ Lion over the next few months, these are heady times for a label that continues to be rewarded for its consistent and innovative approach to contemporary electronic music.