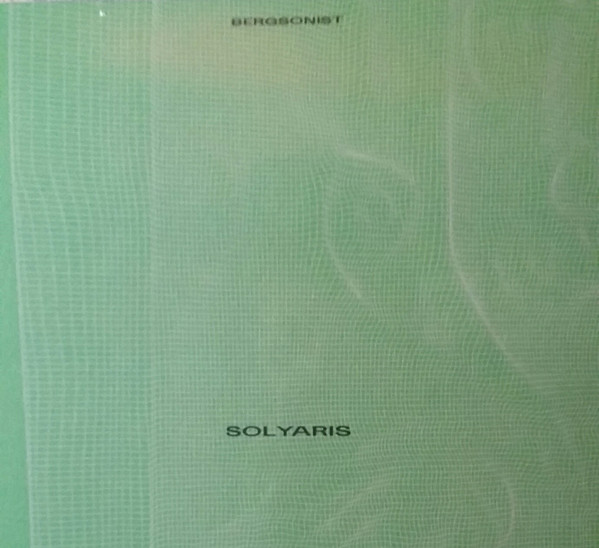 RELEASE: Solyaris
ARTIST(S): bergsonist
REMIXERS:
LABEL: Where To Now?
GENRE: lOSSLESS, Electronic, Techno
RELEASED: 2019-00-00
AVAILABLE FORMAT: 320Kbps (+FLAC)
DOWNLOAD SIZE: (57.61 MB MP3)
TOTAL TRACKS 4
bergsonist – Conflict In Yemen (06:49)

bergsonist – Fidel Gastro (05:56)

bergsonist – Former Alien Who Has Been Naturalized As A Us Citizen (05:48)

bergsonist – Solyaris (06:32)
Total Playtime: 00:25:05 min
Bergsonist is the moniker of Moroccon born and NYC based Selwa Abd. 'Solyaris' follows the self-released 'أ' and a prolific slew of releases for labels such as Styles upon Styles, Borft, and Angoisse amongst others. For Selwa her uncompromising & otherworldly, hypno technoid creations aim to capture a given moment in time, contextualising her often direct, hugely affective, & unpolished approach to production.
Selwa describes 'Solyaris' as "an ode to the present broken education system that allowed me to sustain my dreams in NewYork", explaining, "As an immigrant from Morrocco, I felt always fearful of the future, pressured to succeed at school. The only way I was able to channel all that anxiety was through music".
There's a undeniable physicality to Bergsonist's work, and the idea of expunging anxiousness into her music is felt from the oft as 'Solyaris' strides into vision with it's quickening roaring pulse and scrambled explorative electronic probes. This sense of anxiety eases as layers of rhythm build – heads begin to turn down and lush minimalist swathes eventually envelope bodies in calm unity, Anxiety diverted.
'Conflict in Yeman' opens with a gambit of off-kilter percussive experiments & electronics, conveying a sense of determined urgency. Things grow more & more intricate & immediate as we progress – layers of disruption weave around a reoccurring 140BPM shuffle, anchoring Selwa's constant explorative concrete diversions.
'Former Alien who has been naturalized by a U.S Citizen' brings things down a notch – skittering drums linger below a truly haunting whispered melody, occasionally broken down by collapsed rewinds and thunderously raw in the red beat grit – to dizzying effect. Whereas previously 'Solyaris' had taken its cues from Drexciyan Detroit Electro 'Former Alien…' stands closer to a Fantastic Damage era EL-P instrumental rather than anything aimed at the floor.
The EP rolls out with 'Fidel Gastro', a structured & focused piece of Machine Funk & end of days drop cues, conjuring an effective mix of both euphoria & imminent dread.
Bergsonist cuts a unique figure for electronic music in 2018 as someone explicitly exploring the relationship between head & body music. Although undeniably more than oft aimed at the dancefloor, Selwa's work also holds an equal respect and understanding of the head & heart. From her politically loaded Track titles, to her ideologically aligned guise of 'Bergsonist', to most significantly – her music's ability to elicit a spectrum of finely tuned emotional responses within the confines of each track.