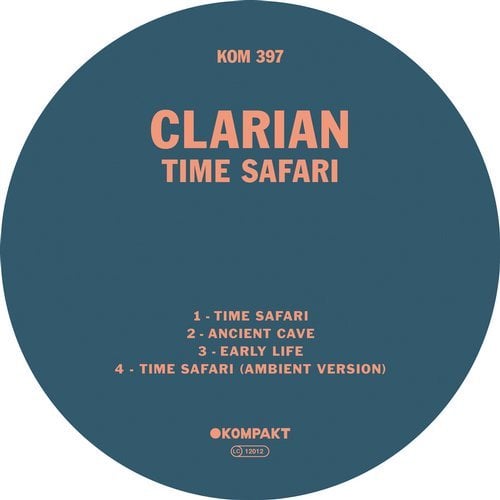 RELEASE: Time Safari
ARTIST(S): Clarian
REMIXERS:
LABEL: Kompakt / KOMPAKT397D
GENRE: Lossless, Techno
RELEASED: 2019-02-22
AVAILABLE FORMAT: 320Kbps + FLAC
DOWNLOAD SIZE: (93.57 MB MP3)
TOTAL TRACKS 4
Clarian – Time Safari (Original Mix) (06:00)

/ Bmin, 120bpm

Clarian – Ancient Cave (Original Mix) (06:04)

/ Cmin, 118bpm

Clarian – Early Life (Original Mix) (05:58)

/ Cmin, 118bpm

Clarian – Time Safari (Ambient Version) (22:47)

/ Gmaj, 104bpm
Total Playtime: 00:40:49 min
It's been a minute since we heard last from Montreal's CLARIAN on KOMPAKT (KOM 356 – ANKH EP ) but by no means has his universe stopped expanding as he released the 2017 full length SYNTH WAVE (BALANCED) and collaborated with TIGA on STAY CLOSE and THEY JUST WANT 2 B U (w/ JAMIE PRINCIPE and FELIX DA HOUSECAT) singles. We welcome back CLARIAN with TIME SAFARI. The majority of the EP was a 2 year long process from recordings made in South Africa as a team effort ofRICHARD MARSHALL, BLANE VENTER and of course CLARIAN (along with many locals along the way) with the "ambient aspect" of the EP finished in India in summer 2018. By no means is this EP to be perceived as experimental recordings as each club track has a theme that is loyal to the dance floor with a goal of incorporated ambient recordings to create an immersive environment. The aim CLARIAN has with TIME SAFARI is to attempt to empower the idea that club music can go beyond simply being labeled as a genre and club motif but can also explore alternative, creative and most of all be a conduit to bring unity through all variations of art mediums into the night life scene. The ambient aspect of TIME SAFARI is CLARIAN's homage to his heroes. Think if TUXEDOMOON collaborated with CARL SAGAN to create a weirdo version of COSMOS. In the case of this EP – a mega brief journey of human evolution through South Africa.