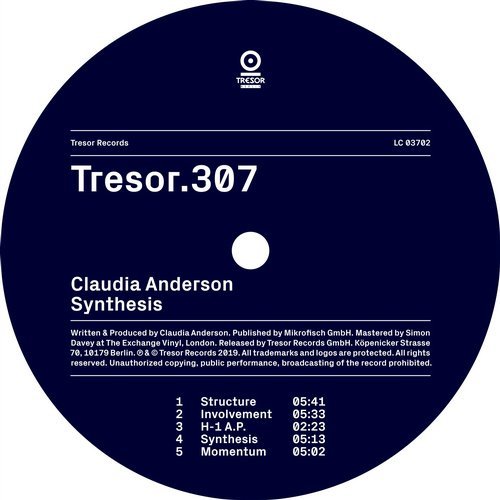 RELEASE: Synthesis
ARTIST(S): Claudia Anderson
REMIXERS:
LABEL: Tresor Records, TRESOR307
GENRE: Techno
RELEASED: 2019-02-22
BITRATE: 320Kbps
DOWNLOAD SIZE: 55.01 MB
TOTAL TRACKS 5
Claudia Anderson – Structure (Original Mix) (05:42)

/ F♯min, 125bpm

Claudia Anderson – Involvement (Original Mix) (05:34)

/ Amaj, 127bpm

Claudia Anderson – H-1 A.P. (Original Mix) (02:23)

/ G♯maj, 168bpm

Claudia Anderson – Synthesis (Original Mix) (05:13)

/ Bmin, 98bpm

Claudia Anderson – Momentum (Original Mix) (05:02)

/ Bmaj, 114bpm
Total Playtime: 00:23:54 min
Tresor Records is proud to present club resident Claudia Anderson's new work "Synthesis", as the first EP to be charted into its fabled catalog in 2019.

Claudia Anderson lives in Vienna where she gained experience at local raves and underground clubs, before becoming a Tresor resident in 2017.

In 2012, Anderson joined Singular, the Paris label headed by Tresor resident and recording artist Marcelus. "Hysteria" was celebrated as one of the most subtly produced records that year. Three years later, she followed with on Singular with "Liquid Forms", pushing the definition of the deep forms of Techno which have become integrant part of her signature.

Since then, Tresor has worked closely with Claudia Anderson to develop her first treads on the label. The label's 2017 "Dreamy Harbor" compilation featured Anderson's track "Phase" next to luminaries such as Jon Hassell, Moritz von Oswald or Donato Dozzy, revealing an ever more hypnotic side of her work.

In a new step, and through the five tracks that build "Synthesis", Claudia Anderson shows a sense of aplomb, that stands in balance with her natural and subtle sense of restraint.