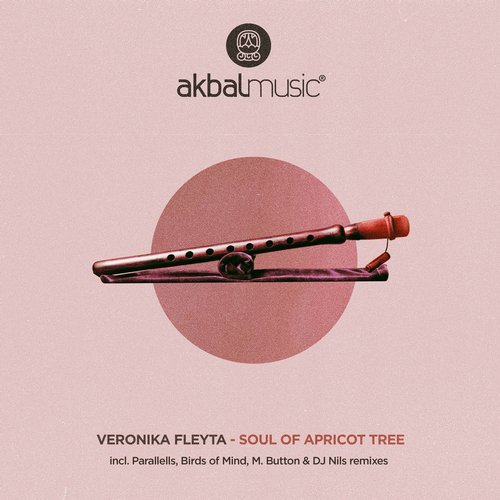 RELEASE: Soul Of Apricot Tree Remixes
ARTIST(S): Veronika Fleyta
REMIXERS: Birds of Mind, M. Button, DJ Nils., Parallells, Veronika Fleyta
LABEL: Akbal Music / AKBAL162
GENRE: lOSSLESS, Deep House
RELEASED: 2019-02-22
AVAILABLE FORMAT: 320Kbps (+FLAC)
DOWNLOAD SIZE: (64.25 MB MP3)
TOTAL TRACKS 4
Veronika Fleyta – Soul Of Apricot Tree (Veronika Fleyta 2019 Remix) (07:12)

/ Fmaj, 116bpm

Veronika Fleyta – Soul Of Apricot Tree (Parallells Remix) (07:21)

/ Cmaj, 120bpm

Veronika Fleyta – Soul Of Apricot Tree (M. Button & DJ Nils. Remix) (06:36)

/ Gmin, 112bpm

Veronika Fleyta – Soul Of Apricot Tree (Birds Of Mind Remix) (06:53)

/ Fmin, 107bpm
Total Playtime: 00:28:02 min
Veronika Fleyta has been an integral part of the Akbal Music family during the last years, in early 2018 she delivered her first solo EP on the label called Soul Of Apricot Tree, having a great response in the worldwide scene.

For this Remixes EP, the concept of the package is focus on a more ethnic / organic musical direction with great remixes by Parallells, Birds of Mind , Dj Nils & M. Button and Veronika´s 2019 remix.

First track on the EP is a 2019 interpretation by Veronika herself, filled with mystical elements and groovie melodies that blends all in one for a delicious tune perfect to match on all magical dancefloors.

For the second remix -It´s an honour to welcome Parallells to the Akbal Music camp. Dutch Brothers from a parallel dimension where instrumental and electronic sounds live in harmony. They deliver their unique version using some beautiful strings to elevate their remix to another label. Already road-tested in some of the great dancefloors all over the globe.

Next up we have the Dj Nils & M. Button remix taking us to a slow psicodellic experience, filed with quirky twisted sounds this will fit perfect for dark exotic moments in a wild location.

Last but not least we Birds of Mind from Paris, delivering a chill out-ish Buddha Bar-esuqe soundtrack experience to their remix, perfect for Balearic type moments.