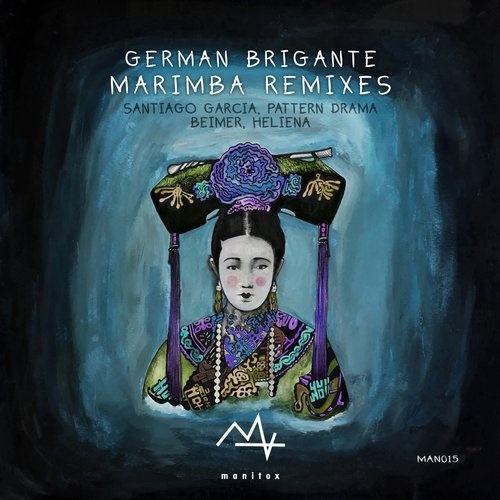 RELEASE: German Brigante: Marimba (Remixes)
ARTIST(S): German Brigante
REMIXERS: Beimer, Heliena, Pattern Drama, Santiago Garcia
LABEL: Manitox / MAN105
GENRE: LOSSLESS, Afro House
RELEASED: 2019-04-01
AVAILABLE FORMAT: 320Kbps (+FLAC)
DOWNLOAD SIZE: (58.08 MB MP3)
TOTAL TRACKS 4
German Brigante – Marimba (Santiago Garcia Remix) (05:59)

/ A#, 121bpm

German Brigante – Marimba (Heliena Remix) (06:26)

/ Am, 121bpm

German Brigante – Marimba (Beimer Remix) (06:24)

/ Am, 121bpm

German Brigante – Marimba (Pattern Drama Remix) (06:28)

/ Am, 121bpm
Total Playtime: 00:25:17 min

Manitox returns with this remix pack featuring four versions of German Brigante's Marimba, a track being supported and played by artists of the stature of Solomun or Dixon. Santiago Garcia, Pattern Drama, Beimer and Heliena have been the chosen to give their personal touch to one of the most intimate releases from the back catalogue of Manitox.
Originally from Buenos Aires but currently living in Valencia, first remix comes from Innervisions artist Santiago Garcia. He builds an afro-house remix that goes evolving with few percussive elements until the hook of Marimba makes its appearance bringing the emotional touch to the track.
Another Manitox exclusive artist, Heliena, gives her deep-house touch with long pads and evolving melodies across the tune. This new elements plus the singular marimba's captivating melody make this remix a formidable revision.
Third remix comes from a 100% Manitox artist called Beimer. With plenty of his releases on Brigante's label, Beimer offers the most aggressive track of the pack. He plays a techno chord around the original Marimba's distinctive effect to create a great atmosphere.
Hailing from Brooklyn, Corey Baker, better known as Pattern Drama is the man behind the fourth remix. From the first beat he introduces the Marimba in a deconstructed way playing around it until the breakdown. Then, refreshing trumpets start blowing and taking the track into a more housey vibe.
Four remixes, different one from another, are the responsible of making this remix pack, a perfect and balanced selection.