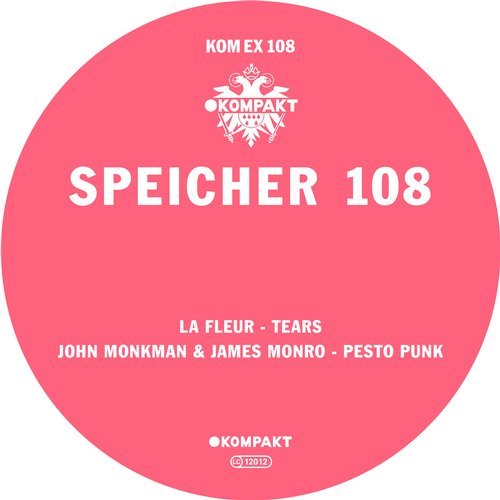 RELEASE: Speicher 108
ARTIST(S): James Monro, John Monkman, La Fleur
REMIXERS:
LABEL: Kompakt Extra, KOMPAKTEX108D
GENRE: Melodic House & Techno
RELEASED: 2019-04-19
BITRATE: 320Kbps
DOWNLOAD SIZE: 34.42 MB
TOTAL TRACKS 2
La Fleur – Tears (Original Mix) (07:37)

/ Amin, 125bpm

James Monro, John Monkman – Pesto Punk (Original Mix) (07:23)

/ Dmaj, 124bpm
Total Playtime: 00:15:00 min
We open the SPEICHER gates to Swedish export La Fleur. She's been on a roll with consistent releases for Truesoul, her own Power Plant imprint plus last year's collaboration with Sasha and an Essential Mix. La Fleur fulfills the difficult matrimony of bridging minimal-house percussion with deep emotive groove on "Tears". In her own words ""I wanted to create a feeling of melancholy, the dreamer wanted this dream to be true and then on waking up realized that it was all just a dream. Hence the vocal, washing my dreams away with tears."
John Monkman and James Monro are an unlikely pairing in the best of ways. John's riding high on recent releases for Last Night On Earth and Ellum then James comes to us from releasing on Flying Rhino and Proton. The result is "Pesto Punk" – a raging conglomeration of delinquent-techno madness that is precisely what we love to release on SPEICHER. Snares slap to a heavy double bass drum in a maelstrom of depth charged synths and random sounds.