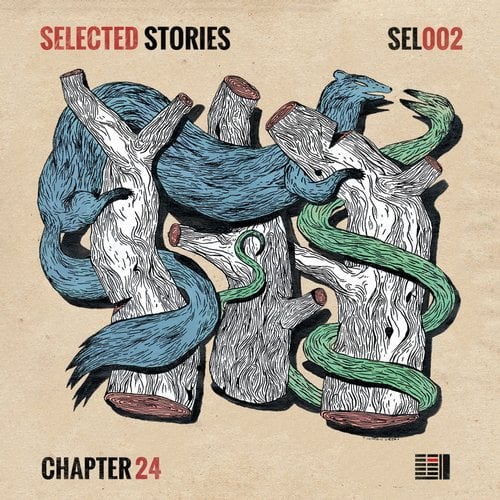 RELEASE: Selected Stories
ARTIST(S): Andy Bros, Anton Dhouran, Brigado Crew, Crisstiano, Ivory (IT), Kieran Apter, Meggy, Aaaron, Deckert, Rinzen, Sobek, THC, Thodoris Triantafillou
REMIXERS: Jobe, Konvex & The Shadow, The Drifter
LABEL: Chapter 24 Records, SEL02
GENRE: Indie Dance / Nu Disco
RELEASED: 2019-04-05
BITRATE: 320Kbps
DOWNLOAD SIZE: 168.24 MB
TOTAL TRACKS 10
Anton Dhouran – The Myth of Tarae feat. Ed Begley (Konvex & the Shadow Rodeo Edition) (07:28)

/ G♯min, 125bpm

Kieran Apter – The Mirror (The Drifter Edition) (06:25)

/ Dmaj, 120bpm

THC – Lunare (Original Mix) (08:10)

/ Cmaj, 123bpm

Meggy, Aaaron, Deckert – Shadows (JOBE Edition) (08:16)

/ D♯maj, 122bpm

Sobek – Croco in the Marsh (Original Mix) (07:01)

/ Amin, 121bpm

Ivory (IT) – Stormborn (Original Mix) (07:34)

/ Amin, 120bpm

Thodoris Triantafillou – Elephants (Original Mix) (06:44)

/ Dmaj, 120bpm

Brigado Crew, Crisstiano – Mubaraq (Original Mix) (06:56)

/ A♯maj, 125bpm

Rinzen – Temple (Original Mix) (07:08)

/ Amin, 123bpm

Andy Bros – Cuore (Original Mix) (07:04)

/ Dmaj, 125bpm
Total Playtime: 01:12:46 min

Featuring originals and remixes from Konvex & the Shadow​, The Drifter​, THC​, JOBE​, Dj Sobek​, Ivory​, Thodoris Triantafillou​, Brigado Crew​ & Crisstiano​, Rinzen​ and Andy Bros​.
Since its inception, Chapter 24 has been built on music that tells tales.
Now, with the second edition of Selected Stories, the label presents a new, carefully curated sampler of some of its most treasured stories in sound.
Focusing on the most impactful recent releases – as well as on material which may have passed lower on the radar – the package shines a light on excellent Editions by The Drifter, JOBE and Konvex & The Shadow, alongside powerful originals by Thodoris Triantafillou, Andy Bros, Sobek and Brigado Crew.
Works by THC, Rinzen and Ivory all stand out in a balanced selection that emphasises the quality of the London-based imprint's output over the last 12 months.
The tales spun here invite you to get lost in the narrative, to step into another world…to re-emerge from reveries with new insights and altered perspectives. A return to house and techno that you can believe in.
Check it out on Beatport​, Spotify​ and Bandcamp​.
Support from the likes of Black Coffee​, Maceo Plex​, Kollektiv​, Nick Warren​, Eelke Kleijn​, Re.You​, Yotam Avni​, Ruede Hagelstein​, BOg​, David Mayer​ and many more.