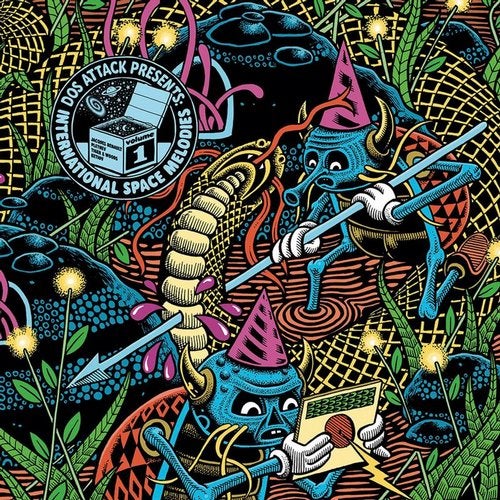 RELEASE: Dos Attack Presents: International Space Melodies Vol#1
ARTIST(S): Jacques Renault, Ketiov, Pletnev, Tiger & Woods, Alejandro Paz
REMIXERS:
LABEL: Riverette / RVRT015X1
GENRE: AIFF, House
RELEASED: 2019-06-25
AVAILABLE FORMAT: 320Kbps + AIFF
DOWNLOAD SIZE: (55.72 MB MP3)
TOTAL TRACKS 4
Jacques Renault – I'll Treat You Right (Original Mix) (06:57)

/ Bmin, 120bpm

Pletnev – Golden Sand (Original Mix) (05:15)

/ Amin, 122bpm

Tiger & Woods, Alejandro Paz – Como Bailar featuring Alejandro Paz (Original Mix) (06:30)

/ A♯min, 120bpm

Ketiov – Guiri (Original Mix) (05:13)

/ Cmin, 126bpm
Total Playtime: 00:23:55 min
Riverette label bosses Dos Attack kick off a new EP series entitled 'International Space Melodies' that starts with a first volume featuring all new music from big hitters Jacques Renault, Pletnev, Tiger & Woods and Keitov.
This label has become a firm favourite in recent years, with fast selling EPs from the likes of Legowelt, Kornel Kovacs and Medlar, supported by DJs including Axel Boman, DJ Koze and Leon Vynehall. The bosses, Dos Attack, have been friends since childhood, they mix late 70s New York energy with 90s romanticism and pure good vibes, make music for TV, are massive vinyl collectors and share a studio with our friends Pional and Yanik Park. They are at the heart of a Spanish dance music revival and this compilation is to celebrate five years of the label. It will have four parts that will come on a four separate 12" releases with a special edition boxset at the end of the year and kicks off with a well curated selection of the day's best names.
Up first is Jacques Renault, the Let's Play House label boss, record hoarder and multi- genre master. His superb 'I'll Treat You Right' is a glistening and uplifting house cut with joyous vocals and shimmering disco chords that are ready-made for a huge impact this summer. Then comes Vilnius man Pletnev who can do anything from Oriental to Afro grooves via deep and dubby house. His 'Golden Sand' is an exotic track with a mystic lead synth line that takes you to the Far East as tumbling hand drums make for a loose limbed, feel good groove.
Tiger & Woods are one of the most esteemed duos in disco, with a new album out this summer that shows off their mastery of sampling and sunshine grooves. Here they go for a jacked up cut with jittery drums and coarse hits, weird vocal FX and a boogie bassline that never lets up and cannot fail to pump the party. Lastly, Ketiov hails from Poland and is one half of the acclaimed Catz & Dogz duo who have lit up the wonky house scene. His heavily percussive workout is a restless track with real energy and dance floor tension as well as freaky vocal loops that keep you locked.
This is sure to be another hot selling EP on the essential Riverette label and opens up an exciting new series with all new music and exclusive artwork from respected artist Manderoid.