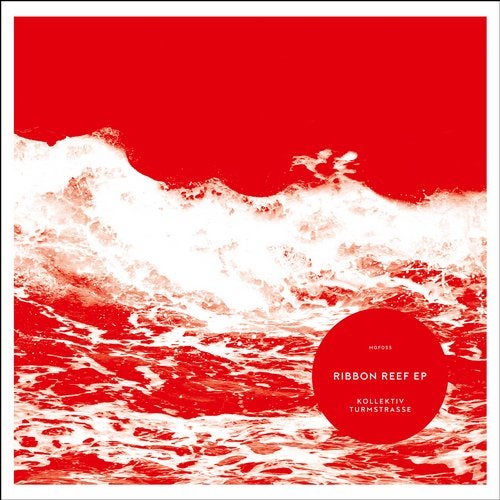 RELEASE: Ribbon Reef EP
ARTIST(S): Kollektiv Turmstrasse
REMIXERS:
LABEL: Musik Gewinnt Freunde, MGF033D
GENRE: Electronica / Downtempo
RELEASED: 2019-07-19
BITRATE: 320Kbps
DOWNLOAD SIZE: 65.70 MB
TOTAL TRACKS 3
Kollektiv Turmstrasse – Ribbon Reef (Original Mix)

/ Dmin, 120bpm

Kollektiv Turmstrasse – New Star (Original Mix)

/ F♯min, 121bpm

Kollektiv Turmstrasse – New Star (Gollwitz Dub)

/ Emin, 123bpm
Total Playtime: 00:28:34 min
"In the beginning were friendship and love for music." That was how M U S I K GEWINNT FREUNDE was created in 2006, and this philosophy still drives Nico and Christian's music. It's also why the long-awaited return of label heads KOLLEKTIV TURMSTRASSE, on their own imprint, marks the perfect moment to get back to the unique sound the MGF label has become known for over the last 13 years.
The RIBBON REEF EP is perfectly crafted, bringing a new awareness to the stunning harmonies of KOLLEKTIV TURMSTRASSE by melting the quintessential elements of their music together with a special tension that grows more and more with every minute.
This brand-new EP is a proper journey. It opens with the breathtaking melodies of the main track, "RIBBON REEF", which bring to mind a beautiful summer sunset: our souls seem to become connected with the space around us, allowing all this music's emotion to come through. The adventure continues with "NEW STAR", a track that takes us into the night with its dance-floor attitude. A digital exclusive is the stripped-down and dubby " N E W S T A R " edit, which will surely sound perfect on the floor in the early morning.
www.facebook.com/kollektivturmstrasse
www.facebook.com/musikgewinntfreunde
www.instagram.com/kollektiv_turmstrasse
www.instagram.com/musikgewinntfreunde