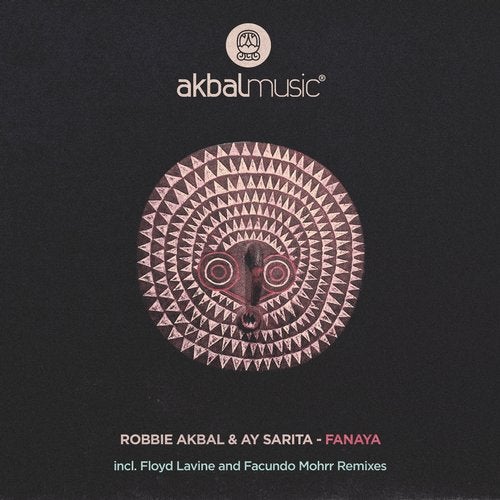 RELEASE: Fanaya, Part 1
ARTIST(S): Robbie Akbal, Ay Sarita
REMIXERS: Facundo Mohrr, Floyd Lavine
LABEL: Akbal Music, AKBAL169
GENRE: Deep House
RELEASED: 2019-07-19
BITRATE: 320Kbps
DOWNLOAD SIZE: 53.18 MB
TOTAL TRACKS 3
Robbie Akbal, Ay Sarita – Fanaya (Original Mix)

/ Dmin, 122bpm

Robbie Akbal, Ay Sarita – Fanaya (Floyd Lavine´s African Techno Mix)

/ Emaj, 122bpm

Robbie Akbal, Ay Sarita – Fanaya (Facundo Mohrr Remix)

/ Dmin, 122bpm
Total Playtime: 00:23:09 min
Dedicated to only the finest house, Akbal Music is a deep and melodic label with spiritual vibes and tribal grooves. Headed up by Robbie Akbal, its roster includes tracks and remixes from the likes of Mihai Popoviciu, Death on the Balcony, Nick Curly, Hyenah, Jon Charnis and Audiofly.
Robbie Akbal has released many times on Akbal Music along with contributing tracks to other high flying imprints such as Crosstown Rebels, Sol Selectas, Kindisch and Culprit. He can also be found collaborating with people like Eric Volta and Shall Ocin.
First of the remixes is from South African artist Floyd Lavine who is one of the country's most exciting young prospects, already receiving global bookings in places like Brazil and Germany where he is a resident as Watergate. Still early in his career, he already has an accomplished back catalogue with tracks on Get Physical, Defected, Moon Harbour, an his own Rise Music.
Argentinia based Facundo Mohrr is the second remix artist and he comes fresh from releasing on All Day I Dream along with other noteworthy imprints such as Magician On Duty, Shanti Radio Moscow and L'enfant terrible.
Featuring the vocals of Ay Sarita, the original track titled "Fanaya" is an eloquent piece of music with natural textures that conjure images of the jungle from a distant land filled with exotic wildlife. Enchantingly spiritual, the seductive vocal intermingles with the rich percussive textures and melody rich pads as they weave a fateful path through the trees and phonic foliage.
Floyd Lavine's remix removes some of the atmospheric textures, putting more of a focus on the percussion to create a toughened up version designed for the club. This also exposes the vocals give it an intimate sound that adds to the unfolding tension and building intensity.
Facundo Mohrr closes the EP with a remix that pays homage to the original's mood but with a new bassline and some added intricacy. It's got a warm and soothing sound centred round calming atmosphere and deep rhythms that erupt into full flow after the main breakdown when the track takes flight.