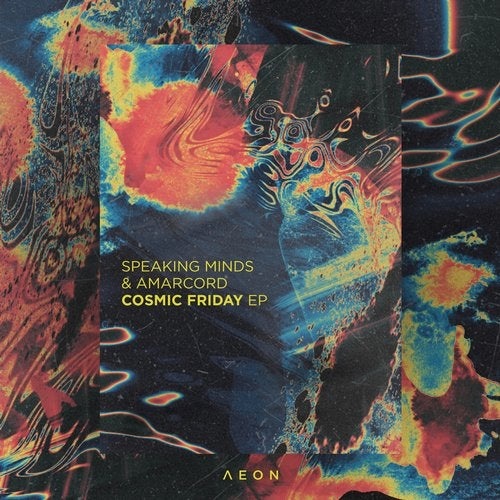 RELEASE: Cosmic Friday EP
ARTIST(S): Speaking Minds, Amarcord
REMIXERS: Fort Romeau, Moscoman
LABEL: Aeon / AEON040
GENRE: AIFF, Indie Dance / Nu Disco
RELEASED: 2019-06-28
AVAILABLE FORMAT: 320Kbps + AIFF
DOWNLOAD SIZE: (77.15 MB MP3)
TOTAL TRACKS 5
Speaking Minds, Amarcord – Cosmic Friday (Original Mix) (08:07)

/ E, 120bpm

Speaking Minds, Amarcord – Cosmic Friday (Fort Romeau's Humanoid Mix) (07:29)

/ E, 120bpm

Speaking Minds, Amarcord – Drums & Oscillators (Original Mix) (05:30)

/ Am, 120bpm

Speaking Minds, Amarcord – Drums & Oscillators (Moscoman Remix) (06:39)

/ A, 124bpm

Speaking Minds, Amarcord – Drums & Oscillators (Night Drive Mix) (05:46)

/ Am, 100bpm
Total Playtime: 00:33:31 min
Speaking Minds & Amarcord make a welcome return to AEON with the Cosmic Friday EP, a moving five track release that features stunning remixes from scene heavyweights Fort Romeau and Moscoman.
"'Cosmic Friday' comes from the attempt to merge Krautrock influences with a blade runner-esque vibe while keeping the structure of a modern dance music record. 'Drums & Oscillators' instead is simply what the title recalls: a live session made with a Korg MS-20 recorded on a single take which remained unchanged. With the night drive mix the record has been turned into a slowly burning acidic tune for the darkest night drives." Speaking Minds & Amarcord.
Cosmic Friday begins the EP powerfully, as a synth filled bassline rolls up and down before ethereal pads lead into rustling hi- hats. Fort Romeau's Humanoid mix of the title track comes next, featuring distorted keys that pave the way for a moving piano chime, before Drums & Oscillators ratchets up the pace with subtle pulses and vibrating basslines. Moscoman's Remix of Drums & Oscillators is another powerful dance number, as a chunky, wobbling rhythm is complemented by emotive violin calls, whilst the Night Drive Mix rounds off the EP with breakbeat-esque percussion and a penetrating acid solo.
Speaking Minds is a founding member of AEON alongside Alex Niggeman and Denis Horvat. Fellow Italian Amarcord is no stranger to the scene, having teamed up with Speaking Minds on the Mermaid's Chant EP released on Canadian imprint My Favourite Robot Records. Esteemed record enthusiast Fort Romeau has produced standout releases for the likes of Running Back and Spectral Sound. Moscoman is the proprietor of respected imprint Disco Halal, and is a prolific producer and remixer, releasing on labels such as ESP Institute and Life and Death whilst similarly remixing the likes of Man Power and Bawrut.