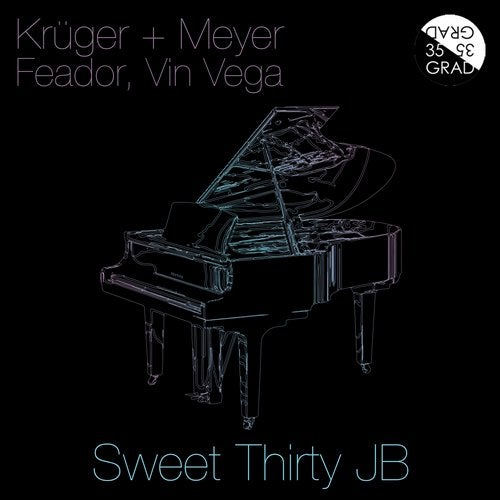 RELEASE: Sweet Thirty Jb
ARTIST(S): Vin Vega, Krüger+Meyer, Feador
REMIXERS: Arts & Leni, FreedomB, M.in, Gunman
LABEL: Dachshund Records, 35011
GENRE: Tech House
RELEASED: 2019-07-12
BITRATE: 320Kbps
DOWNLOAD SIZE: 78.50 MB
TOTAL TRACKS 5
Vin Vega, Krüger+Meyer, Feador – Reverse (Original Mix) (07:17)

/ A♯min, 124bpm

Vin Vega, Krüger+Meyer, Feador – Reverse (M.In & Gunman Remix) (06:29)

/ A♯min, 124bpm

Vin Vega, Krüger+Meyer, Feador – Reverse (Freedomb Remix) (06:26)

/ A♯min, 122bpm

Vin Vega, Krüger+Meyer, Feador – Groover (Original Mix) (07:50)

/ Amin, 123bpm

Vin Vega, Krüger+Meyer, Feador – Groover (Arts & Leni Remix) (06:08)

/ Amin, 123bpm
Total Playtime: 00:34:10 min
The DJ duo Krüger + Meyer publishes new EP – with the tracks "Reverse" and "Groover"
Techno- and Tech-House-Fans from Hildesheim are used to link the name Krüger + Meyer to fine underground dancemusic. The name stands for Benedikt Krüger and Julian Meyer. The friends
celebre their passion to electronic music with body and soul. Surprises included.
Surprising, that's also what you can describe their new EP. It will be published on 12th July. As the two tracks "Reverse" and "Groover" on the one hand are very similar to each other, they're on the
other hand completely different. Like angel and devil. Both can be played on an open air as well as in the club. Different remixes complete the EP. You can buy it in a digital version and on vinyl.
But let's go one step back to the production: The first track "Reverse" is a Tech-House-Track . "We engaged Vin Vega from Dusseldorf, he created the personal touch", says Benedikt Krüger. Vin Vega is a producer in the genre Tech House. As second track "Groover" differs completely. "To do the fine tuning, we obligated our friend Feador from Bueckeburg", adds Julian Meyer. "Together we worked on the special technoid flair."
Also the remixes are very special. That's why Krüger + Meyer only wanted friends to work on the them. They engaged Arts & Leni, M.in & Gunman and FreedomB.
They all have long and intense experience and look back on many international gigs. Art & Leni from Hamburg are known for productions on "Ton liebt Klang" and "Tächno". M.in runs the label "My favourite Freaks" (MFF), his tracks have been played by Claptone for several times. Gunman from Goettingen loves vinyl and runs the label "Shaker Plates". He often works with M.in. Last but not least, Freedom B is the fourth remixer. He is from Madrid and very successful. He published his tracks on many well known Techno-House-Labels, among them "Toolroom", "Great Stuff" or "Flashmob".
Krüger + Meyer are old stager. They work on the turntables since ten years. All the music thing started in October 2008 when Benedikt Krüger and Julian Meyer got the possibility to spin records in an old joinery. Little by little they developed their little music spot. The "Spielzimmer" was developed. There the "Spielkinder" – as they called themselves at the beginning – invited their friends and fans for partying and dancing. The party series "Spielkinder & Friendz" got one of the most famous parties in Hildesheim. The "Spielkinder" invited DJs from Hildesheim and environment.