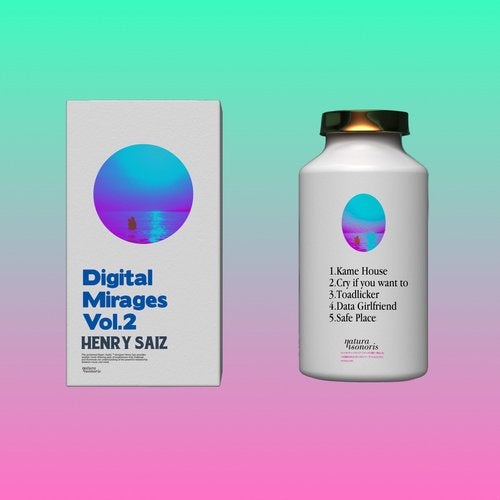 RELEASE: Digital Mirages Vol.2
ARTIST(S): Henry Saiz
REMIXERS:
LABEL: Natura Sonoris / NS094
GENRE: Lossless, Melodic House & Techno
RELEASED: 2019-08-23
AVAILABLE FORMAT: 320Kbps + FLAC
DOWNLOAD SIZE: (89.23 MB MP3)
TOTAL TRACKS 5
Henry Saiz – Kame House (Original Mix) (07:53)

/ Amaj, 121bpm

Henry Saiz – Cry If You Want To (Original Mix) (07:27)

/ Bmin, 121bpm

Henry Saiz – Toadlicker (Original Mix) (07:36)

/ Gmaj, 121bpm

Henry Saiz – Data Girlfriend (Original Mix) (09:23)

/ Emin, 122bpm

Henry Saiz – Safe Place (Original Mix) (06:34)

/ Amin, 121bpm
Total Playtime: 00:38:53 min

Following his captivating 1st volume of the 'Digital Mirages' trilogy that has received significant attention and support from all over Henry Saiz now unveils its 2d chapter to close summer season.
In this second volume the Spaniard keeps developing his very personal approach to club music, influenced by sounds and production techniques of styles like vaporwave, creating a unique blend of psychedelic and retro-futuristic music that will blow your mind. Just as the 1st chapter, Vol.2 consists of 5 blissful cuts in which Saiz injects expansive soundscapes, hypnotic synth lines, natural elegance and tasteful patience percolating with emotions and real sense of purpose. As per usual the producer masterfully delivers both power and poise that tease the senses and guide you into your happy place, your nirvana.
5 new Hyper-Audio pills, 5 new worlds to get lost in. Go get yours!