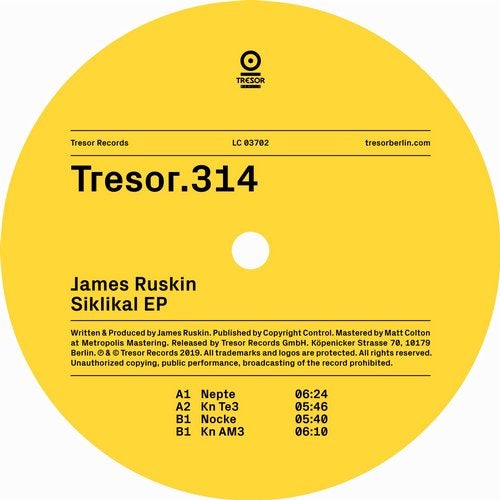 RELEASE: Siklikal EP
ARTIST(S): James Ruskin
REMIXERS:
LABEL: Tresor Records
GENRE: LOSSLESS, Electronica / Downtempo
RELEASED: 2019-11-22
AVAILABLE FORMAT: 320Kbps +FLAC
DOWNLOAD SIZE: 55.22 MB
TOTAL TRACKS 4
James Ruskin – Nepte (Original Mix) (06:24)

A♯min 130

James Ruskin – Kn Te3 (Original Mix) (05:46)

A♯min 138

James Ruskin – Nocke (Original Mix) (05:40)

Cmaj 138

James Ruskin – Kn AM3 (Original Mix) (06:10)

C♯maj 123
Total Playtime: 00:24:00 min
On the heels of the recent reissue of the Point 2 LP, James Ruskin follows up for Tresor Records with a bold new EP entitled Siklikal.
Right from the outset, Nepte draws in by vast sonics and laser focus, unruly synths distort over a skipping beat that hits hard in the right places. As the beat takes a backstep but no less rhythmic, Kn Te3 is one for adventurous DJs, recalling the minimal loops that Ruskin is known for, seeped in industrial melancholy that fizzes a granular decay.
On the b-side, Nocke brings the beat back to the forefront with a muscular UK techno sound, highly effective and pounding. Closing the EP is Kn Am3 which retains the industrial sinew of its near-namesake Kn Te3, exposing raw synth excursions over brutalist machinations. This EP symbolises Ruskin's dynamic approach, pushing at boundaries yet never without a strong grip over the dancefloor.
Tresor.314 releases November 8th on 180g. 12" vinyl and digital