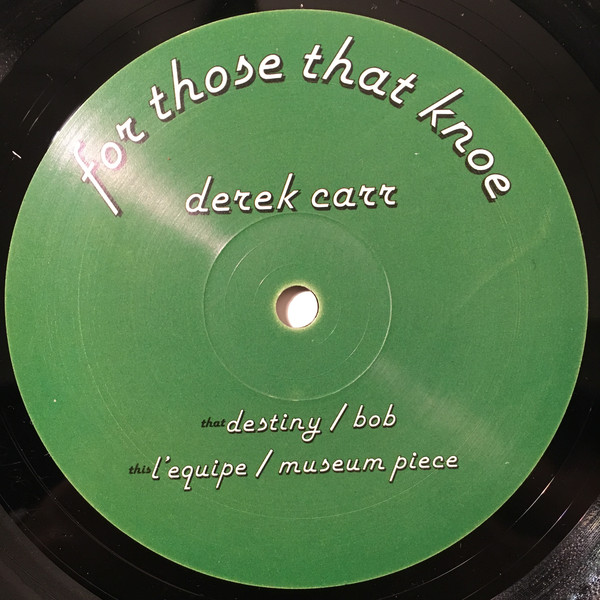 RELEASE: Knoe 5/2
ARTIST(S): Derek Carr
REMIXERS:
LABEL: For Those That Knoe | KNOE 5/2
GENRE: LOSSLESS, Deep House, Techno, Vinyl
RELEASED: 2016
AVAILABLE FORMAT: 320Kbps +FLAC
DOWNLOAD SIZE: 62.84 MB
TOTAL TRACKS 4
Derek Carr – Bob (04:18)

key, bpm

Derek Carr – Destiny (09:06)

key, bpm

Derek Carr – L'Equipe (08:27)

key, bpm

Derek Carr – Museum Piece (05:16)

key, bpm
Total Playtime: 00:27:07 min
Derek Carr is a name known by few and far between, with only a handful of vinyl releases in the early 2000s, he built a worthy but unfortunately not widely-spread reputation for putting together stunning deep techno. Originally pressed in finite numbers, the records have recently found themselves in demand on Discogs, and rightly so, Derek's music is in a class of its own. Having been a big fan since his releases on then local (to label owner Ben) Leeds label Geek records, For Those That Knoe has dug deep into the archives to put together a sizeable selection of Derek's back catalogue, with some unreleased gems dotted amongst the classic must-haves, spread across three EPs
Part two of three in Derek's series kicks off with a Destiny, a driving deep techno funk filled jam, originally released on Derek's label Trident. Bob is a spacey and sparse melodic electro gem taken from the unreleased archives. L'Equipe on the flip was one of the standout cuts on Derek's solo EP on Headspace Recordings, pure unadulterated deep house. Museum Piece is a groovy ambient electro jam ripped from DAT and slotted into the B2.